Suvendu mocks Mamata's decision to visit Bogtui
CPM state secretary Md Salim was the first Opposition leader to reach the spot riding pillion on a motorcycle early on Wednesday morning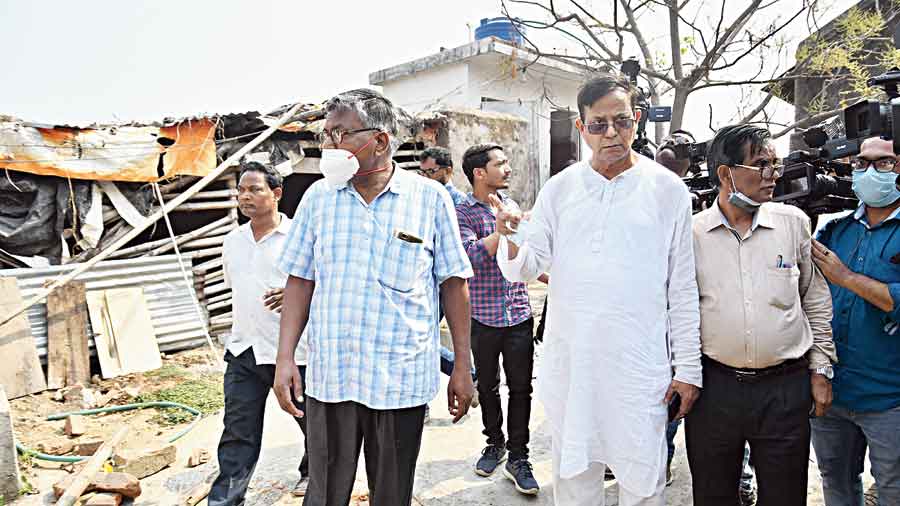 Md Salim (centre) at Bogtui on Wednesday
Pritam Das
---
Calcutta
|
Published 24.03.22, 01:21 AM
|
---
Opposition leaders  made it clear on Wednesday that they would step up the heat on the ruling party over the Bogtui massacre.
CPM state secretary Md Salim became the first Opposition leader to reach Bogtui riding pillion on a motorcycle early on Wednesday morning.
An AC bus with 45 BJP MLAs stopped on the way to taste Shaktigarh's famed lyangchas (a sweet), but their leader of the Opposition in the Assembly Suvendu Adhikari, who came to Bogtui from campaigning in Asansol, demanded NIA or CBI probe into the carnage and slammed chief minister Mamata Banerjee.
A Left Front delegation, including Salim and Biman Bose, left for Rampurhat on Tuesday night.
Sources said Salim opted for a bike ride to Bogtui to thwart any bid by police to stop him. Salim said the horrific killings had their roots in Trinamul's feud over share of money made through illegal sand and stone mining. "The local Trinamul leader, the SP, SDPO, everyone has a share," Salim said, and added local MLA Asish Banerjee's nephew was part of it.
In front of the three-storey house of deceased Trinamul leader Bhadu Sheikh, whose Monday murder is believed to have triggered the massacre, he said: "This is how these people create their kingdoms in villages and helpless people are burnt to death in huts."
BJP MLA Suvendu later in the day joined his party's  MLAs along with MPs Arjun Singh and Jyotirmoy Singh Mahato. But when the BJP team reached Bogtui, the site of the crime was cordoned off. Suvendu mocked Mamata's decision to visit Bogtui on Thursday.
"She will come to tamper with evidence," he said, demanding a CBI and NIA probe into the killings.
BJP state chief and MP Sukanta Majumdar raised the Bogtui issue in Parliament.
Trinamul MP Sudip Banerjee, however, claimed in Lok Sabha on Wednesday the incident in Bogtui wasn't political and Trinamul MPs sought an appointment with President Ram Nath Kovind to apprise him of the situation.
Congress MP Adhir Ranjan Chowdhury wrote to the President demanding Article 355 in the state.
The BJP MLAs' act of enjoying lyangchas on the way was ridiculed by chief minister Mamata Banerjee later in the day. "Some parties are going there while eating lyangcha," Mamata said at a government event.