Sustainable fashion, ethnic inspiration
Students decorated entire rooms and created a large variety of home decoration items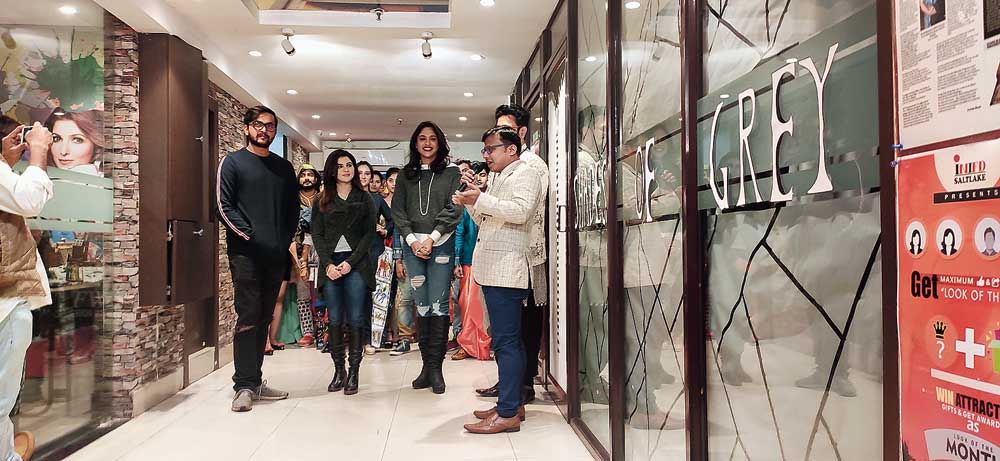 ---
|
Calcutta
|
Published 12.03.20, 06:54 PM
---
Sustainable use of products was the mantra students were chanting as they came together with ideas for creations to showcase in their annual fashion and lifestyle exhibition, Explodia.
In their silver jubilee year in the fashion and education industry, iNIFD, Salt Lake, celebrated with a set of themes. Students decorated entire rooms and created a large variety of home decoration items based on the given themes followed by a fashion show on the same.
Showcasing the theme urban rituals, students portrayed the pithora form of wall painting practised by the Rathva community of Gujarat and experimented on denims giving them a glocal (global cum local) look. They made coasters using denim which had pithora work, lampshades, clocks and more.
For the kiriori folk ritual theme, students worked with the hand-cut paper design form of Mathura called sanjhi art and combined it with origami. They made a variety of purses and wall hangings. "Sanjhi art is difficult to use in textile but very interesting. No one in the group knew about this art form though we had some idea about origami, the Japanese art of paper folding. So coming up with products using these methods were very interesting for us," said Hasti Mehta, a student of advanced diploma.
For the third theme, shades of grey, students focused on minimalism and used black, white and grey colours in their different products like cushion covers, coffee mugs, trays, umbrellas etc.
For the psychedelic theme, students combined three art forms —Boho (short form of Bohemian), Masai and macrame (the art of knitting string in patterns) — for making wall hangings, jewellery, mirrors, shoes, scarves and jackets using beadwork and knotting techniques from the art forms.
Next was nayaab heena in which they combined henna with rogan — a cloth painting technique from the villages of Kutch. The colourfully decorated room had dupattas, file covers and photo frames. Bags and diary covers were decorated using henna designs, while footwear and table mats were made in the rogan style, using boiled oil and vegetable dye.
The hue dimensions theme fused classical patterns of the Memphis era with the futuristic Lego toys. Students decorated the room with bright colourful patterns and the effect could be seen in their products. They made colourful bags, bottles, shoes, wall clocks etc.
The seventh topic was spices. A variety of spices like cinnamon stick, cumin seed, bayleaf, clove, cardamom and more were used to make different products like mugs, napkin holders, spice boxes, refrigerator magnets.
The last theme was panchbhutas, where they tried to draw inspiration from the five elements of nature – water, soil, fire, air and space.
"This is the time for students to experiment, so each time we try to find topics that can be experimented with. This time we tried to reuse products and come up with eco-friendly ideas which can promote sustainable fashion. We tried to promote local cultures with global awareness," said John Sengupta, head of the department of fashion.