Survival after 30 hours in sea
Sheikh Iqbal Hossain, 32, was semi-conscious and clinging to flotsam by the sea shore when the villagers spotted him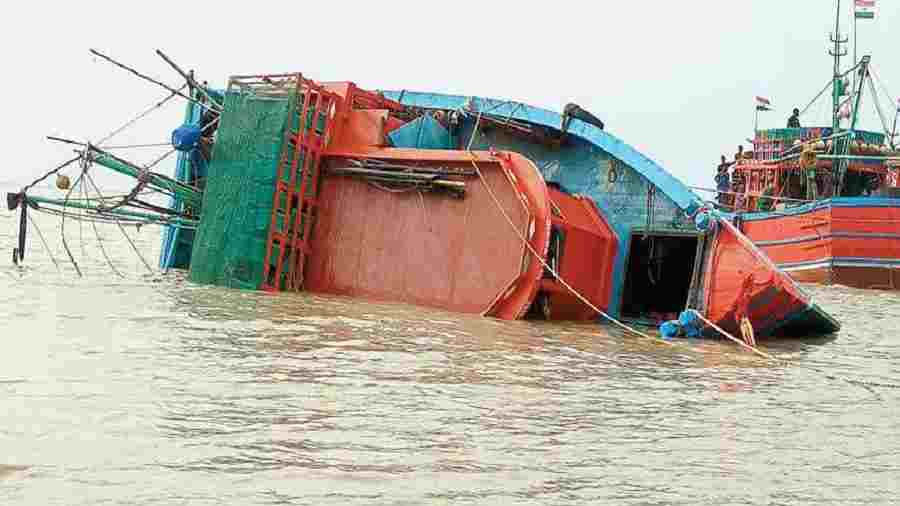 Representational image.
File photo
---
Tamluk(EastMidnapore)
|
Published 12.06.22, 12:44 AM
|
---
The driver of the trawler that capsized early on Friday in the Bay of Bengal off East Midnapore's Petuaghat was rescued on Saturday afternoon.
Sheikh Iqbal Hossain, 32, was semi-conscious and clinging to flotsam by the sea shore when the villagers spotted him. They rushed Hossain to Khejuri block hospital.
Hossain was "traumatised" — as described by the rescuers — after a near-30-hour ordeal since his vessel reportedly overturned in the Bay of Bengal on Friday.
The incident killed two fishermen and six still remain missing.
The trawler sank after encountering a vortex-like current while the fishermen were preparing to catch hilsa in the Bay of Bengal off Petuaghat on Friday. Police said the bodies of two fishermen —  Khurshed Khan, 42, and Safirul Khan, 37, — were recovered from the sinking trawler on Friday. Both were residents of the Sagar Thana area in South 24-Parganas.
"Sheikh Iqbal Hossain is alive only because of his survival instinct, which makes this an incredible feat. He is barely aware of what happened," said a doctor at the hospital.
"Villagers in Khejuri's Kolgachhia spotted him by chance on Saturday afternoon and took him to hospital to revive him immediately. They also informed the district administration, as they were unaware of Friday's developments," said Contai SDPO  Somnath Saha.
Anup Das, one of the rescuers, said: "We spotted Hossain and immediately thought he was a fisherman and had an accident with his boat. Little did we know of his hours-long ordeal."
Police sources said Hossain was the operator of the trawler that capsized on Friday. "The search for six others is still on, and because the waters at the site where the trawler sank was treacherous, three Coast Guard divers from Chennai have been brought in to assist," added a police source.
Family members of the missing persons said Saturday's news "brought them some hope"."It shows maybe my brother too is holding on for dear life somewhere, and will be found. We are praying," said the sister of fisherman Sukhdeb Karan.
Families of all missing members had gathered near Petuaghat within hours of receiving the news.
Assistant director of fisheries (marine), Surajit Bagh, said deep-sea fishing would start from June 15. "The overturned trawler was coming out of Nandigram to Petuaghat fishing port to collect oil and ice when the accident took place Two bodies have recovered. Six fishermen still remain missing. The Coast Guard conducted a search with overdrafts and helicopters."