Sunderbans youth on mission oxygen on two wheels
Volunteer cycles on tough terrain to give Covid patients oxygen support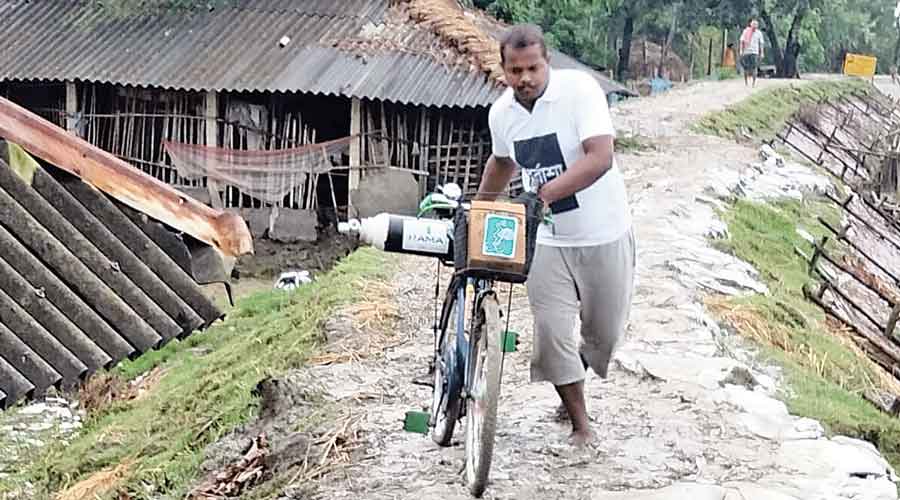 Volunteer Soumitra Mondal carries an oxygen cylinder on his cycle.
Hedaytulla Purkait
---
Gosaba
|
Published 25.10.21, 03:17 AM
|
---
Soumitra Mondal, 29, from the remote Bali island of the Sunderbans, proved humanity exists even in the bleakest of times.
On Saturday morning, Soumitra tied an oxygen concentrator to the carrier of his bicycle and cycled 15km on muddy roads and then lugged his vehicle on a boat to cross a river and reach a village in Basanti to help a Covid-19 patient's need for oxygen support in that remote place.
After a two-hour journey, he reached the patient,  an elderly woman,helped her out with the oxygen concentrator, before returning down the same tough terrain in the afternoon.
Saturday was just another day for Soumitra, who has helped over 100 Covid-19 patients since the outbreak last year.  Before the pandemic, he used to be a contractual para teacher in a local school but Covid-19 made him jobless. But it did not make jim bitter. He became a volunteer, helping out people round the clock.
"I saw it is tough for people in these remote islands to get oxygen cylinders or medicines in good time, so I started arranging oxygen cylinders with the help of a few NGOs. Now I have six oxygen cylinders and two oxygen concentrators. As I have no other vehicle, I have to carry the cylinders or concentrators on my cycle," he said.
On Saturday, when Amal Nayek, a retired teacher from Shibganj contacted Soumitra for oxygen support for his ailing wife, a Covid-19 patient, the youth did not waste any time. "I am now used to these trips, as I have been doing this since the summer of 2020," he said.
Nayek, who is also known in the area as a social worker, said he was very grateful to Soumitra.
"My wife got infected with Covid-19 and was released from a nursing home, but she needed oxygen at home. I called Soumitra, and he took just two hours to reach our home with the oxygen concentrator. It is truly admirable," said Nayek.
Soumitra, who is diabetic, contracted Covid in June.
"I got Covid, but the pandemic can't stop me from helping people. Here, the main challenge is access to a hospital in time. Locations are such that people have to rely on boats. I will help in whichever way I can," he said.
The local administration has allowed Mondal to board boats gratis, for his services.
"What he has been doing is remarkable. Everyone should accord all help possible to him," said a district official.