Sunderbans fisherman missing in royal Bengal tiger attack
Sources said the victim was identified as Darik Mondal, 39, a resident of Lahiripur village of Gosaba in South 24-Parganas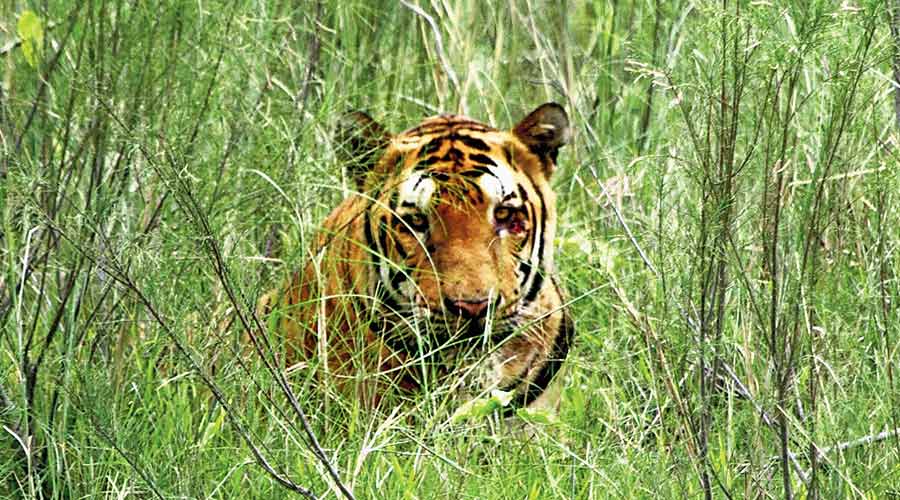 ---
Kalyani
|
Published 05.09.21, 01:05 AM
|
---
A fisherman went missing after he was dragged away by a royal Bengal tiger in Jhila forest range of the Sunderbans during the early hours of Saturday.
Sources said the victim was identified as Darik Mondal, 39, a resident of Lahiripur village of Gosaba in South 24-Parganas. "Mondal along with three others, including a woman, went to catch crabs in the creek when the incident took place," said a source.
Those accompanying the victim said the big cat swam silently and jumped on their boat from behind. Then, the animal dragged Mondal away even before they could realise what was happening.
"It was a very big cat and too powerful for us. It simply jumped on the boat and dragged away Mondal. Everything happened within a few seconds," one of the fishermen accompanying Mondal said.
"The tiger disappeared in the dense forest adjacent to the bank of the creek where we were catching crabs," the fisherman added.
Later, the group on the boat returned to Gosaba and informed the forest officials about what had befallen Mondal.
Forest officials immediately launched a search in the area. "However, till Saturday evening the missing fisherman could not be traced," said a forest official.
Sources in Gosaba said that those who had gone to catch crabs inside the Jhila forest range and entered deep inside the prohibited zone. Wildlife officials blamed the fishermen for inviting dangers by entering the deep jungle despite the strict ban on entry.
"Entry inside the jungle is prohibited. We had organised awareness drives among fishermen to restrain them from risking their lives. We are trying to promote alternative sources of livelihood like apiculture for them. But it appears that they hardly pay heed to our appeal," a senior official of the state wildlife department said.
At least 26 fishermen have been killed by royal Bengal tigers in the Sunderbans during the last 15 months, the forest department sources said.