Sunderbans: Fisherman injured in tiger attack on Kapur river
Sudarshan Sardar, 30, was rushed to the Gosaba block hospital and was then referred to the NRS Medical College and Hospital in Calcutta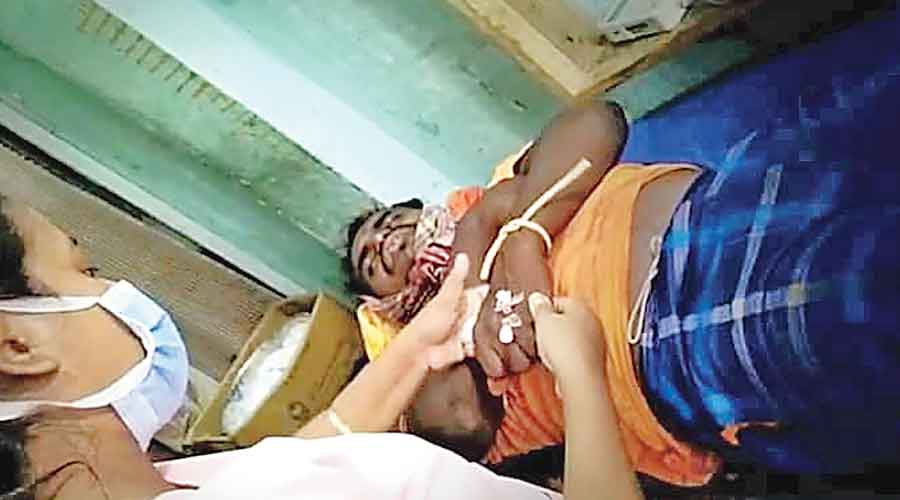 Injured fisherman Sudarshan Sarkar being treated at Gosaba on Thursday morning. He was later referred to NRS in Calcutta.
Telegraph photo
---
Bolpur(Birbhum)
|
Published 03.09.21, 01:12 AM
|
---
A fisherman was injured by a royal Bengal tiger on the Kapur river in the Sunderbans early on Thursday morning, marking the second tiger attack in the region in less than two weeks, but he survived as he and his friends on the boat hit the tiger with their oars.
Sudarshan Sardar, 30, a fisherman from Sonagaon village in Gosaba, was rushed to the Gosaba block hospital and was then referred to the NRS Medical College and Hospital in Calcutta, where he is reportedly stable.
Sources said details about the tiger, or how badly it was injured by the oars, remained unclear.
Sardar was the part of a group of five fishermen who managed to fend off the big cat with their oars reportedly for over 30 minutes. Sources said they had ventured into the deeper part of the river to fish for crabs with a permit.
"This is different from other cases of man-and-animal conflict, where fishermen venture into these areas without proper permits," said a forest official, adding Sardar's medical costs would be borne by the state government.
On August 24, this newspaper reported a similar incident, in which a group of fishermen had been ambushed near Gosaba's Satjelia by a tiger, which dragged one person off the boat. That incident had taken place on the heels of another incident that occurred in Jhila, where a lone fisherman had been killed.
Fisherman Uttam Ray, who was on the boat with Sardar on Thursday morning, said they screamed for help and fought the tiger with oars.
"Fortunately, people nearby told forest officials, who responded fast. We were able to hold off the tiger with our oars," he said.
"Very few of these encounters with tigers end this way (with no human casualty). We have seen too many of these encounters. The group today (Thursday) were lucky," a resident of the area said.
Forest officials later said that Sardar was likely to make a full recovery in the hospital.