Sufi singer Zila Khan on talent hunt among children
The parents of most of the participants are daily wage earners or domestic help from Sonagachhi and Kidderpore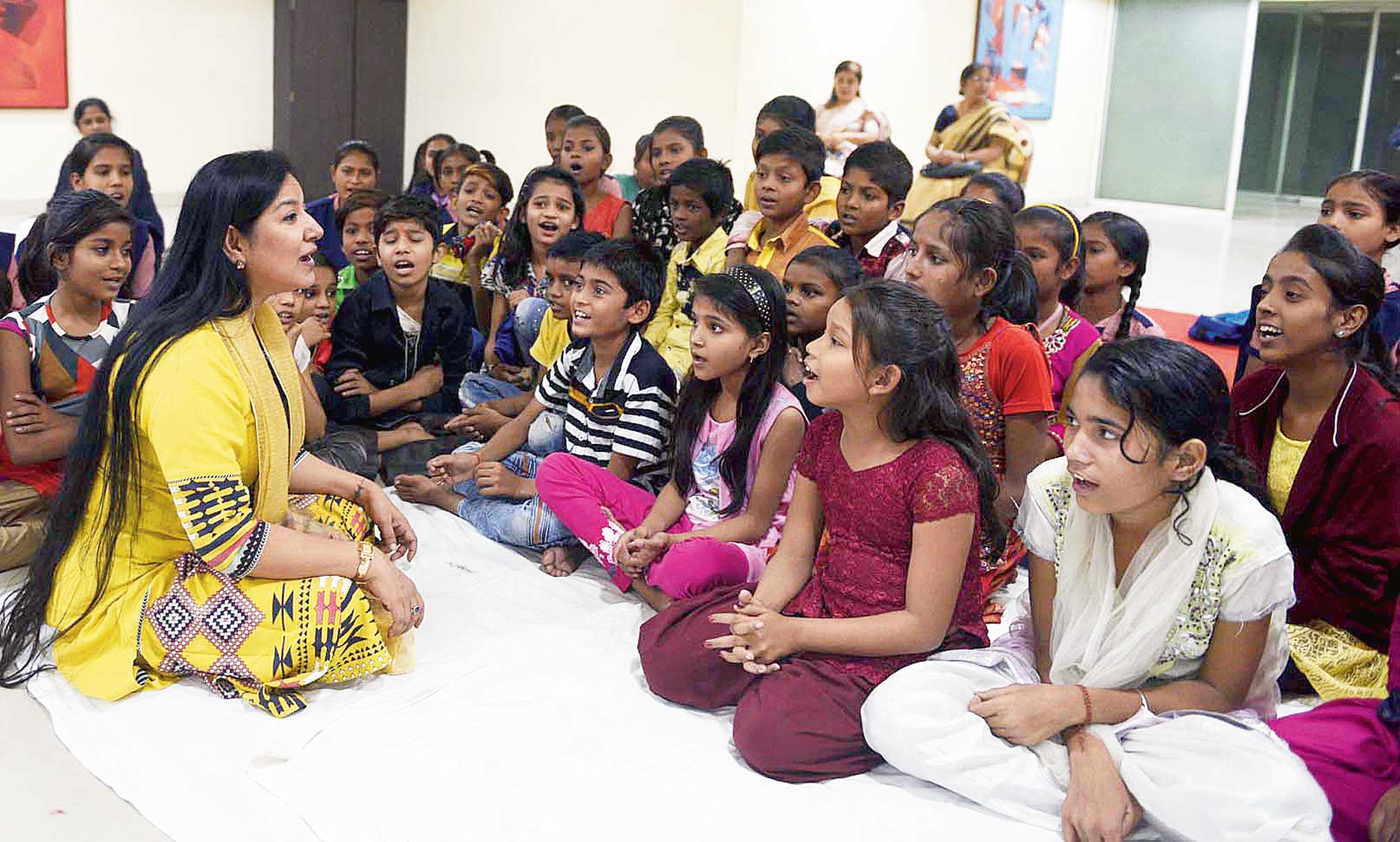 Sufi singer Zila Khan at a workshop to identify talent among children from the city.
Picture by Gautam Bose
---
Calcutta
|
Published 06.12.18, 06:56 AM
|
---
Young children from streets and slums of Calcutta — some shy, some apprehensive and many who have never sung even in a school programme — auditioned in front of Sufi singer Zila Khan at a recent workshop.
Khan, daughter of sitar maestro Vilayat Khan, almost cajoled every child to sing during the four-hour workshop that was organised on December 3 to create a band of musicians and singers and "empower them to make their livelihoods better".
The selected children will be trained in the basics of music by students of Vilayat Khan and others. Zila will come back after a couple of months to "see their development."
The 75-odd children were tested on their sense of rhythm and quality of voice. Their writing skill was also tested when they were asked to jot down whatever they wanted, but only "in metre".
The parents of most of the participants are daily wage earners or domestic help from Sonagachhi and Kidderpore.
Zila said he wanted to teach the children classical music as well as contemporary popular music, which will help them earn a living.
"We all know that in classical music the earning power is not as much as in popular music. I want to empower them with classical music but also teach them how to perform today's music. The way I do it…. The reason why some kinds of music or some kinds of tradition get lost is that people cannot earn from it," she said.
Zila said she had been conducting workshops over the past 15 to 20 years across the world. Not all participants are underprivileged or children.
She also teaches the privileged and adults who are musically talented so that "India can have my kind or better musicians and singers… who take our culture abroad, who retain it and also take it forward".
The children who participated in the Calcutta workshop came from three NGOs — Apne Aap Women Worldwide, Help Us Help Them and Disha Foundation.
Apne Aap will liaison with the music trainers and Zila to create an opportunity for the children.
"We were figuring out how to conduct the training with the help of Vilayat Khan's students and we will keep in touch with her (Zila Khan) and give her updates to nurture fresh talent," said Lata Bajoria, a trustee of Apne Aap.
Nazia Parveen was among those who impressed Zila. The 12-year-old's father is a daily wage earner.
At the workshop Zila sang with 16-year-old Sultana Khatoon, who has learnt whatever she knows about music listening to songs on cellphones.
"Our goal is that people who know musically talented children learn about this and send them to us. It is especially for the underprivileged because they hardly get a chance. Others usually find a way," Zila said.
Before leaving, she promised to come back and take the ones who are really good under her wings.
"The ones who are really good and will take up music professionally, I will take them under my wings. In between I will take them along with me to sing on international platforms," she said.