Struggle to meet onion demand
Daily quota from government stalls reduced to 500g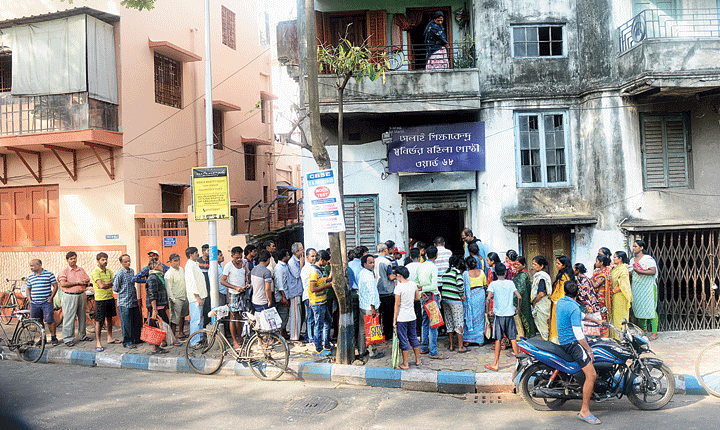 ---
|
Calcutta
|
Published 08.12.19, 07:33 PM
---
As onion prices continue to hover around Rs 150 a kilo, hundreds of people are queuing up in front of government stalls at markets and other places where the bulb is being sold for Rs 59 a kilo.
Onions are being sold out from state-run mobile and fixed outlets, called Sufal Bangla, faster than officials had thought, forcing the government to bring down the quota from one kilo to 500g per person standing in queue.
The government will also sell onions at Rs 59 a kilo through ration shops from Tuesday, officials said.
Metro saw a big, serpentine queue in front of a Sufal Bangla van in Kankurgachi, near VIP Market, around 9.30am on Sunday. Those at the end of the queue were restless, fearing the sale of onion would stop any time.
A similar restlessness was palpable among people who had queued up in front of an outlet at Shibpur's Mandirtala, near Nabanna. Word had spread that onions would be available only till 10.30am.
Some in the queue complained that the quality was not good, while others said they wouldn't mind given the price. Most were against the restriction that a person could buy only 500g of onion daily.
Since it is not possible to queue up every day, many are bringing family members so they could together take home the required amount at Rs 59
a kilo.
"We usually turn up in twos so that we can carry at least a kilo, which sees us through the week," said Siddhartha Roy of Kasba, who was waiting in a queue outside a mobile stall.
This newspaper on Sunday charted the rise in the price of onion from Rs 24 a kilo in December last year to Rs 150 a kilo this December. The sharp rise is because of intense rain in Maharashtra and Karnataka, which brought down drastically the supply of onions to Bengal from there.
Around 50 truckloads of onion would reach Koley Market, a wholesale hub in Sealdah, daily in January this year. The number has come down to three.
The department of agriculture marketing has been operating 74 mobile and 22 fixed stores across Calcutta to supply onion to at least a section of customers at an affordable rate. But with the price spiking in the wholesale and retail markets, the department is having a tough time meeting the ever increasing demand.
Onions sold between Rs 140 and Rs 150 a kilo, depending on the quality, at Lake Market and in Kasba, Gariahat and Maniktala. In some pockets, medium quality onions sold between Rs 120 and Rs 130 a kilo.
"We open the stalls at 7am and the stock typically lasts three hours," said an official of the department. "We are scaling up our supplies to the areas where the demand is very high, such as New Alipore and Kankurgachi, by several kilos every day. But even that is not enough."
With the chasm between supply and demand widening by the day, the government has decided to distribute onions through the public distribution system. A meeting at Khadya Bhawan on Sunday decided that a kilo of onion would be sold to each family every week at the rate charged by Sufal Bangla.
"Ration dealers will pick up their stock on Monday morning. So from Tuesday onions will be available from fair price shops," said public distribution system minister Jyotipriyo Mullick.
Asked when the prices could come down, an official in the agriculture marketing department said: "We may have to wait another two weeks, till new crop arrives."