Statue jinx stalks Amit Shah in Bengal
Blunder reaffirms 'culture disconnect'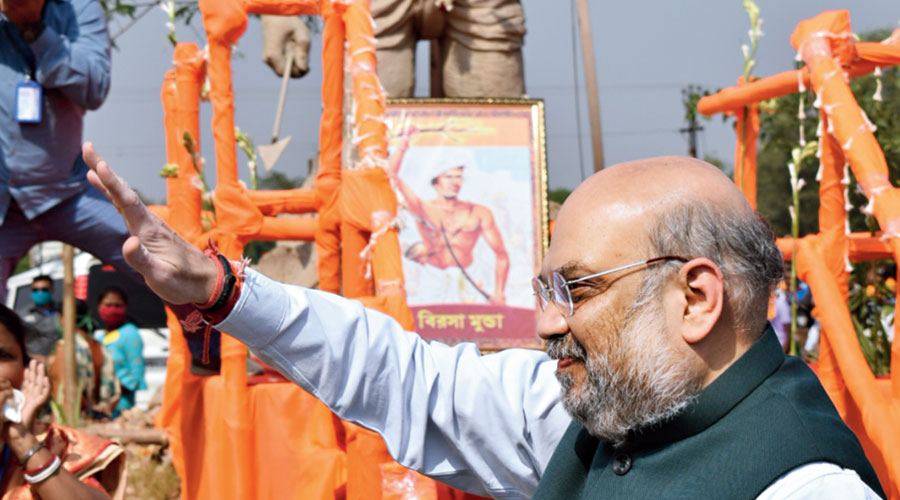 ---
|
Bankura
|
Published 06.11.20, 04:07 AM
---
Union home minister Amit Shah on Thursday offered flowers amid much fanfare to a roadside statue in Bankura the BJP had identified as that of tribal freedom fighter Birsa Munda.
But local tribal people said the statue had been erected not to the 19th-century hero but to an anonymous tribal hunter.
While the faux pas outraged tribal communities that consider Munda their foremost icon, Trinamul claimed it was fresh evidence in support of chief minister Mamata Banerjee's allegation that the BJP is ignorant of Bengal's culture and history.
The BJP had tried to make amends by placing a picture of Munda at the foot of the statue after tribal leaders had highlighted the mistake, but this was construed as a "gesture of disrespect" by some.
Thursday's PR disaster for the BJP comes 18 months after people allegedly from a Shah road show in Calcutta barged into a college and vandalised a bust of Ishwarchandra Vidyasagar towards the close of the programme.
That incident had allowed Mamata to portray the BJP as a "bohiragato (outsider)" to Bengal, a charge that has become a staple of her speeches in the run-up to next year's Assembly polls and one that she repeated shortly after Shah's gaffe on Thursday.
Sangiri Hembram, a leader of the prominent tribal outfit Bharat Jakat Majhi Pargana Mahal, said: "In the official programme schedule circulated by the BJP, it was specifically mentioned that Shah would offer 'floral tribute at Bhagwan Birsa Munda's statue'."
"He then goes and offers tribute to that random statue of a tribal hunter. It clearly betrays a lack of knowledge of the basics of our culture and an unwillingness to learn."
Support from tribal voters had been key to the BJP's surprising success in the Lok Sabha polls in Bengal last year. A senior BJP leader acknowledged that a key objective of Shah's Bankura visit was to court Bengal's tribal communities and that the howler could create an "unnecessary problem".
The statue, which stands at a crossing on National Highway 60A at Powabagan, 7km from Bankura town, has no plaque or signage. Local tribal groups said the National Highways Authority of India had erected the statue to an unknown hunter four or five years ago as part of a beautification drive. The NHAI could not be reached for confirmation or comment on why the statue was left unnamed.
Munda (1875-1900), who died in jail after leading a rebellion against the British, was a religious leader and folk hero too. He spearheaded a tribal religious, millenarian movement in the Bengal Presidency, in an area that now falls in Jharkhand.
"This is unacceptable from the BJP. This is unacceptable from Shah. How is it (the mistake) even possible?" Hembram said.
"He (Munda) is the only tribal leader whose portrait hangs in the Parliament museum. An international airport (in Ranchi) is named after him. This is serious."
He added: "We came to know about this humiliation on Thursday morning. This is utterly condemnable from the Union home minister."
Hembram said he had called up Bankura MP and BJP leader Subhas Sarkar to inform him of the mistake. "After that, a picture of Birsa Munda was brought and placed at the foot of the statue. That is another gesture of disrespect."
Munda's picture had been placed at the site about half an hour before Shah's arrival on Thursday morning. The statue had already been garlanded.
Shah threw flowers towards the concrete statue, immediately after which a district BJP leader requested him to garland the picture instead.
"The fault is ours. Amitji is not to blame. The embarrassment is ours. We had briefed him wrongly. But we managed to control the damage at the last minute," a senior BJP leader said.
Shah later lunched at the home of Bibhishan Hansda, a tribal marginal farmer, in an attempt at an outreach.
Bankura BJP president Vivekananda Patra cited the lack of signage indicating whose statue it was.
"Some local tribal people told us it was a statue of Birsa Munda. However, after we came to know about the objections from a few tribal groups, we immediately placed a photograph of Birsa Munda there. Amitji garlanded the photograph," he said.
Biplab Saren, district secretary of the Bharat Jakat Majhi Pargana Mahal, said the BJP could have chosen better alternatives than placing Munda's picture at the foot of the statue.
"If they wanted to pay tribute, there were the nearby statues of Sidho-Kanho (leaders of the 1850s Santhal rebellion). They did not change the programme even after the mistake was pointed out," he said.
"Also, there is a statue of Birsa Munda at Birsa Bazar in Ranibandh, less than 60km away. Why could the programme not be held there instead?"
Trinamul rubbed it in. "From Ishwarchandra Vidyasagar to Birsa Munda, the BJP and its leaders have no understanding of, or respect for, the Bengal pantheon of icons. They will forever remain a party of Hindi-Hindu-Hindustan," Trinamul Bankura chief Shaymal Santra said.