State to hire elephant watchers
Initiative taken to mitigate elephant depredation in north Bengal and also in some southern districts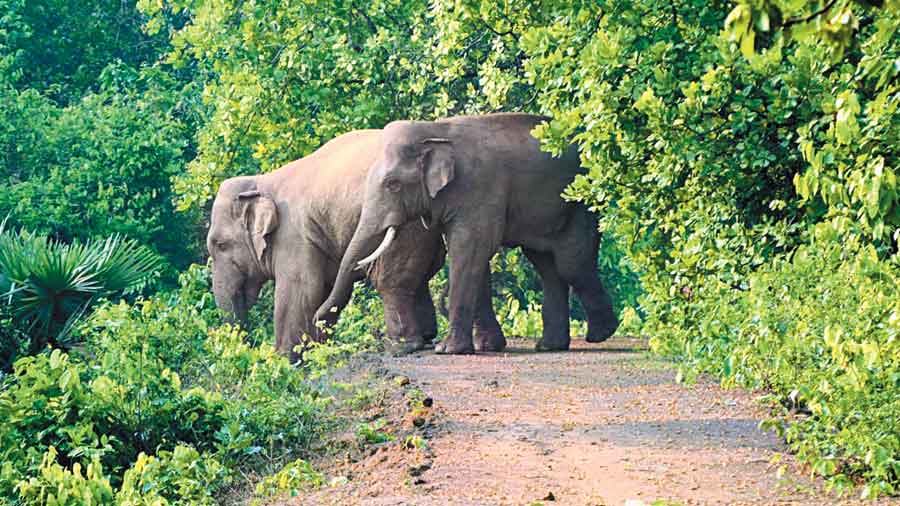 Representational Picture
File Picture
---
Alipurduar
|
Published 17.10.22, 12:04 AM
|
---
The state forest department has decided to recruit around 600 elephant watchers from villages and tea estates on the fringes of reserve forests and elephant corridors across Bengal.
According to sources in the department, there are around 700 wild elephants in Bengal. 
Named the "Gaja Mitra (friend of elephants)", these contract workers will monitor elephant movements and inform foresters in case an animal strays inside human habitat near elephant corridors and forests.
The initiative, sources said, has been taken to mitigate elephant depredation in north Bengal and also in some southern districts of Bengal.
Regular intrusion of wild elephants into villages leads to loss of human lives, crops and homes. In many cases, elephants also pay for the intrusion with their lives as many farmers install fencing with electricity, electrocuting the animals.
"Human-elephant conflict is on the rise and we are determined to control it. To enhance our vigil and to confirm that preventive steps are taken to check elephant depredation on time, we have decided to engage local youths as contractual workers. They will keep a watch on elephant movements in their areas and will inform us in time," said state forest minister Jyotipriya Mallick.
In all, 600 such workers would be recruited across the state, 400 for north Bengal and 200 for south Bengal.
The initiative, Mallick said, will create an employment opportunity for local youths living in remote areas.
"We will start the recruitment process after the ongoing festive season is over," he said.
Each of these workers will be trained and cell phones, with a specific app installed, will be handed over to them.
"They will use this app to inform officers of nearby forest ranges on the movement of wild elephants near their areas concerned in a regular manner," said a forest official.
The department plans to pay each Gaja Mitra a monthly remuneration ranging from Rs 12,000 to Rs 15,000, which will be fixed shortly, he said.
Political observers said that ahead of the panchayat elections, this could be a strategy of Trinamul to try and win support of the population in villages and tea estates near the reserve forests.
An observer said that in some of the recent elections, it was found that in most of these areas near forests, the majority of people sided with BJP in north and south Bengal.
"Local youths will be employed, and their engagement will intensify vigil that can eventually reduce incidents of elephant attacks. This two-fold strategy can help Trinamul," said an observer.