Stage set for sharing home truths & putting up a fight
Survivors of domestic violence use theatre to inspire women to speak up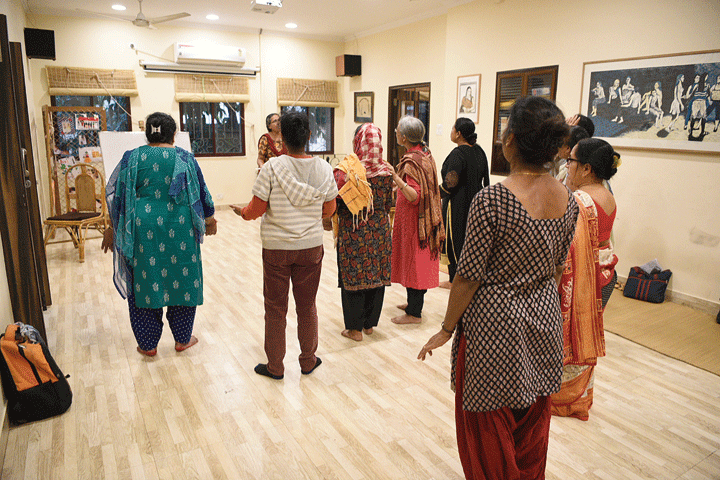 The theatre group of Swayam during a rehearsal session last week.
Picture by Gautam Bose
---
Calcutta
|
Published 08.12.19, 07:29 PM
|
---
A number of women who have faced violence at home are reaching out to women in their neighbourhoods and making them aware of their rights through plays.
The theatre group has performed in the city's neighbourhoods, in slums and in villages.
The plays not only talk about domestic violence but also the relevant laws and what can be done to fight it.
"At times, women come up and seek our help. We can understand that many of them have no support at home and do not have the courage or the means to fight their situation. It's a situation we can relate to because we have gone through it," said a 48-year-old woman.
The plays are meant to shame the men, some of who turn up to watch. "There are men who physically torture women and we hope that when they see the same being enacted in front of them, it might bring some repentance or shame," she said.
The women are part of a theatre group under Swayam, a women's rights organisation, and have been trained by theatre directors in writing plays and acting.
When the women are asked to write dialogues for the plays, it comes naturally to them because they have suffered that pain, an official of Swayam said. It also acts as a release from the trauma.
"During the workshops a director once told me to remember what I had gone through in my life before enacting an emotional scene. It brought tears to my eyes because it was when my husband had separated me from my 11-year-old daughter and took me to another home. The only access I had for many years was for a few hours in the evening when I would teach her," said a 58-year-old woman, who has helped many others join Swayam and find a voice.
Anuradha Kapoor, the founder and director of Swayam, said the aim was to make those voices heard.
"The idea is to take their voices to the public and raise awareness about the issues and what can be done. As an organisation, we do awareness programmes and theatre is a big part of that. I don't call them survivors but agents of change. They are creating that change and helping the organisation create awareness. They are an integral part of our journey towards the change," she said.
A collection of Bengali prose written by women survivors and its English translation, Reflections, were released by Swayam on Saturday. Most of the articles have been published in a quarterly magazine called Prayas.
"Writing helped us feel better and vent a lot of negativity that we had within us. I didn't know that we could write until I started," a 60-year-old woman said.
Uttaran, a collection of plays written by the women, was also released on the occasion.