Staffing stumbling block for East-West Metro
Maintenance team unavailable at present to keep the East-West rakes in shape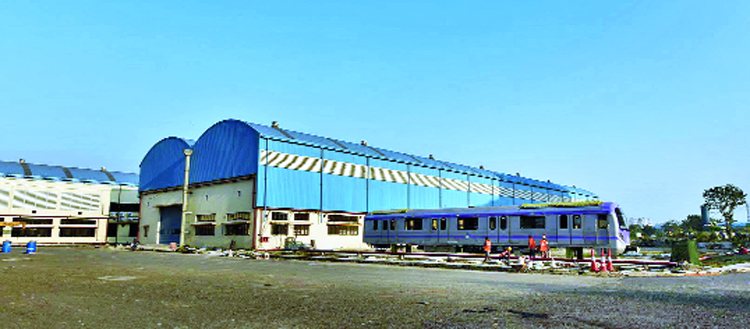 The East-West Metro's maintenance depot in Salt Lake
The Telegraph picture
---
Calcutta
|
Published 07.02.19, 10:18 AM
|
---
The first leg of the East-West Metro connecting Sector V with Howrah Maidan has hit a staffing hurdle after breaking through multiple land logjams to reach the commissioning stage.
Kolkata Metro Rail Corporation (KMRC), the implementing agency for the project, has asked for a team of 30-odd personnel from Metro Railway to maintain the rakes manufactured by Bangalore-based BEML Ltd. But Calcutta's public transport lifeline, which is battling severe infrastructure challenges of its own, cannot afford to spare anyone from its maintenance team to keep the East-West rakes in shape.
"Since the Sector V-Stadium stretch of the project cannot be commissioned without having a maintenance team in place, Metro Railway has been forced to approach BEML to depute its own personnel to Calcutta as part of the defects liability contract," a senior official said.
According to the official, Metro Railway's geriatric fleet would be tested further if it were to split its maintenance team to look after the East-West rakes.
The Railway Board had communicated to Metro Railway recently that it would have to shoulder the responsibility of operating and maintaining Calcutta's second Metro corridor. "The board has decided that all Metro corridors should be under one umbrella," the official said.
The KMRC has entered into a contract with BEML for repair of the new rakes, if and when required. The defects liability period is two years, sources said.
"Under the contract, BEML will repair any defect that crops up during that period. But there is also a need for another set of technical personnel for daily maintenance," a railway official said.
The maintenance calendar of a Metro rake ranges from daily to monthly checks. This protocol, although crucial to the efficiency of the fleet, does not come under the defects liability contract.
The KMRC has had several discussions with Metro Railway about staffing for maintenance duties.
While Metro Railway is providing drivers, station controllers and control-room personnel, sparing maintenance staff is apparently not possible given its struggle to maintain the old and rickety rakes that frequently break down.
Four new rakes built at the Integral Coach Factory near Chennai are waiting to be inducted into the fleet. Another one, manufactured by CNR Dalian Locomotive and Rolling Stock Co of China, has just been shipped. The Chinese company is contracted to supply 14 rakes.
"We need staff to maintain our rakes, including those that are to join the fleet. Our existing staff strength for maintenance is not enough. We have proposed a contract with BEML for deployment of their personnel," an official said.
The cost implications of entering into a second contract with BEML for routine maintenance are still being calculated, sources said.