Spot the Blind
A society that remembered to help during the pandemic an overlooked people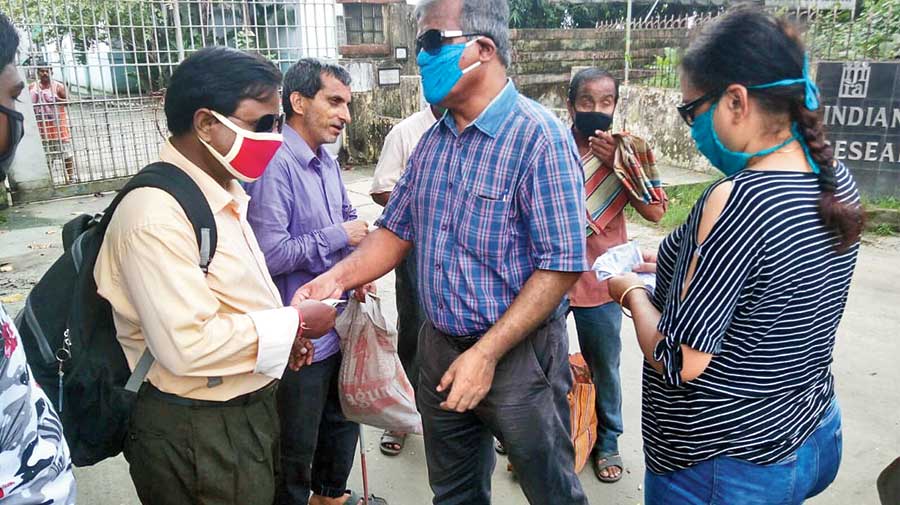 ---
---
If this were just another regular year, by now the non-profit organisation, Society for the Welfare of the Blind, would have kick-started its diamond jubilee celebrations. But then the coronavirus struck and there was a need to tweak the plan. "We have decided to forego ostentation and mark 60 years of our existence by pledging to help 600 people with visual impairment," says Biswajit Ghosh, the secretary of the society.
Ghosh, who is himself blind, is also principal of the Narendrapur Blind Boys' Academy (BBA), which is grand banyan to the society. The society gives lessons, provides Braille equipment, extends financial support for blind school and college students, gets volunteers to translate books into Braille and so on and so forth. "Donating a part of the salary to the society is normal for BBA teachers," says Dilip Raha, who is the current president of the society.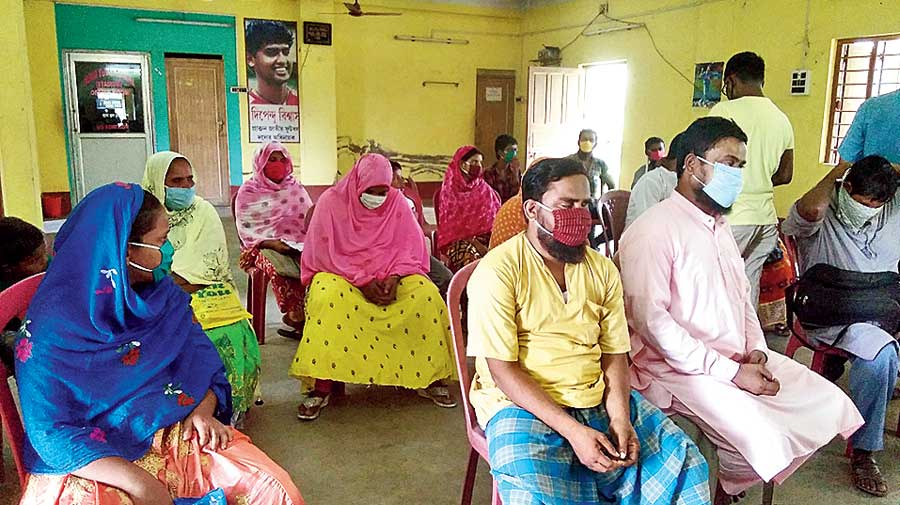 Sukdev Biswas has experienced the munificence of the society. He explains how in 2006, when the state government ruled that colleges could no longer offer higher secondary courses, he and his classmates at the Ramakrishna Mission Residential College, Narendrapur, were left in the lurch. BBA did not have a higher secondary section and most mainstream schools were not keen to take in blind students. That year, many students dropped out. But those who decided to stick it out found a ready and steady support in the society.
Today, the 33-year-old Sukdev works as a senior clerk at the Kharagpur railway station. He has cleared the NET and SLET exams — national and state level eligibility tests for lectureship — and is hoping to teach in a college sometime soon.
To return to the society's Covid-19 pledge, it started distributing relief kits among the impoverished blind in West Bengal in association with the NGO Goonj. Each kit contained 15 kilos of rice, pulses, potatoes, oil, soybean nuggets and biscuits. Much help also hinges on the kindness of strangers.
The way it works is this — having identified around 60-100 beneficiaries in a particular area, Ghosh and company hit the road on a Sunday. A single trip from Dankuni to Memari would mean stopping at Seoraphuli, Srirampur, Chandernagore, Bandel. Typically, those accompanying Ghosh are society members, friends, relations, well-wishers or contacts who would like to help; there are also people from other NGOs.
Since the majority of the distressed happen to be hawkers who lost their livelihood when local trains stopped plying, the society tries to do the kit and token cash distribution some place near the railway station they are so familiar with. That is where the people gather, some accompanied by a family member or friend to help carry the kits home.
Pratima Karmakar used to sell chocolates and candies on local trains, Santu Modak sold papads outside a school in Arambagh. Mrinmoy Chakraborty — an alumnus of BBA and Ghosh's student — is a door-to-door salesman who peddles incense sticks and soaps, also in Arambagh; at times he doubles as a music teacher. Pratima took the lockdown special staff train from Purbasthali in east Burdwan to Bandel, 73 kilometres away. Santu wasn't as lucky. He had to go to Seoraphuli. But the passengers of the special train did not let him board it. Later, he contacted Mrinmoy and the duo took a bus to Bandel.
So far, the society has covered 14 districts of southern Bengal. And to think it all began with Ghosh's personal efforts to help individuals in and around Narendrapur who had approached him. As news spread through word of mouth, he began getting calls for help from far and near. That is when the society stepped in. The services of the Blind Hawkers' Union were roped in too — to verify the authenticity of the distress calls and also to brief the society on who else may need help.
Says Santu, "Not many people think about us. Help for education does trickle in, but that Biswajit Sir thought about us and our survival has touched me deeply."