Spanish clown bonds with Calcutta schoolchildren
Act no clowning around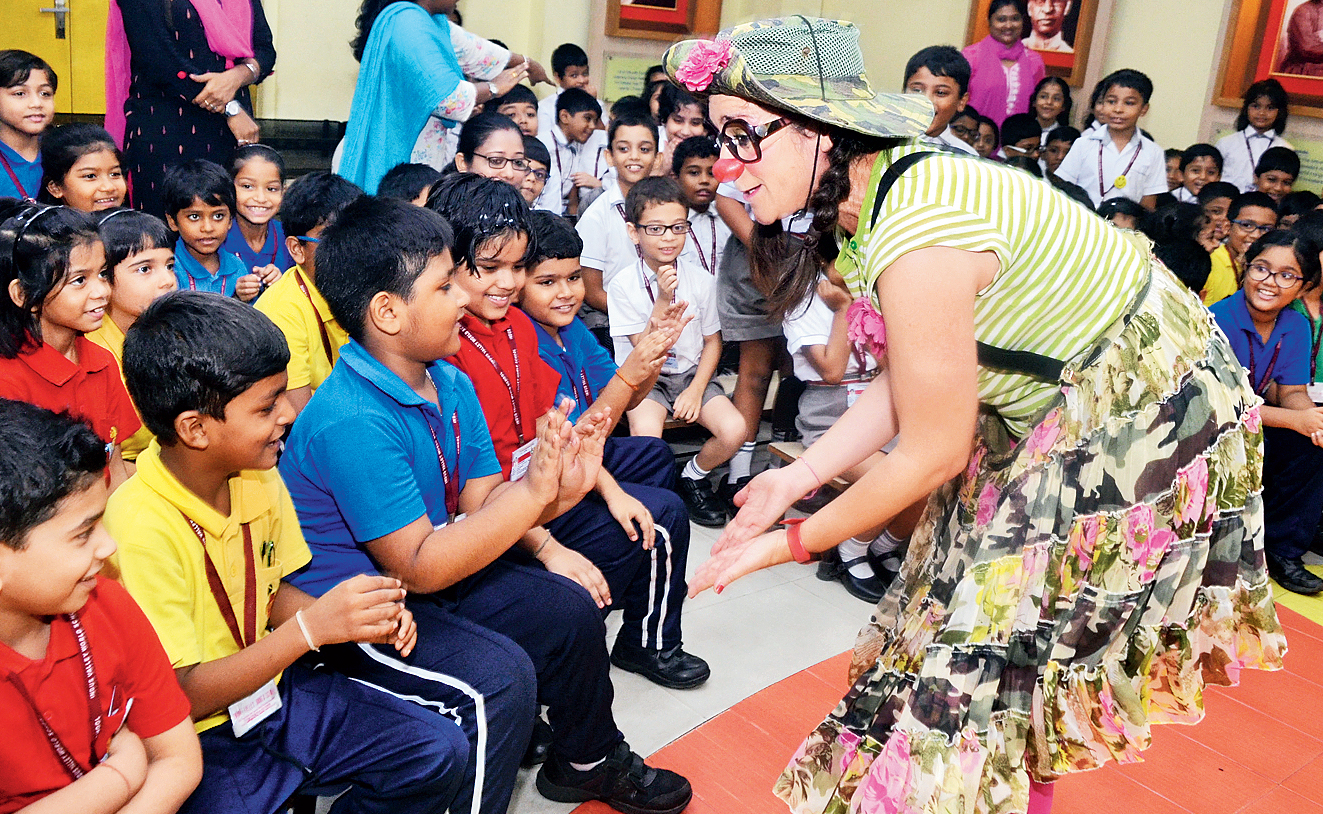 ---
Calcutta
|
Published 27.08.19, 10:42 PM
|
---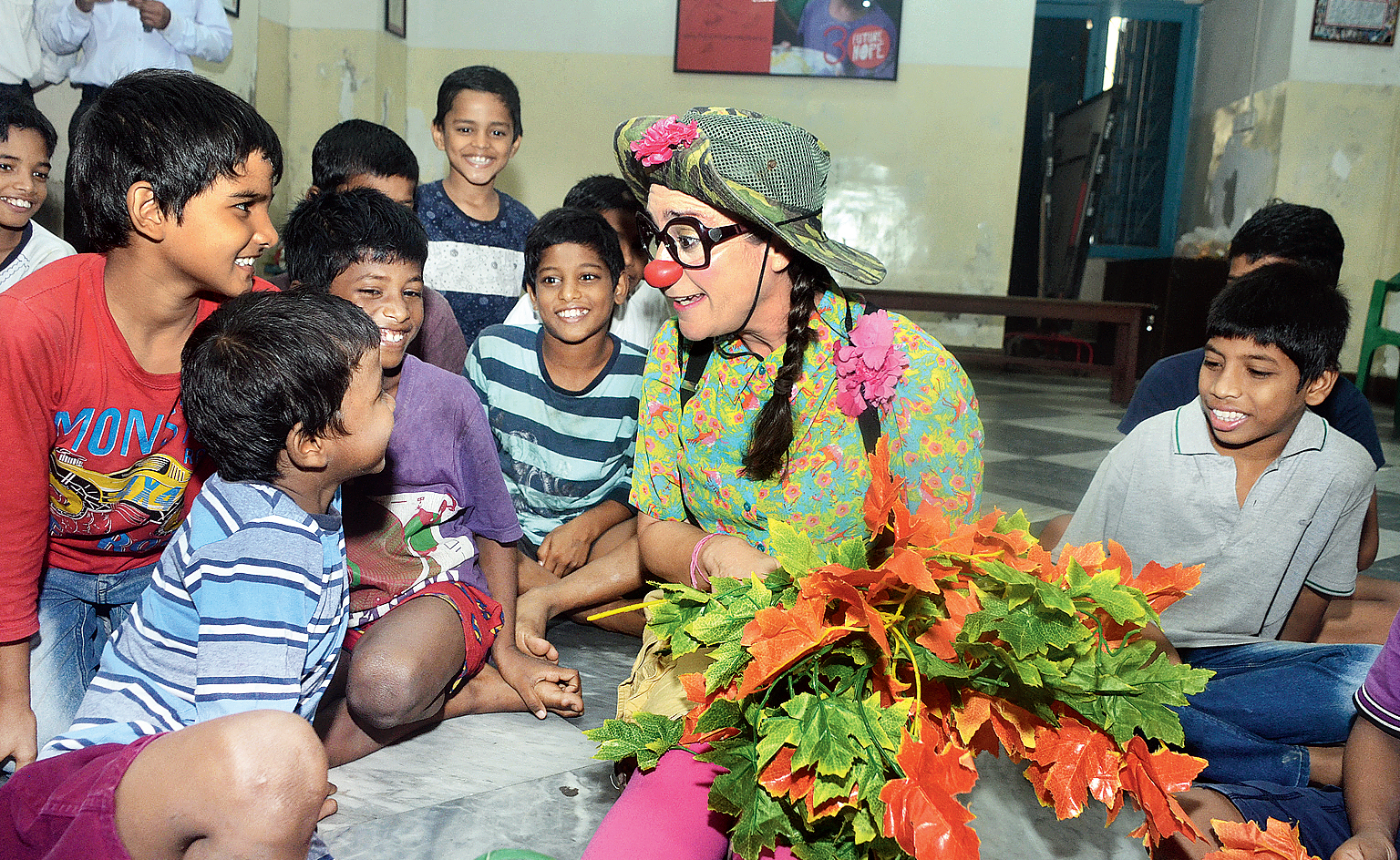 A lady with a big red nose, a camouflage hat and a bunch of flowers in her hand bursts into the auditorium at Indus Valley World School (IVWS) auditorium, taking students by surprise.
Monica Santos, 43, forged an instant bond with the 200-odd children even without a formal introduction.
A social clown from Spain, Monica evoked peals of laughter with her exaggerated gestures. She pranced around the room claiming to be both happy and nervous at the prospect of coming to the city. Her props included a red telephone that connected her to her imaginary "boss".
The hour-long performance was devoted to finding the right "explorers" from a roomful of young enthusiasts for an "important mission". There was never a dull moment as Monica interacted with the children and teachers with equal gusto, throwing in a smattering of Hindi. She taught the kids how to walk like an explorer and what camouflage meant. Humour never left her plot, even for a second.
"It was such fun performing with her. I have never seen a female clown before. Why can't lessons be like this?" said an overwhelmed Sreyan Roy, after some energetic goofing around on stage.
Monica, however, said it was not easy being a clown.
"Such performances are the result of intense training and research. A clown needs to know his/her work space. It's not easy to connect with different audiences, some ailing, through laughter. You have to leave your ego aside. I improvise all the time," said Monica, who would make her friends laugh since childhood.
It was her first time in Calcutta, performing at workshops organised by Creative Caterpillar and for students of Future Hope School, IVWS and BDMI.
Monica has been dividing her time over the past five years between Mumbai and Spain, performing in old-age homes, orphanages and for special children and young cancer patients.
"I came to India as a tourist five year ago and fell in love with the country. Since then I keep coming back trying to heal through laughter," said Monica, who is also the founder of an NGO Big Smiles.
In schools, her performance is mainly to entertain students.
In hospitals, on the other hand, the acts are muted. "You are not looking for claps and hugs there. You are a tool for therapy. I also take notes after each session and share them with the doctors. Sometimes a patient may reject you but you have to keep trying," said Monica, sharing her experiences at the paediatric ward of Tata Memorial Hospital. "You don't enter a hospital room till a child says yes. You are giving him a voice and helping him talk about his pain. Sometimes, I use hospital sounds in my performance to form a happy association. I also accompany younger patients to the surgery ward to ease the stress."
Monica added how a clown has to shed all inhibitions to be a child, to be imperfect in a perfect world. "It is a tough job to bring out the innocent humour of a child. The audience laughs only when there is a connect," she said.
The connect was instantaneous at all three schools, where Monica performed in the city. Around 45 students at Future Hope and 100 at BDM International were left wanting for more.
"I wanted my students to interact with an artiste from another country. Monica was a great choice. I wanted them to realise there are other means of entertainment besides digital media," said Amita Prasad, the director of IVWS.