Sourav Ganguly has a new address: Lower Rawdon Street
Behala boy buys a 23.6-cottah plot with a two-storey building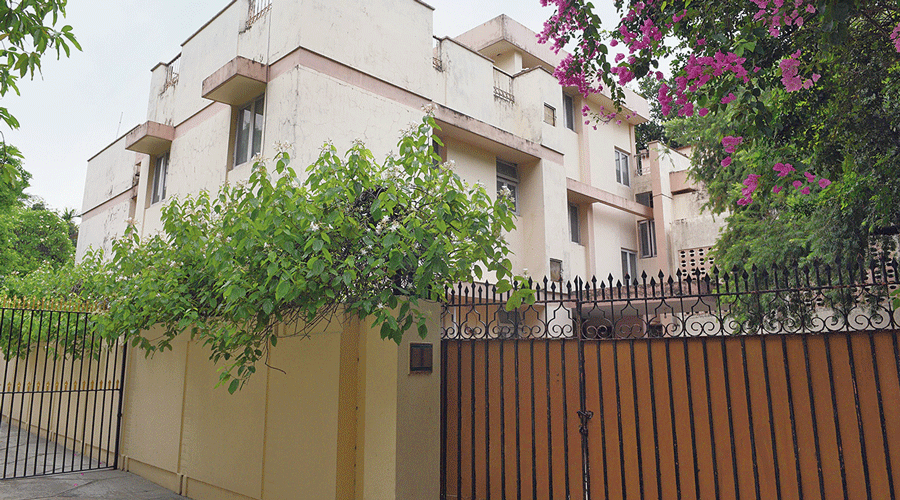 The Lower Rawdon Street property that will be Sourav Ganguly's new address.
Pradip Sanyal
---
Calcutta
|
Published 20.05.22, 03:01 AM
|
---
Cricketer and BCCI president Sourav Ganguly has bought a 23.6-cottah plot with a two-storey building on Lower Rawdon Street for about Rs 40 crore.
The property is at the end of a cul de sac and affords privacy and quiet to the resident even though it is located in a busy central Calcutta neighbourhood. Real estate observers believe the plot is ideal for a bungalow as the width of the road will limit vertical development.
Ganguly, who remains a hugely popular figure despite retiring from competitive cricket a decade ago, lives at present in a palatial family home on Biren Roy Road in Behala along with other family members.
He was born and brought up in the Behala neighbourhood and went on to become one of India's most successful cricket captains.
On Thursday evening, Ganguly expressed his happiness at finding a home for himself and his intention of moving to the new address.
"Happy to have my own home…. I think that's what it is. Living centrally will also be convenient… and the hardest bit is to leave a place where I lived 48 years," Ganguly told The Telegraph.
Sources said the BCCI president, who still rakes in the moolah from hosting TV shows and endorsements, bought the property along with wife Dona and daughter Sana, apart from mother Nirupa Ganguly.
Businesspersons Anupama Bagri, her uncle Keshav Das Binani and his son Nikunj were the joint sellers of the property, which at one time belonged to the Bharatiyas.
The value of the land works out to be about Rs 1.7 crore per cottah, which is competitive for the location, reflecting the end-use nature of the plot.
Prices hover anywhere between Rs 2-2.25 crore a cottah across Rawdon Street, and Loudon Street which runs parallel to it, as a wider road allows developers to commercially exploit a plot and build high-rises.
Jitendra Khaitan, chairman and managing director of Pioneer Property Management, said the transaction showed that the interest of HNIs (high net worth individuals) in the prized real estate of the city is intact. "This is good for the Calcutta real estate market, which is on a positive trend post-pandemic. It also shows the city continues to remain popular with HNI buyers," Khaitan added.
The latest deal will now put the spotlight on other cul-de-sac properties which abound in some of the poshest localities in Alipore and Ballygunge. Not being thoroughfares, these dead-end roads — such as Queen's Park and Sunny Park in Ballygunge — ensure exclusivity and provide the privacy that every wealthy buyer looks for.