Soumitra stood by Left till the end
His political and ideological positions had made him a strong critic of the Narendra Modi government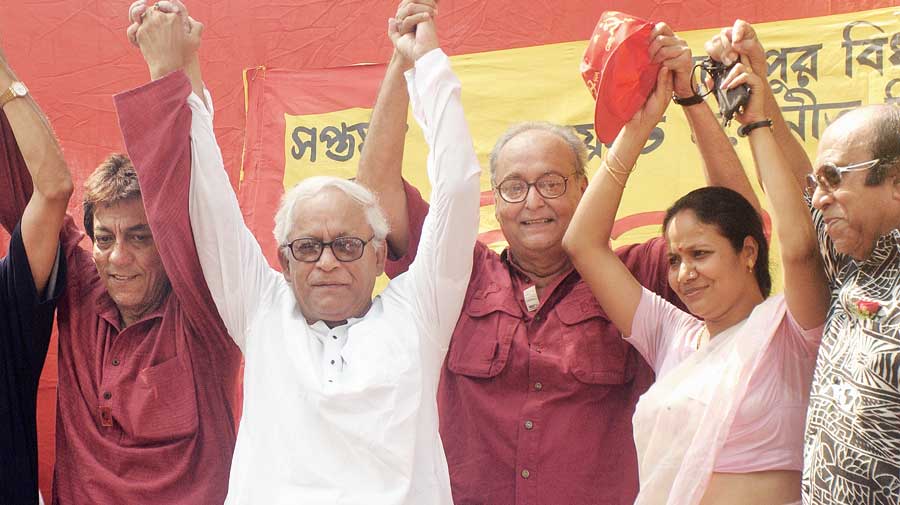 ---
|
Calcutta
|
Published 16.11.20, 02:16 AM
---
In an industry where stardom is worn on the sleeves, Soumitra Chatterjee, considered second only to Uttam Kumar, never shied away from voicing his Marxist leanings till his last days.
In a signed article published in this year's Sharadiya Ganashakti, a publication of the CPM, the actor reasserted his ideological position when he wrote: "I believe if there has to be an alternative (to the Rightist forces ruling the nation), it has to be the Left."
In the same breath, he expressed concern over the rise of the global Right and lamented the Left's inability to instil confidence in the people.
His advocacy of the Left in Bengal was such that when several cultural luminaries began to disassociate themselves from the Buddhadeb Bhattacharjee government during Nandigram and Singur movements, Chatterjee openly supported the then CPM dispensation's industrialisation drive.
"Chatterjee was at the forefront of the rally that Left-leaning intellectuals had brought out in support of the Buddhadeb Bhattacharjee government in November 2007 to counter the one that had protested against the Nandigram massacre," said a cultural activist close to the actor.
Even in the face of criticism for supporting the Buddhadeb Bhattacharjee government, Chatterjee remained unwavering.
"He is the one who actively took part in the food movement against the Congress government in Bengal in the 60s. His association with the Left movement goes back a long way. Therefore, his commitment towards Leftism goes far beyond support for a party or a government," said Calcutta University teacher and minister in the Left Front government, Anjan Bera.
His political and ideological positions had made him a strong critic of the Narendra Modi government, leading him to wonder how someone under whose chief ministership a pogrom had been carried out in Gujarat in 2002 could rule the country today.
Never known to mince words against Rightist and communal forces, Chatterjee had publicly criticised the Modi government for forcing the Citizenship Amendment Act on the country.
"What I gather (from news reports) is that this Act will oppress a large section of the people of this country," he had told a news agency in December 2019.
Deeply wedded to the democratic tradition and a politically conscious mind, Chatterjee had appealed to the CAA protesters not to resort to violence.
"When people get angry, they do many things. Causing people to get enraged could have been avoided. I urge the agitators not to resort to violence while protesting the Act," he had said.
Since 2011, on several occasions, Chatterjee had voiced his criticism of the Mamata Banerjee government for trying to "silence voices of opposition" and the manner in which the present government organised the Calcutta International Film Festival.