Soccer turns into haunt of job hunters
Sukna Gold Cup Football Tournament will have 'spotters' (football experts) from defence and paramilitary forces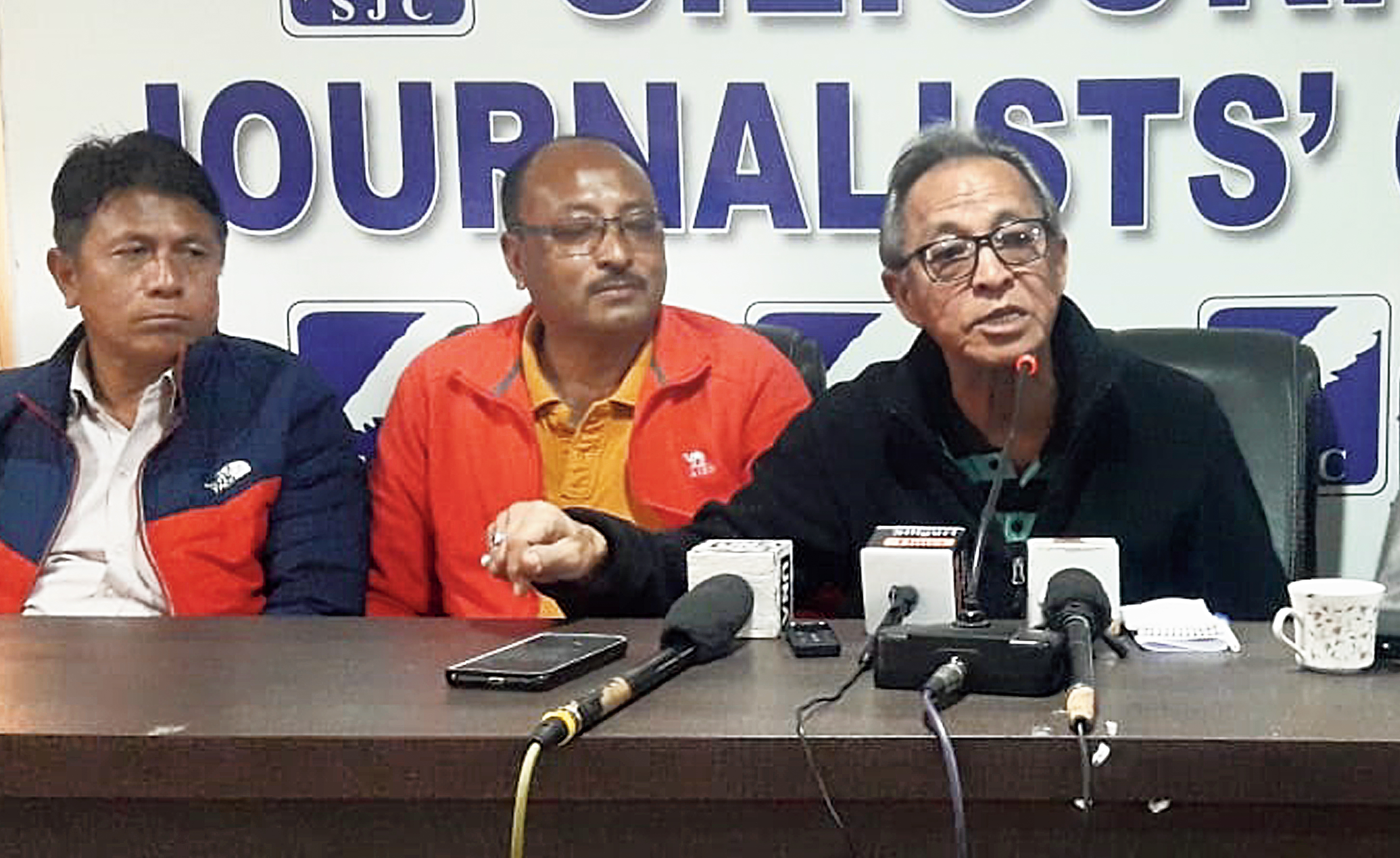 Shyam Thapa (right) and the organisers of Sukna Gold Cup at a news conference in Siliguri on Thursday.
Picture by Passang Yolmo
---
Siliguri
|
Published 09.01.20, 09:43 PM
|
---
A soccer tournament in the foothills of Darjeeling has emerged as a platform of job opportunities for budding players of the region.
The Sukna Gold Cup Football Tournament, whose 15th edition will commence at Sukna, located around 10km from here, on January 19, will have "spotters" (football experts) from defence and paramilitary forces. The spotters will offer jobs to footballers in the forces and an opportunity to hone their skills.
"We are organising the tournament again. This is our 15th year. Our objective is to provide a platform to promising footballers to showcase their skills. At the same time, it also gives them the opportunity to prove themselves and bag jobs in defence and paramilitary forces as their officials are present throughout the tourney," said Suren Pradhan, secretary, Sukna Games and Sports Association, the host of the event.
"Last year, officials of the army and the Border Security Force were present during the tournament. In total, they selected as many as 43 budding footballers who were in due course recruited under sports category," he added.
Teams from north Bengal, Nepal, Bangladesh and Assam will take part in the tourney.
"Although the BSF won't have a team in the tournament this year, its spotters will be present. A team from the Indian Navy will play for the first time," said Pradhan.
Twenty teams, including the Mechi Football Club of Nepal, SAIF SC of Bangladesh and Gorkha Brothers of Assam, will participate in the event. The winning team will get a cash prize of Rs 2 lakhs along with a trophy. The runner-up will take home Rs 1 lakh.
"Considering the enthusiasm and eagerness of soccer teams from across the region, we will organise qualifying rounds from next year so that it becomes easier for us to shortlist the participants in the tournament," said an official of the organising committee.
Shyam Thapa, a former footballer and the chairman of the North Bengal Board for Development of Sports and Games, was present along with the organisers who published the tourney's fixture and provided details of the event at a news conference here on Thursday.
"There is no dearth of soccer talents in the hills and tea gardens of north Bengal. It is good that they have starting drawing attention of football experts of the central forces and the defence forces. This would surely encourage young footballers of the region," said Thapa.