Smugglers set cattle floating
Tied to banana tree trunks, the cows are pushed into rivers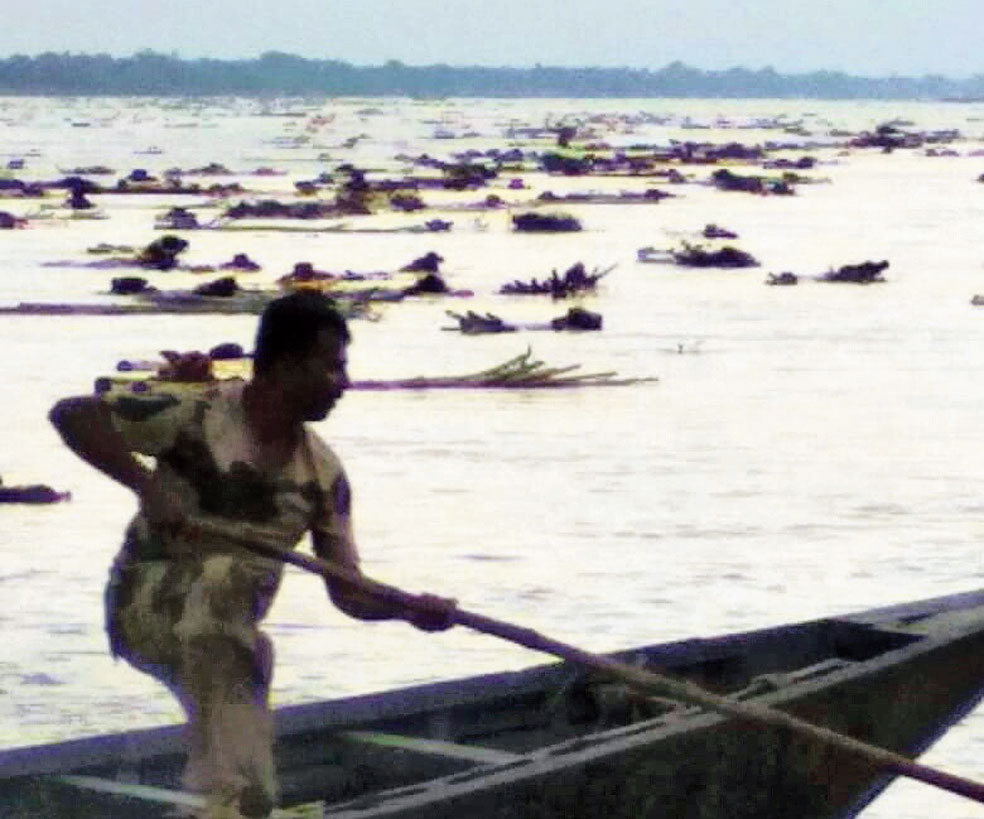 Cattle tied to banana tree trunks float on the Ganga in Murshidabad
Picture courtesy: BSF
---
Malda
|
Published 18.07.19, 07:54 PM
|
---
A new method of cattle smuggling to Bangladesh when rivers are in spate has been unearthed in three Bengal districts — tying the animals to banana tree trunks on either side and pushing them into the water so that they float with the currents to the neighbouring country.
In the past 24 hours, Border Security Force (BSF) personnel in Malda, Murshidabad and Nadia have rescued 261 heads of cattle from the Ganga and the Padma and arrested three suspected smugglers hailing from Bangladesh. Searches are on to arrest their associates who live at villages near the border.
BSF sources said personnel from the 78th battalion posted at border outposts in Sovapur, Malda, and Nimtita, Murshidabad had recently came to know that cattle smugglers, who lie low during monsoon, had devised a way to ensure there was no break in trade because of rains when the water levels in rivers rise.
"They are tying the cattle to trunks of banana trees placed on either side and pushing them into the river. As the cattle float across the river and reach the other side, smugglers in Bangladesh pull them out," a source said. The BSF hired speedboats and some country boats and carried out river raids in Malda, Murshidabad and Nadia on Thursday, rescuing 261 heads of cattle and bringing them back to the Indian side.
"Bangladesh has a huge requirement of cattle throughout the year. The demand rises before festivals. Smugglers work overtime to send as many animals as possible to the neighbouring country," said a BSF officer posted in Malda.
Sources said that when it does not rain, the water levels in the rivers separating the two countries remain low and cattle can walk across along with herders. "Earlier, the smugglers used to stop sending cattle during monsoon. But this time, they have come up with a new method," said a Sovapur resident.
S.S. Guleria, a DIG of the BSF, said they had received information that at least 200 heads of cattle had been smuggled into Bangladesh using the new method from villages like Sovapur, Parlalpur, Pahaghati, Fultala, Lalpur, Dhangra, Kamalpur and Dhulian in Malda and Murshidabad during the monsoon.
The arrested Bangladeshi trio were Jahirul Islam, Mohammed Rocky and Mohammed Dalim Riza.
A senior officer at the BSF's south Bengal frontier headquarters in Calcutta said: "Smuggling cattle using banana tree trunks is new in Bengal, but this method has been used in Lower Assam to cross the Brahmaputra."
The inspector-general of the BSF's south Bengal frontier, Y.B. Khurania, on Thursday met Virendra, the Bengal police DG, to discuss joint operations against cattle smugglers.