A bus carrying migrant workers and family members veered off NH12 at Rupahar near here on Wednesday night and plunged into a ditch, killing six men and injuring 30.
The private bus was on its way from Jharkhand to Lucknow. Three of the injured are admitted to Raiganj Government Medical College and Hospital, while others were discharged after primary treatment. All the deceased and the injured were from Jharkhand.
The bus, police sources said, was on its way to Dalkhola in North Dinajpur from where it was to have entered Purnia in Bihar and headed for Uttar Pradesh. However, when the bus reached near a diversion of the four-lane highway (where the stretch is yet to be four-laned) around 11pm, the driver lost control of the vehicle. The bus bumped off the road and fell into the ditch filled with water.
Within minutes, local people came out of homes and started rescuing the passengers. After some time, Raiganj fire station personnel, volunteers of civic defence and disaster management arrived, along with police.
A number of passengers were rescued and finally, the bus was pulled out of the ditch around 2am on Thursday. It was then that six men's bodies were pulled out of the bus. The accident triggered traffic halt for around two hours.
Even on Thursday morning, trained divers were engaged to find out whether any passenger was in the ditch. None was found till afternoon.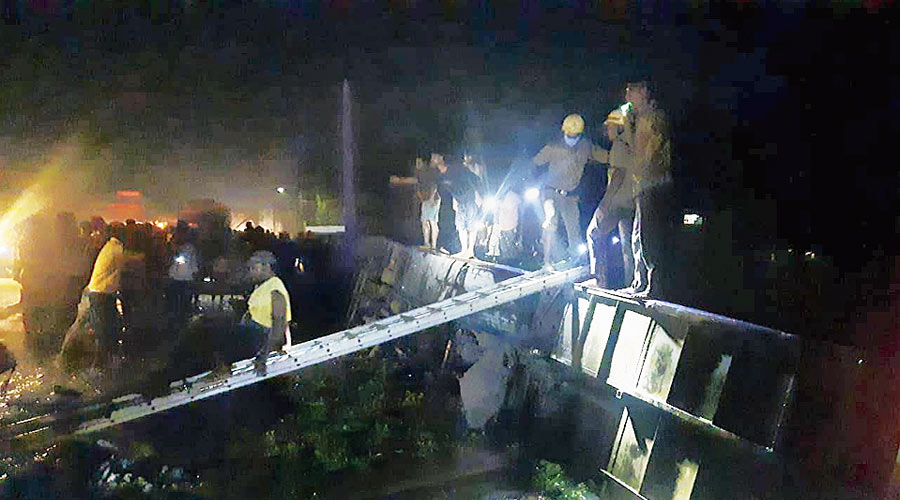 Fire brigade personnel at the site of the accident.
Senior police officers and officials of North Dinajpur district administration have blamed the pathetic condition of NH12 – which is maintained by the National Highways Authority of India for the accident.
"The condition of the stretch where the accident occurred is pathetic. We have asked NHAI officials to immediately take up repairs," district magistrate Arvind Kumar Meena said.
Residents of Rupahar have also trained guns at the NHAI. Jagat Sharma, a resident, said the NHAI had not carried out repairs on the stretch where work on a flyover is about to start.
"A few months ago, there was flat land on the side of the road but as the highway was widened, earth was dug and used for the work. As a result, ditches formed and they got filled with water during the monsoon. Had there been land, the number of casualties would have been less," said Sharma.
A bus driver who regularly moves through the route has said the road has a number of such diversions where the stretches are yet to be four-laned. "The curves to the diversions are steep and the signage at each location is not distinct. During night hours, there is every chance that a driver misses the signage," he said.
NHAI officials, however, said they carried out repairs regularly. Dinesh Kumar Hansaria, a project director of the NHAI in Malda, said the top bituminous layer had been damaged because of consistent rainfall. "We have already initiated repairs on the damaged stretches," he said.