Siliguri swims after three-hour downpour
Waterlogging in most wards, traders estimate damage of around Rs 13 crore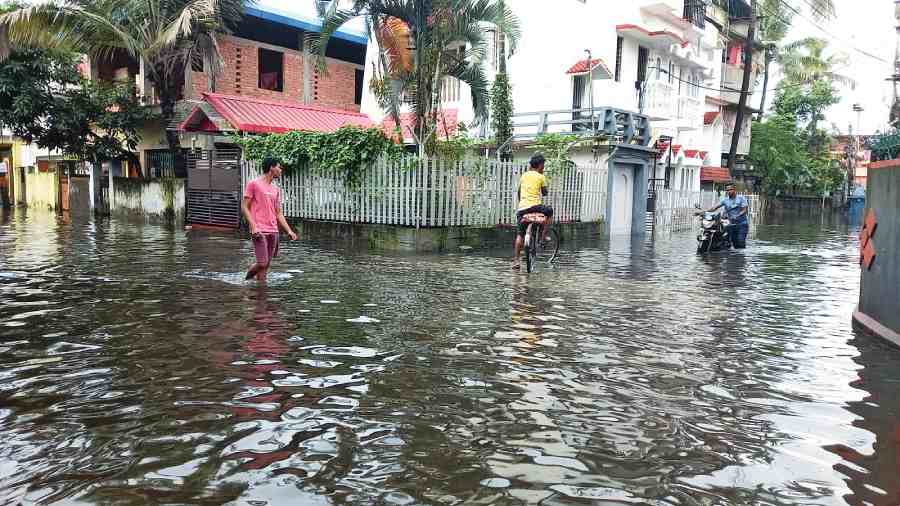 A waterlogged street in Ashoknagar of Siliguri on Tuesday after the downpour on Monday evening.
Picture by Passang Yolmo
---
Siliguri
|
Published 22.06.22, 01:45 AM
|
---
A sudden bout of heavy rain on Monday evening, around 200mm in a span of three hours, left several areas of Siliguri and its surroundings under water and damaged houses, roads and marketplaces.
The business community suffered losses to the tune of Rs 13 crore as accumulated water entered shops and storehouses, damaging grocery, clothes and other items.
As rainfall continued throughout the intervening night of Monday and Tuesday, a number of localities, particularly low-lying areas, remained waterlogged till Tuesday late morning.
"We have not witnessed such intense rainfall for almost two decades. Siliguri used to be a place where waterlogging was reported only from a few places. But on Monday evening and night, the entire city virtually got waterlogged. We are lucky that it was sunny on Tuesday. Had there been more rainfall, the situation would have worsened," said Sushanta Dutta, a senior resident of the city.
According to sources in Siliguri Municipal Corporation, it rained around 200mm in three hours.
On Tuesday, the district disaster management office of Darjeeling said that in the past 24 hours till 8.30am on Tuesday, Siliguri experienced a rainfall of 217mm. Waterlogging was reported in 42 of 47 wards across the city, a rare situation that Siliguri has not seen for years.
Even when it did not rain on Tuesday, roads and houses remained waterlogged in areas like Ashoknagar, Baikunthapally, Millanpally, Ganganagar, Pradhannagar, along with parts of Champasari and Bhanunagar.
Incessant rain affected Nayabazar, the largest wholesale hub of grocery in north Bengal as water entered the shops and godowns.
"The rain has damaged several stocked items as water flooded at least  200 storehouses. We are doing an assessment but a preliminary estimate shows a loss of around Rs 12 crore here. We immediately need a comprehensive drainage system in the market to avoid such damage in future," said Sanjay Tibrewal, the chairman of Siliguri Merchants' Association.
He said that almost all their 500-odd members, who deal in food grains, confectionery and grocery items, suffered losses.
"Because of monsoon, traders had stored additional quantities so that the supply doesn't get affected in the market. This further increased the loss," added Tibrewal.
The downpour also flooded parts of Bidhan Market, the largest retail marketplace of the city.
Bapi Saha, secretary of the traders' association at the market, pegged the loss to around Rs 1 crore.
Similar was the situation at the regulated market, the wholesale market of fruits, vegetables and fish as where rainwater flooded a number of stalls.
"Several shops located in different places of the city, including Hill Cart Road, were flooded. These losses are yet to be estimated," said a trader.
Officials of the civic body, along with police and sub-divisional administration, opened a control room and initiated emergency services and distribution of relief materials among the affected people.
Control rooms were also opened in all five borough offices of the SMC where people attended calls and extended help throughout the intervenng night between Monday and Tuesday. Siliguri Metropolitan Police also helped people.
On Tuesday, the civic authorities came up with a report which said  42 wards were affected owing to rainfall and waterlogging.
"Altogether, around 32,500 people got affected while around 500 houses were damaged in different locations," said a source.
There was no rain on Tuesday till late evening, when this report was filed. But weather experts pointed out forecast of more rainfall in the sub-Himalayan region in the next couple of days.
"We are on alert. Health teams have been sent to different places and relief and other assistance have been provided to people," said Ranjan Sarkar, Siliguri's deputy mayor.