'Siliguri model': Congress and Left spar over seat-sharing
Observers believe such a tug-of-war before elections would do no good either to the parties or their supporters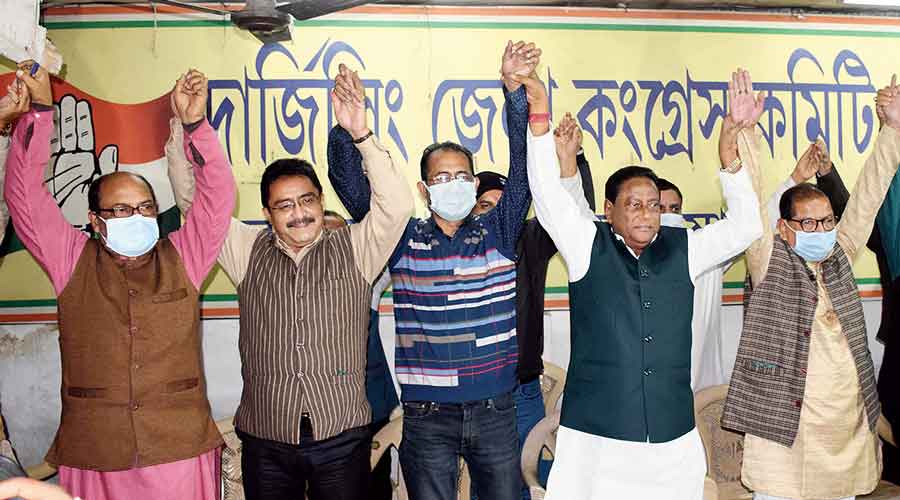 Shankar Malakar (centre) and other Congress leaders during the announcement of candidates for the SMC elections.
Passang Yolmo
---
Siliguri
|
Published 31.12.21, 02:12 AM
|
---
A tussle seems to have started between the Left Front and Congress in Siliguri on seat-sharing for election to Siliguri Municipal Corporation, where the two parties by a tacit understanding that political pundits dubbed the Siliguri model kept Trinamul out since 2009.
Around 3pm on Thursday, the Congress declared the names of candidates for 15 SMC wards, which included seven wards where the Left had declared its own names
The SMC has 47 wards.
The Left Front had announced candidates for 35 seats on Tuesday. However, Shankar Malakar, president of Congress's Darjeeling district committee, had sought 15 seats for his party.
Hours after the Congress list was made public, the Left released its second list covering 43 of the 47 SMC wards on Thursday, finally leaving only four seats to the Congress that the latter won in 2015.
"We announced our candidate list keeping options open for possible alliance with the Left Front but now they have announced their names in most seats," said Malakar.
Some Left Front and Congress leaders, however, are hopeful that some understanding can be arrived at by January 6, the last date to withdraw nominations for polls on January 22.
Asok Bhattacharya, CPM veteran and former mayor largely being considered the Left's mayoral candidate, said they are not ready to accept that "all roads for a possible alliance" with the Congress are closed. "Though we have declared the final list of our candidates, we have not fielded candidates in the four seats that the Congress had won in the previous civic polls. We are still open for talks," said Bhattacharya, who is largely credited for coming up with the Siliguri model in which the Left and the Congress collectively took on Trinamul and the BJP in the past.
Observers, however, believe such a tug-of-war before elections would do no good either to the parties or their supporters.
"The Siliguri model had managed to stop the Trinamul from coming to power in the Siliguri urban body but this tug-of-war for seats between Congress and Left Front is not sending a positive message," the observer added.
The rumblings between the Congress and Left are getting louder at a time the BJP and Trinamul are making steady strikes in the Siliguri urban area.
In the recent Bengal Assembly election, the winning BJP candidate Shankar Ghosh polled 89,370 votes which was about 50 per cent of the votes polled in the Assembly segment. Trinamul's Om Prakash Mishra, despite being an "outsider" had polled 53,784 seats with a vote share of 30 per cent.
However, Left candidate Bhattacharya only received 28,835 votes with a 16 per cent vote share.
This time too, the BJP has also fielded their Siliguri MLA Ghosh as a candidate for the civic poll from a ward.