Siliguri mayor Gautam Deb's bid to save Mahananda river
The decision to expedite clearing of encroachments from the banks follows an order from the National Green Tribunal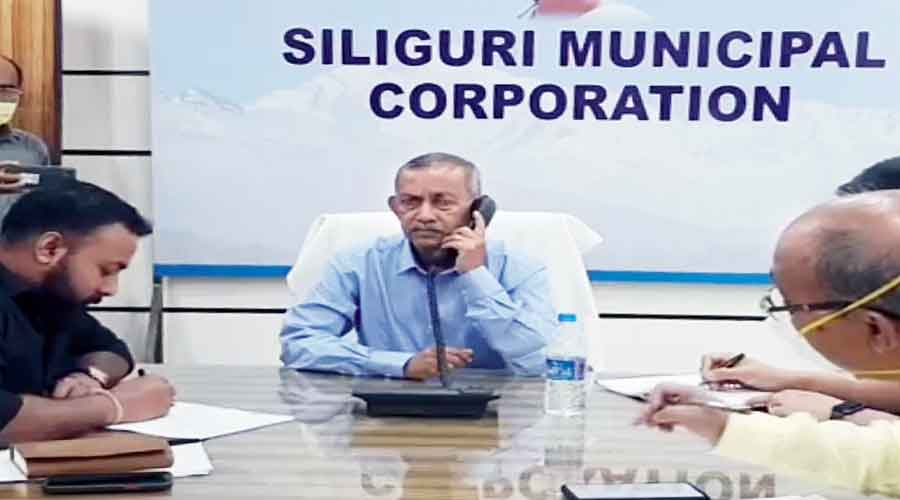 ---
Siliguri
|
Published 17.03.22, 01:00 AM
|
---
The newly formed civic board at Siliguri Municipal Corporation (SMC) is all set to remove encroachments from the banks and embankments of the Mahananda river that flows across the city.
On Wednesday, mayor Gautam Deb, along with some elected representatives and officials of the civic body, held a meeting with representatives of cowshed owners who have occupied substantial areas surrounding the river. They should vacate the areas by April 15, the mayor said.
The decision to expedite clearing of encroachments follows an order from the National Green Tribunal (NGT) to the civic authority, said sources. Based on a PIL filed with the NGT that cites the pollution of the Mahananda, the tribunal issued a specific order, instructing the civic board, the Darjeeling district administration and other authorities to take every step possible to keep the river clean.
Sources in the SMC said that in the first phase, they have identified seven wards — wards 1, 2, 3, 42, 43, 44 and 46 — that are on both the banks of the river and are encroached.
"Mahananda, along with Fuleswari and Jorapani (two rivulets which crisscross the city), have become polluted over the years. The rise in pollution is a matter of concern for us. Considering the seriousness of the issue, the NGT has ordered us to immediately clear the encroachments from both banks," Deb said.
He added that in his meeting with residents on both the banks and representatives of various groups of the localities, he urged them to clear the encroachments by April 15. "We will extend all possible help to them for their rehabilitation," the mayor added.
Sources said that altogether, over 150 khatals or cowsheds, along with hundreds of concrete structures and shanties, have mushroomed illegally on both banks of the Mahananda. These are considered to be one of the major reasons for the rise in pollution levels of the river.
The civic body, sources said, is also in touch with officials of the state irrigation department, the municipal affairs department and the Siliguri Jalpaiguri Development Authority for similar drives to clear encroachments and reduce pollution of Jorapani and Fuleswari.
"These used to be prominent rivulets but have virtually become drains. Both may dry up if steps are not taken immediately," said Animesh Bose, an environmentalist based in Siliguri.
The Calcutta Metropolitan Development Authority will also install a sewage treatment plant to help clean sewer water before it flows into the Mahananda river, sources said.