Siliguri Mahakuma Parishad members sworn in, focus on uplift
This is the first time that Mamata Banerjee's party has secured a majority in the rural body, winning eight of the nine seats, the BJP has secured only one seat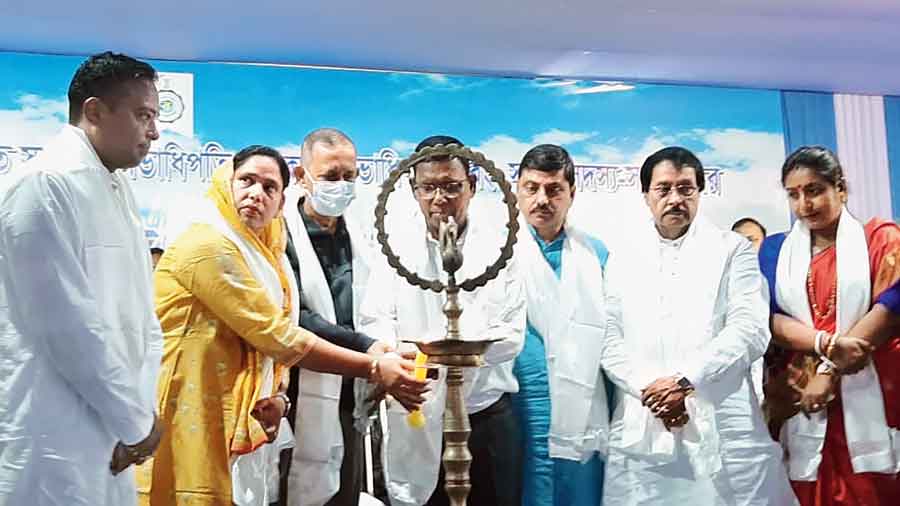 Mayor Gautam Deb speaks at the felicitation of Siliguri Mahakuma Parishad members, on the outskirts of the city, on Tuesday.
Picture by Passang Yolmo
---
Siliguri
|
Published 27.07.22, 02:22 AM
|
---
The Trinamul board at the Siliguri Mahakuma Parishad (SMP) will focus on infrastructure development and improvement of services to people in rural areas of Siliguri sub-division, said elected members of the party here on Tuesday after being sworn in.
This is the first time that Mamata Banerjee's party has secured a majority in the rural body, winning eight of the nine seats, The BJP has secured only one seat.
On Tuesday, all the nine members attended the swearing-in held by the Darjeeling district administration at the block development officer's office of Matigara on the outskirts of the city. 
Among the eight Trinamul members, Arun Ghosh and Roma Reshmi Ekka were sworn in as the new sabhadhipati and sahakari sabhadhipati, chief and deputy chief of the rural body.
"Our first priority is to maintain transparency in all official work. We won't allow illegal activity in any of the three tiers (of the SMP). The Left had been in power at the SMP since 1989 (when it was formed) but failed to carry out development work in most areas of rural Siliguri. People have voted for us and we are determined to meet their aspirations on development," said Ghosh.
He also said some other issues that the SMP would focus on include the uplift of the tea population and efforts to prevent land grabbing and illegal mining of minor minerals (sand and stones).
"We will not allow the encroachment of land and illegal mining from riverbeds. All our representatives in panchayat samitis and panchayats will be put on alert so that they keep watch in their respective areas (on encroachment and illegal mining)," the new sabhadhipati added.
After the oath-taking, the Trinamul members attended a felicitation ceremony organised by the party at a playground nearby. 
State ministers Sabina Yeasmin and Bulu Chik Baraik, Siliguri mayor Gautam Deb and chairman of Siliguri Jalpaiguri Development Authority Sourav Chakraborty were present at the event.
Many district Trinamul leaders and hundreds of party supporters were present at the function.
Deb, a veteran Trinamul leader, said that the rural areas of Siliguri were badly in need of development.
"We must keep in mind that the entire SMP area is located under the Siliguri corridor and is strategically important. Infrastructural development is very important. It is good that the SMP board has been formed. The civic body (Siliguri Municipal Corporation) will work in coordination with it," the mayor said.