Siliguri fire leaves 300 homeless
Over 30 homes gutted in two crowded localities of Siliguri ward 18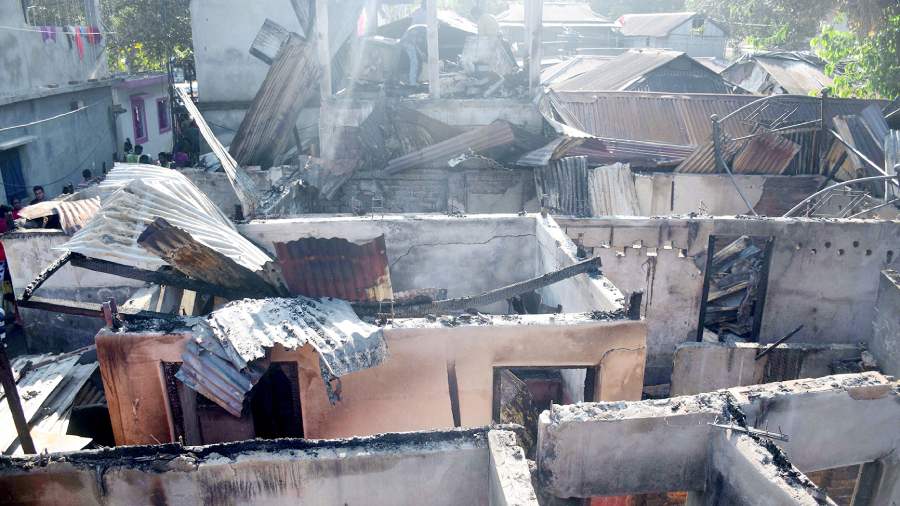 The remains of the houses burnt in Saturday's blaze in Siliguri.
Picture by Passang Yolmo
---
Published 21.11.22, 05:04 AM
|
---
A fire that broke out on Saturday evening at Rana Busty and Khudiram Colony — two localities in ward 18 of Siliguri — gutted around 30 houses and hutments and left 300-odd people homeless.
Officials of Siliguri Fire Station and the local civic body suspect the fire was accidental. No casualty or major injury has been reported in the blaze.
The incident has also prompted the Trinamul-run Siliguri Municipal Corporation (SMC) to convene a meeting next week to take stock of the situation in around 150 slums of the city so that preventive measures can be taken to avert such mishaps.
Around 7.15pm, the fire broke out from a kitchen in the crowded locality, engulfing hutments and houses. Also, the firemen found it difficult to take fire engines into the narrow bylanes and had to make alternative arrangements to douse the flames.
"A preliminary report after the fire shows 31 houses are completely damaged and some more partially damaged. Around 300 people are homeless. The estimated loss is around Rs 50 lakh. A copy of the report will be sent to the district magistrate (of Darjeeling) on Monday," said an SMC official.
Mili Sinha, the chairperson of borough-III of the civic body, said they had provided temporary shelters to the affected families.
"Relief materials including blankets, bedsheets and utensils have been provided to them as instructed by mayor Gautam Deb. Many organisations have extended their helping hand to provide food and other materials to the people," she said.
Residents said many lost whatever little gold and cash they had in the fire.
"We could hardly get anychance to take away our belongings and essential itemsas the blaze spread rapidly inthe locality," said Bachhu Das,a resident of Rananbusty.
The firemen said they usedseven fire engines and it tookaround three hours to controlthe flames and douse the fire.
"We are conducting an inquiry to ascertain the cause ofthe fire. We suspect it spreadfrom a kitchen or from an electrical short circuit as therewere poor electrical wirings insome hutments," said a sourcein the state fire services department.
Deputy mayor RanjanSarkar said they will take upthe task to improve infrastructure in slums.
"The previous civic boardsneglected the slums. I havecalled a meeting on November 24 to discuss developmentwork in slums. Among theseinclude upgrade of roads,drains and water supply sothat such incidents can be prevented," said Sarkar.