Sikkim and Kalimpong cut off
Landslides derail tourist plans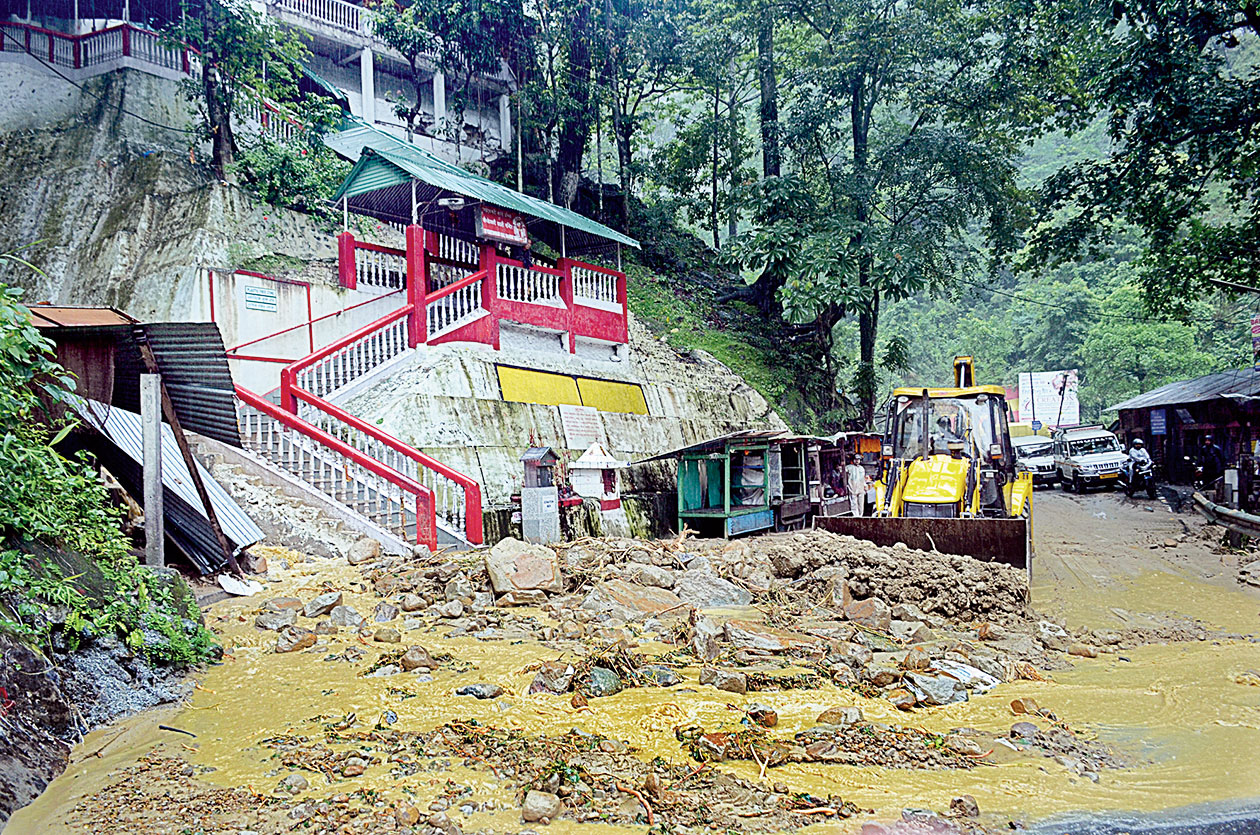 ---
|
Siliguri
|
Published 11.07.19, 07:24 PM
---
Three rain-triggered landslides on a 10km stretch of NH31 and NH10 near Sevoke on Thursday morning have all but cut off Sikkim, Kalimpong and the Dooars from Siliguri, prompting many tourists to cancel their mountain sojourns and forcing those with urgent business to take alternative routes that increased travel time by close to three hours.
The administration later in the day restored the Dooars route by clearing the debris and trees that blocked NH31. The landslides on NH10, however, have deposited boulders, pebbles and sludge on the road, halting traffic movement on the main and shortest route to Sikkim and Kalimpong through the day.
Vehicles that travelled to Sikkim and Kalimpong from Siliguri and vice versa had to take alternative and time-consuming routes. The journey from Siliguri to Sikkim, which takes around four hours, took close to seven hours on Thursday, that too on treacherously slippery roads. Travel time between Siliguri and Kalimpong increased from two-and-a-half hours to over four hours.
Many tourists who were heading for Sikkim had to return to Siliguri. "We have changed our plan and will go to Darjeeling. The driver said the chances of traffic resuming on Friday were slim," said Nidhi Kumar, who had been travelling to Sikkim with two friends but had to turn back.
The first landslide on NH31 took place a few kilometres from the Sevoke police outpost, 15km from Siliguri, with a huge tree falling on the road. Mud and stones also blocked the way.
Another landslide took place around 2km down the road, near the Kali temple in Sevoke. The two landslides brought to a standstill traffic movement to the hills and the Dooars via Coronation Bridge.
The third major slide occurred at Swetijhora on NH10, cutting off connectivity to Kalimpong and Sikkim.
"Tonnes of debris have blocked the entire road. Stones and soil are still falling at regular intervals, increasing the heap. Unless the landslides stop, it will be tough to begin clearing the road. We are keeping a watch on the situation and have asked people to stay away from the areas where the landslides have taken place," said an official in Kalimpong.
As hundreds of vehicles lined both sides of the roads, the situation slightly improved in the afternoon when workers engaged by the PWD cleared NH31, facilitating resumption of traffic movement to and from the Dooars.