Shutdown solidarity with Kashmir
No refund from valley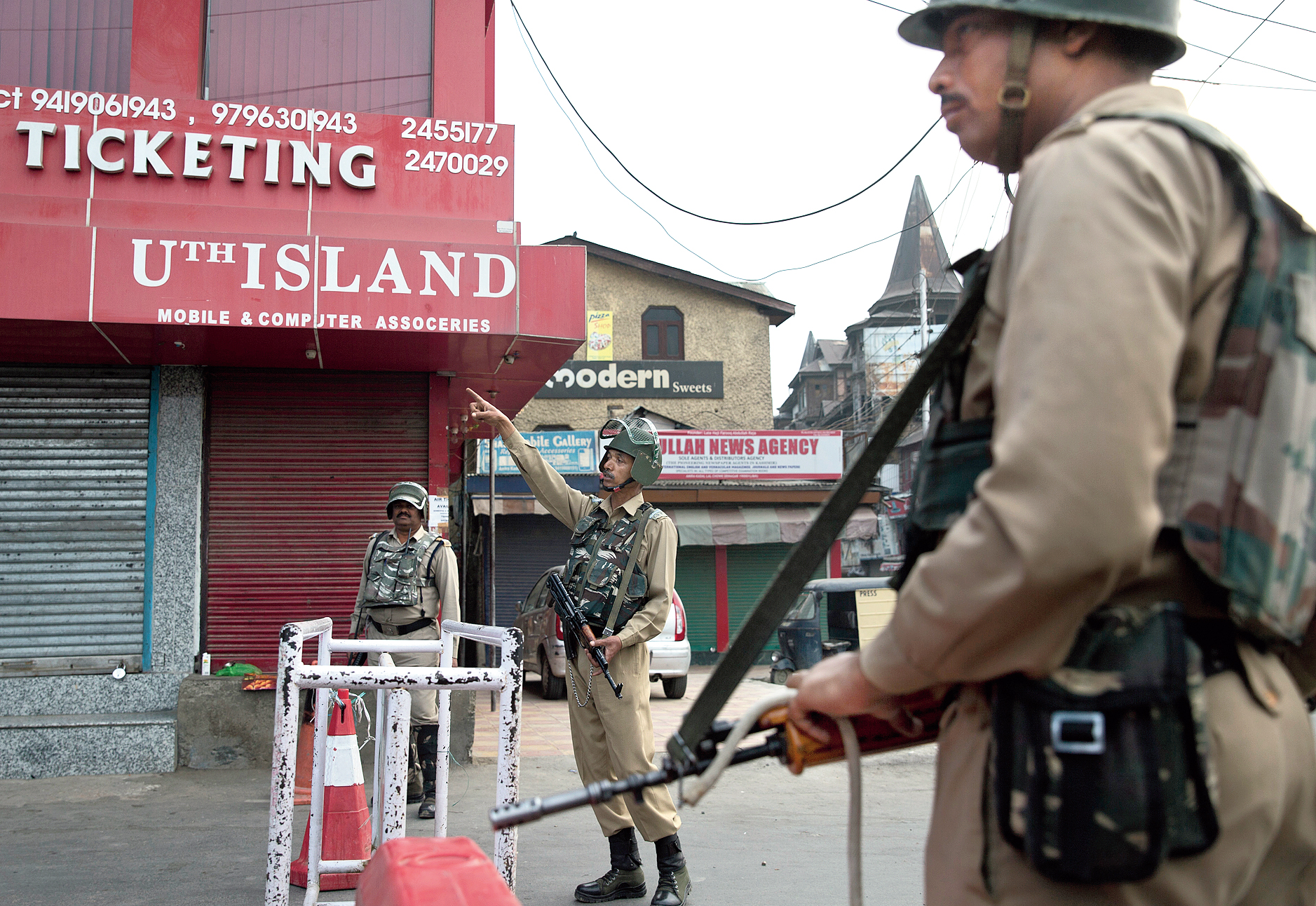 Security personnel stand guard in Srinagar on Friday.
(PTI)
---
Calcutta
|
Published 28.09.19, 12:02 AM
|
---
Almost no communication. No business. Complete shutdown.
These three factors are preventing travel agents of Calcutta from seeking refund from their counterparts in Kashmir and the hotels there even though most of the tourists have been rebooked to other places, said several tour operators in the city.
Tour operators are rescheduling their clients who had booked trips to Kashmir for the Puja holidays because they said the situation hadn't improved in the Valley after the Narendra Modi government in August scrapped the special status of Jammu and Kashmir.
The phone communication is almost impossible, Internet is not functioning and banks barely open, that's what those linked with the tourism industry in Kashmir have told travel agents here.
Travel agents have either cancelled or booked new destinations for hundreds of tourists, who had made bookings for Kashmir several months back.
"We had made advance bookings at hotels and transport agencies there. Advances were also paid to them several months back. Then we didn't think the situation would become like this," said Prabir Sinha Roy, CEO of travel agency Panways.
But now most tour operators cannot ask for refund even after deducting the cancellation charges.
"These people don't have business at the moment. Everything is closed in Kashmir and as a mark of solidarity, we should not put pressure on them for the refunds. There is complete confusion over the situation in Kashmir," said Sinha Roy.
"Some of them have told me the banks were not functioning regularly and they could only access their money through the ATMs. But that is for their daily sustenance," said Raktim Roy of Dolphin Travels.
Roy said once thing turned normal he would ask the hoteliers and transporters to adjust the advances.
But at the moment, the tour operators said they were bearing the costs of fresh bookings for groups of tourists, who were being redirected to other places such as Himachal Pradesh and parts of Jammu and Punjab.
"A few days back, our travel agent called a meeting of the 40-member group and explained the situation in Kashmir. They said if we wanted an alternative destination, we need not pay anything extra," said Birati resident Dipayan Mondal, who had booked a tour to Kashmir along with his wife.
One tour operator said those who wanted to cancel the tour, were getting refunds after deducting 10 to 20 per cent of the amount. "The refund is being given from our pockets. Because at the moment, we can't ask those in Kashmir for the money," said the travel agent.