Show to foster scientific spirit
Global projects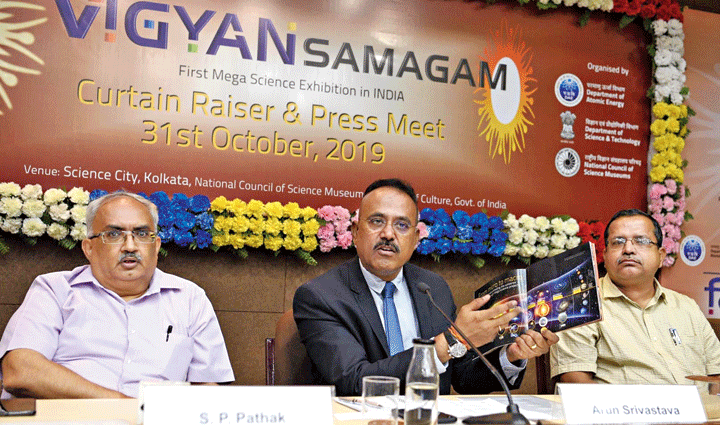 Srikant Pathak, Arun Srivastava, and Subhabrata Chaudhuri, at the curtain-raiser of the Vigyan Samagam on Thursday
Gautam Bose
---
Calcutta
|
Published 03.11.19, 07:17 PM
|
---
Visitors to Science City will get a glimpse of an upcoming observatory in Maharashtra's Hingoli district equipped to detect ripples generated from the most violent events in space.
A prototype of the Large Hadron Collider at Europe's physics research centre CERN, of which India became an associate member in 2016, will be another top draw at Vigyan Samagam, a two-month-long exhibition that will showcase India's contributions to eight global science projects.
"Vigyan Samagam will showcase India's participation in the world's major mega science projects, in which several developed and developing countries are participating collectively. The main aim of the exhibition is to foster scientific spirit in young minds. We want to attract many students and budding scientists to bolster innovations in the country," Arun Srivastava, the secretary of the Atomic Energy Commission in the department of atomic energy under the Centre, said during a curtain-raiser of the programme at Science City on Thursday afternoon.
Calcutta will be the third stop of the exhibition organised by the department of atomic energy, department of science and technology and the National Council of Science Museums, after Mumbai and Bangalore.
The exhibition, which opens on Monday, will continue till the end of December before travelling to Delhi for its final leg.
"Our representatives will be present at the exhibition to explain the vast scale of the project in simple terms to visitors," said Subroto Mukherjee, professor and head of the Ligo division at the Gujarat-based Institute for Plasma Research.
"We want to take science to people and bring people to science. The exhibition is a step in that direction," said Subhabrata Chaudhuri, the director of Science City.