SFI's Valentine reply to hate
The SFI unit in Burdwan targeted Valentine's Day to spread the message of love as a 'powerful weapon'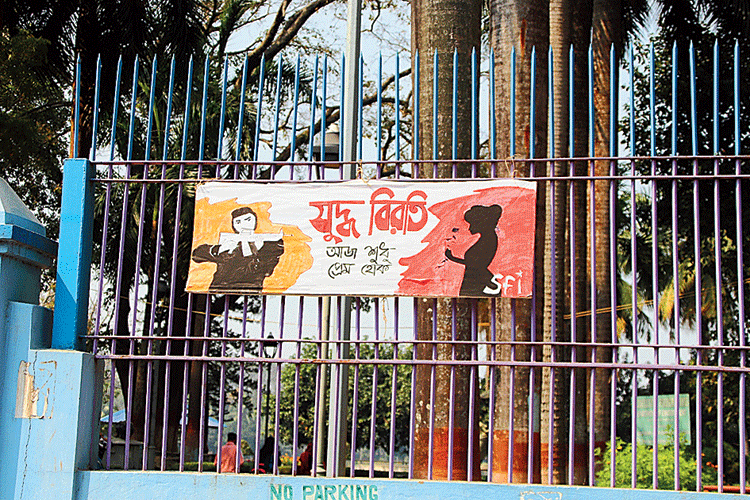 ---
Burdwan
|
Published 14.02.20, 09:28 PM
|
---
At a time the citizen matrix is facing resistance across the country for its divisive design, a students' organisation here came up with a special message on Valentine's Day — let love be the answer against hate.
The SFI unit in Burdwan targeted Valentine's Day to spread the message of love as a "powerful weapon". The SFI members put up several posters and banners around Krishnasayar Park, which is a popular spot for young couples, urging people to spread only love on Valentines' Day to give a "fitting reply to the politics of divisiveness and hatred that the Citizenship (Amendment) Act and National Register of Citizens seeks to promote".
"There is great need to use love as a weapon against the politics of hatred. The ruling rightist regime at the Centre is trying to promote ideas such as 'love jihad' and the politics of dividing people by implementing provisions of the CAA. Krishnasayar is a place where young couples visit on Valentines' day. So, we thought of putting up posters to spread the power of love," said Anirban Roychowdhury, SFI's East Burdwan district committee president.
The posters read— Juddha birati: Aj sudhu prem hok, (Halt war: let there be only love today) and Ghrinar jobab hok prem (let love be the answer against hate).
Senior Left leaders said it was the first such move by a Leftist students' wing to campaign for love, of course with a twist to promote the organisation's opposition to the CAA, on Valentine's Day.
"It has become a trend of Right wing organisations, particularly outside Bengal, to carry out violence in the name of love jihad and anti-Romeo squads. The trend, though minimal, has come to Bengal after the BJP's 18-seat winning performance in the Lok Sabha polls in Bengal. To counter such tendencies we have decided to spread the message of love," said an SFI leader.
"We also want to assure the people that the students will oppose the divisive forces who want to damage the bond of love that binds the nation through measures like the CAA and the NRC," the leader added.
Several couples, who visited the park on Friday, were seen reading the posters and found them quite attractive.
"It is quite interesting to find posters and banners of the SFI celebrating love at Krishnasayar Park on Valentine's Day. At a critical juncture for the nation when the Constitution is under attack and people are in the grip of fear over CAA and NRC, it is a good move by the SFI to promote love," said a Burdwan university student, who didn't want to be named, as he stood in front one of the poster put up on the park's fence.