Several districts begin crackdown on pandemic rule flouters
The district administration and police in Digha are 'cracking down firmly' on Covid-protocol laxity and unmasked tourists in the run-up to New Year's Day weekend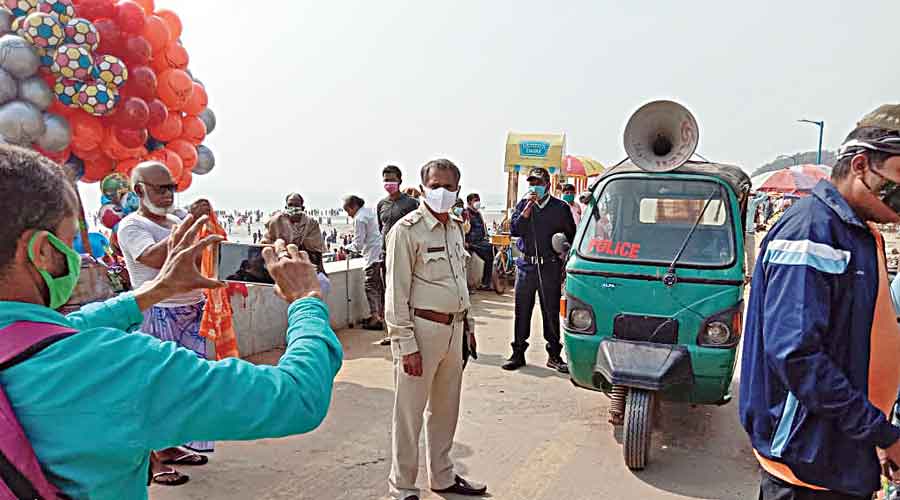 Police use public awareness system to warn people against flouting Covid protocol at Digha.
Asish Kumar Dubey
---
Digha
|
Published 01.01.22, 01:09 AM
|
---
Various district administrations have started to crackdown on no-maskers and those found violating Covid-19 protocol as infections started rising ahead of New Year's day.
The authorities at places experiencing huge footfalls have imposed stringent measures in view of large gatherings that started with Christmas and are expected beyond New Year's Day on Saturday.
The district administration and police in East Midnapore's Digha are "cracking down firmly" on Covid-protocol laxity and unmasked tourists in the run-up to New Year's Day weekend.
Official sources confirmed that the total footfall in Digha — especially popular at this time of year for New Year's Day picnics by the sea — had crossed 50,000 over Thursday and Friday, at a time when government officials in Calcutta have advised the cancellation of large New Year's Eve gatherings.
"We will be implementing stipulations of the Disaster Management Act against persons seen without a mask, and against business owners seen similarly. Verbal warnings may be issued but non-compliance will lead to jail," said a district official on Friday.
Digha and Digha Coastal police arrested 30 tourists over Thursday and Friday in accordance with the DMA. On Friday, district officials conducted loudspeaker announcements throughout the tourist town informing people of the latest norms.
In Santiniketan and Bolpur, the police on Friday started legal cases against at least 50 tourists visiting the varsity town and several tourist spots in the area by violating Covid protocol. "We have detained around 57 tourists roaming in Sonajhuri Haat or bank of Kopai river without mask and started cases against them. Police in plain clothes are on duty to find out the Covid protocol violators," said a police officer in Santiniketan.
Birbhum police chief Nagendra Nath Tripathi said: "Police deployment had been increased in all tourist spots like Santiniketan and Tarapith, where wearing masks has been made mandatory."
In Murshidabad's Hazarduari, the police had not allowed anyone inside the heritage place without a mask and police officers said they would take action against those not adhering to Covid protocol.
Police at Gangasagar in South 24-Parganas are keeping a close watch on pilgrims roaming around without masks. The Gangasagar Mela, which will be held from January 8-14, has led to the arrival of pilgrims from across the state and outside.
The district administration on Friday engaged over 100 civic volunteers to ensure people wore masks. A police officer said: "Particularly in and around the fair area we are trying to convey to the pilgrims that there will be no compromise when it comes to wearing masks."
Even as the crackdown continues, a senior doctor attached to a private hospital said: "It is good that the government has woken up to the need of adherence to Covid protocol, but to ensure lesser infection count the prime need to curb mass gatherings, particularly in this festive season."
(Additional reporting by Snehamoy Chakraborty, Subhasish Chaudhuri and Alamgir Hossain)