Sector V mantra: Waste not want not
NDITA makes rain water harvesting compulsory in new buildings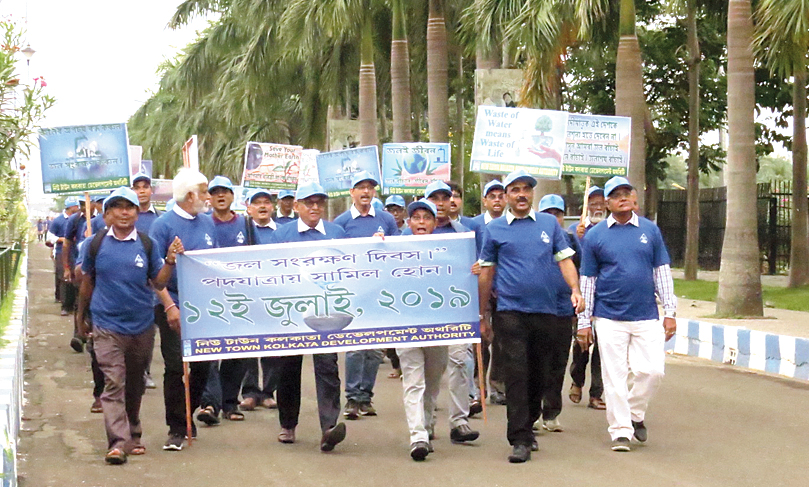 Officials of NDITA bring out a procession headed for Eco Park on the occasion of Save Water Day last Friday.
Picture by Sudeshna Banerjee
---
Calcutta
|
Published 19.07.19, 10:48 AM
|
---
All new buildings in Sector V will need to have provisions for rainwater harvesting henceforth. As an incentive, a discount of 15 per cent will be offered on building sanction or re-sanction fee.
This was announced by Debashis Sen, chairman of the Nabadiganta Industrial Township Authority (NDITA), at a programme to mark Save Water Day last Friday.
"We got a notification issued from NDITA dated July 12, All future constructions in Sector V shall have to make provisions for rainwater harvesting. This also applies to modifications. If someone wants to add floors to one's building one needs to take a re-sanction of the plan. Even then, one would need to make the provision. If we are satisfied with the inspection before issuing completion certificate, we will give exemption of 15 per cent on the building plan fee," Sen explained.
A few firms in Sector V are already walking the green talk — be it in saving water or in solid waste management. "Firms like Wipro, TCG Lifesciences and Infinity have taken envoronment-friendly initiatives." An exhibition was held on Friday to showcase their efforts in presence of minister Sujit Bose.
"The 15 per cent waiver may not sound substantial but it's an important gesture and acknowledgement from the authority for a builder's effort towards water conservation," said vice-president of Sector V Stakeholders Association, Kalyan Kar.
"The water crisis is growing at such an extent that eventually tenants of office buildings themselves will be asking builders to ensure rainwater harvesting units and other similar eco-friendly measures."
Sector V is a technology hub and technology must be inclusive and work towards the betterment of ecology, felt Kar. "We are proud of this move by NDITA."
Wipro has been has been harvesting rainwater since 2013. "We have four 10,000l tanks and one 24,000l underground tank that stores rain water," says facility manager Pradeep Kumar Sharma.
"In fact, since 2004 we also have a sewage treatment plant. The treated water is recycled for landscaping (watering plants), for toilet flushes, and in the cooling tower of our central air-conditioner. We draw fresh water from taps only for drinking and cooking," said Sharma.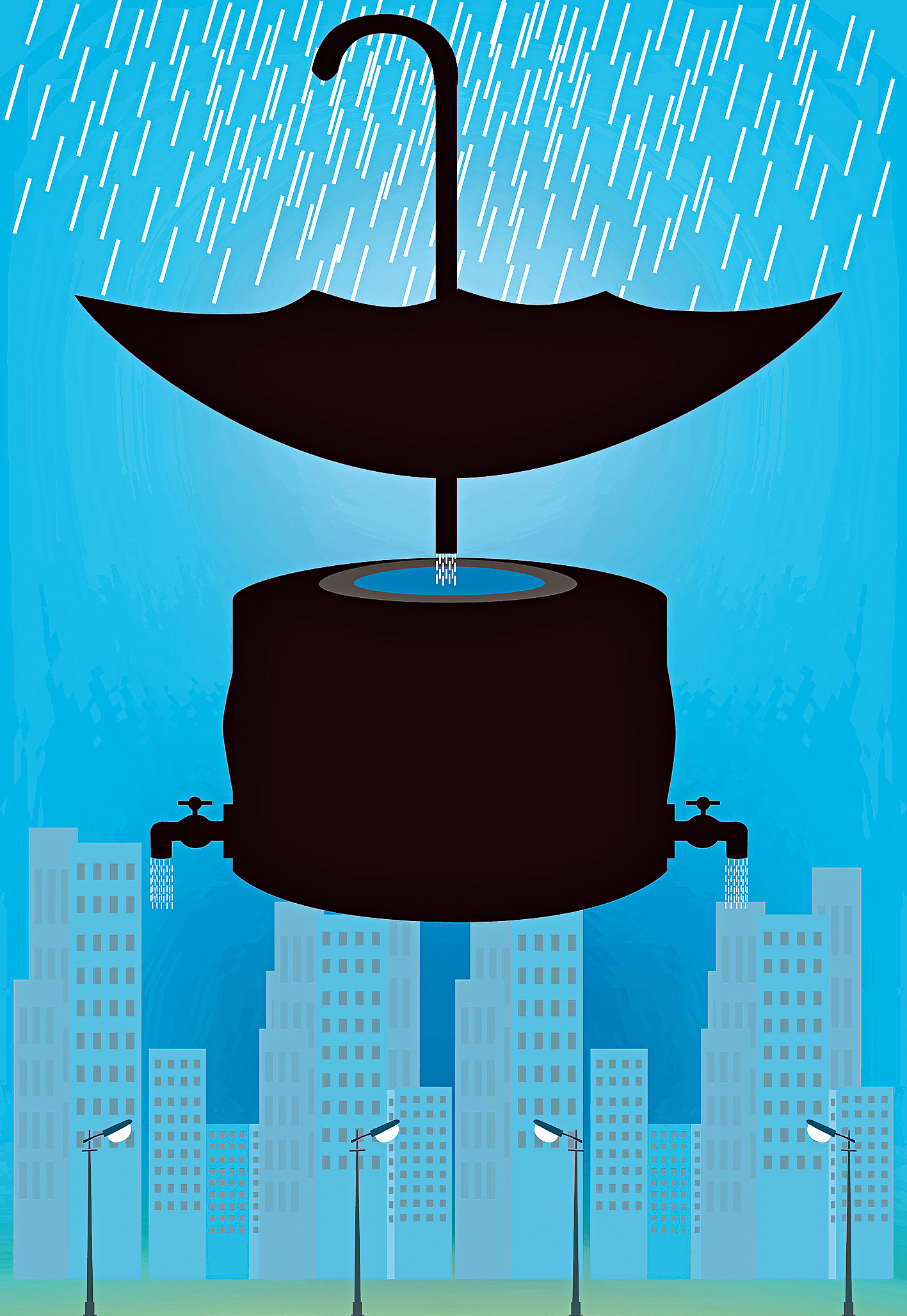 Six of the seven buildings developed by the Infinity Group also have sewage treatment plants. "All the waste water from toilets is treated and recycled in flushes, cooling towers and landscaping. The first such building was Infinity Benchmark in 2008," said Bipul Tarafdar, in charge of operations and maintenance.
The buildings also have rain water harvesting units that recycle part of the accumulated water and send the rest for ground water recharge though harvest pits.
"We are targeting the bulk users as they can create the maximum impact and it will be much more cost-effective than in case of individual residential buildings," Sen pointed out.
NDITA has also started recycling and reusing water. Greeneries in road verges and gardens in Sector V need water and a portion of this requirement is being done through use of treated recycled waste water.
Currently, the quantity is about 30 - 40 kilo litres per day and it is expected to go up gradually, thus saving precious freshwater.
Tankers get filled up from the Sewage Treatment Plant of Sector V and are used in watering road median plantations.
The New Town plan
"For New Town, we have plans for both rain water harvesting and compulsory tree cover. A specified part of the total area will need to have tree cover in the building plan," said Sen.
But it is not happening just yet. "For a rule to be formulated, certain procedures have to be followed, a draft publication issued and passed in the Assembly. We will get all that done in due course," he added.
Certain water-saving measures are already in place in New Town, which show how individual houses can make a difference.
"We have a car parking lot opposite the Newtown Business Club, with a capacity for 130 cars. It's a big catchment area. The rain that falls there will be taken out through surface drain and stored in two 5,000l PVC tanks that will be installed underground. That will be used for watering the garden there by using a centrifeugal pump," an executive engineer of Newtown Kolkata Development Authority, explained, showing visitors pictures put up on a board at Eco Park where the programme was held.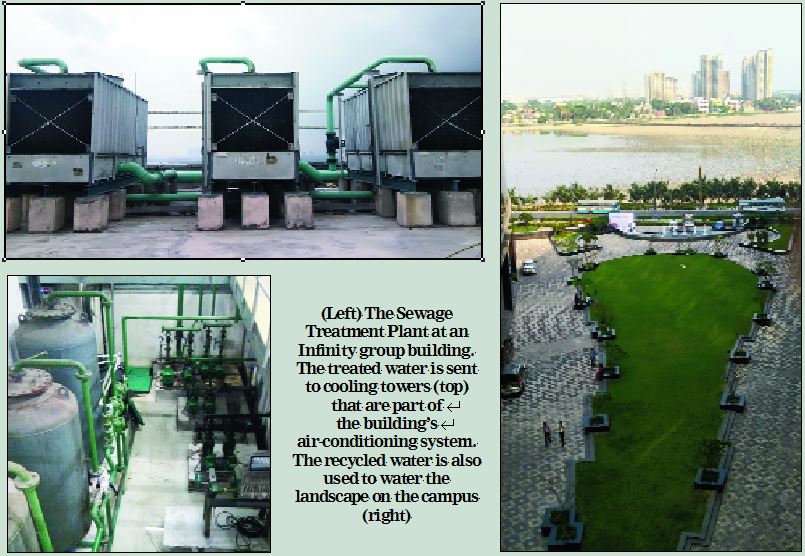 A park is also coming up in the adjacent plot for which landfilling is underway and a pathway is being laid. The park can also be watered with this stored supply, he added.
There is also a proposal to install a sloping roof over the badminton court in the business club and similarly store the water in two underground tanks, which can be used to water the lawn and a green verge that is being developed.
Smart thinking
Hidco has a far bigger water-related plan to be executed in the days ahead. "We are taking help from the public health engineering department to install smart water meters. In places where bulk water is supplied, we will monitor the water flow, take Cloud-based feedback and do computer analytics. This is a large project which is still at the design level. But the project has very much been conceived. Unless it is measured, we do not understand where water is leaking and where it is flowing freely. If meters are installed periodically in transmission lines it becomes easy to measure and correct leakage. The aim is to reduce transmission and distribution loss," Sen explained.
"Ground water is our capital and rain water the interest. But such fools are people that instead of spending the interest they exhaust the capital," says Kunal Deb, who has initiated the rain water harvesting unit at CB Market near Novotel in New Town.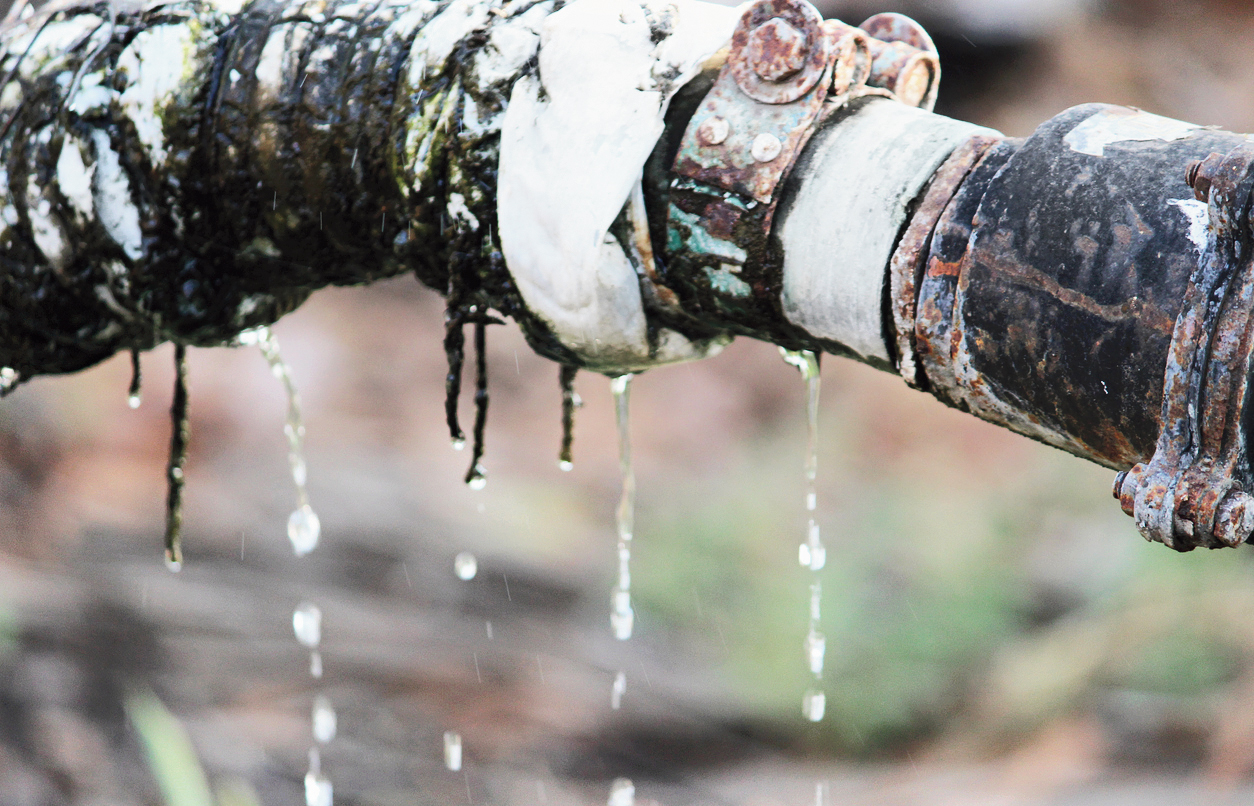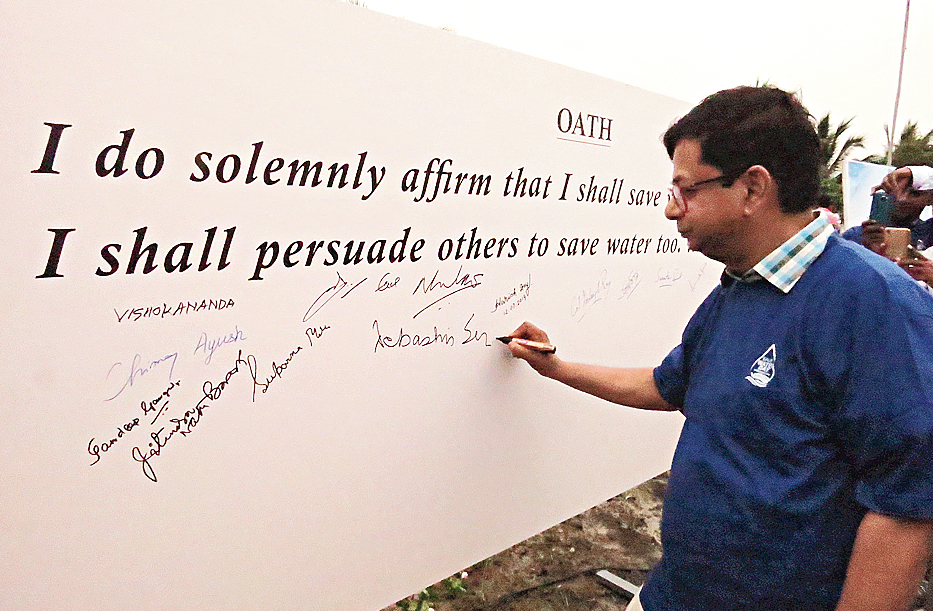 Deb is director of Owl Spirit, a company formed by the NGO Uthnau, that also began the organic urban farm on market's terrace about two years ago.
"When it rains, the water collecting on the market's terrace is guided by pipes into two 5,000l reservoirs on the ground floor. Since this water is then used for irrigation of the plants on the terrace, we purify it using filters of charcoal, sand and stones. This purification is done in the pipes itself," says Deb.
A similar system at a residence would cost about Rs 1.5 lakh and it would be more expensive if one wishes to pump the excess water into the soil for ground water recharging. "The first drops of rain contain dust and chemicals. Thereafter the water itself may be pure but it would be in contact with dust on the terrace or droppings of birds and the like. Purification is needed if one wishes to convert this into potable water. Else one may use it for purposes such as washing cars and watering plants," he says.
The market terrace has the capacity to collect three to 4 lakh litres of water a year but they collect only about 15 per cent of that amount as they can neither store nor require more than that at present.