Second quarantine facility in Calcutta
The new quarantine centre, with 200 beds, is being set up on the yet-to-be-opened campus of NBCC Ltd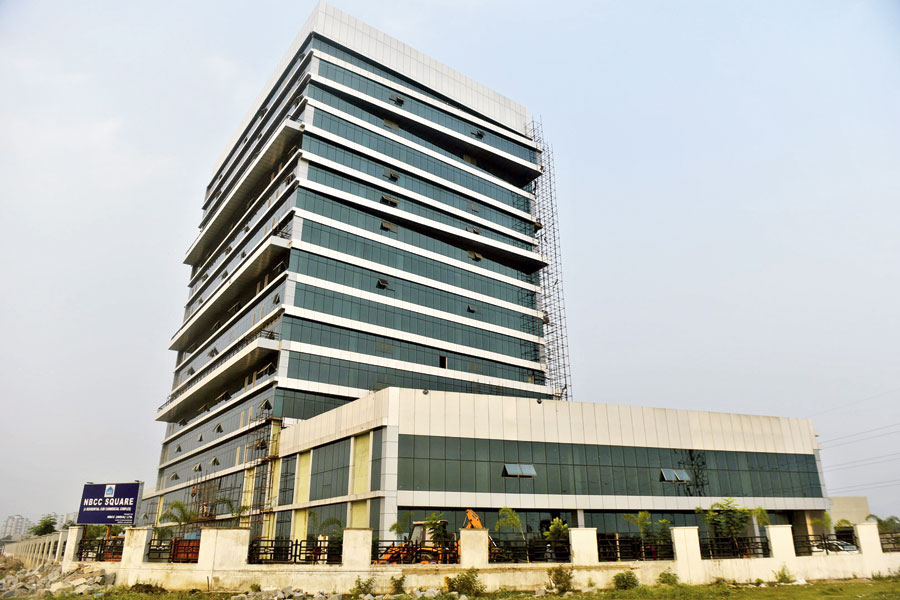 The NBCC Ltd campus in New Town where a 200-bed quarantine centre is being set up.
Picture by Bishwarup Dutta
---
Calcutta
|
Published 17.03.20, 08:24 PM
|
---
A second quarantine facility for all asymptomatic passengers arriving at the city airport from 10 coronavirus-hit countries is being set up in New Town, about 6km from the first facility where three persons were in quarantine on Tuesday.
An official of the state health department said the new quarantine centre, with 200 beds, was being set up on the yet-to-be-opened campus of NBCC Ltd, which is owned by the Union government and involved in project management consultancy.
The first facility, with 500 beds, has been set up on the New Town campus of Chittaranjan National Cancer Institute.
"The second unit will be ready by Thursday," a health department official said.
All asymptomatic passengers arriving at the city airport from China, South Korea, Iran, France, Germany, Italy and Spain are being sent to the quarantine unit on the cancer hospital campus.
From March 18, all asymptomatic passengers arriving from Oman, Kuwait and the United Arab Emirates, too, will be sent to the facility.
Officials of the health department said the second facility was being set up because passengers from the three Gulf countries, too, would be quarantined from Wednesday.
"Around 600 passengers from Gulf countries will arrive in India on Wednesday. A section of them may come to Calcutta. All passengers from these countries who will not display any symptom of infection will have to be quarantined," the official said.
"There might not be enough beds for all such passengers. So, a second unit is being readied."
At the quarantine centre, the passengers are being segregated into "moderate-risk" and "low-risk" ones. While "moderate-risk" passengers will have to be in quarantine for 14 days, the "low-risk" ones will be advised home-quarantine and discharged.
Low-risk passengers are those who are aged less than 60, not suffering from any symptom of coronavirus infection such as fever and cough and not having any underlying condition such as asthma or diabetes. Moderate-risk passengers are those who are aged more than 60 and having an underlying condition but not suffering from any symptom of infection.
High-risk passengers — those displaying symptoms of infection — will be sent to an isolation ward in hospital.
Earlier, the segregation between low-risk and moderate-risk passengers was being done at airports. But the health ministry has asked all airports to send asymptomatic passengers from affected countries to quarantine centres.