Sealdah flyover closed for health check-up
The Sealdah flyover was shut down to traffic for four days from 6pm on Thursday to facilitate a safety audit and repairs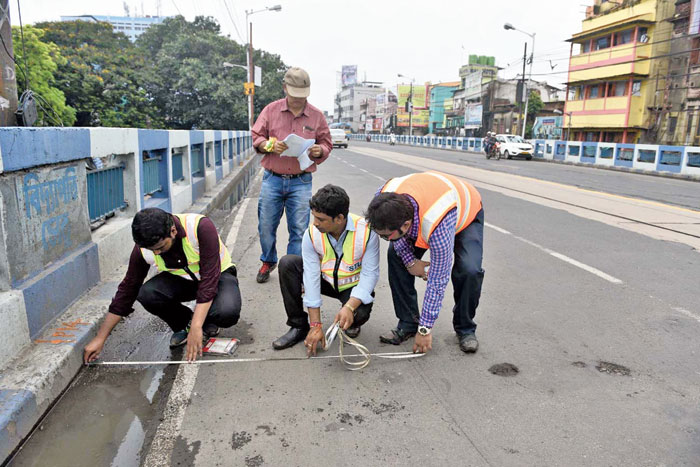 Health test of Sealdah flyover in progress
Picture by Gautam Bose
---
Calcutta
|
Published 15.08.19, 07:01 PM
|
---
The Sealdah flyover was shut down to traffic for four days from 6pm on Thursday to facilitate a safety audit and repairs on the structure.
Engineers of the Calcutta Metropolitan Development Authority (CMDA), that maintains the flyover, went to the structure and started inspection on Thursday evening. An engineer said that the flyover would be closed for four days to facilitate load-bearing tests.
According to the officer, the four-day period — from the afternoon of August 15 to the afternoon of August 18 — an engineering consulting agency would mount loaded trucks of capacity ranging between 25 tonnes and 75 tonnes on the flyover.
Officials from the agency will map the load-bearing capacity of the iron rods in the concrete structure using various gadgets.
Metro brings a low down on traffic.
Closed section
During this time period the stretch on the flyover between MG Road intersection and the Beleghata Main Road will be made off limits for cars and two-wheelers.
Tram services along Acharya Prafulla Chandra Road, MG Road, Bidhan Sarani and Lenin Sarani will be suspended or restricted, a Calcutta police officer said.
Diversions
As the Beleghata Main Road will be open, commuters headed for Sealdah Station from south Calcutta will not have to face any difficulty to reach their destination. Those travelling from north Calcutta will have to avail MG Road, Amherst Street, BB Ganguly Street to reach Koley Market.
From there, the vehicles will be diverted left and move along the road under Sealdah flyover to reach the station.
Vehicles headed south will be diverted through MG Road, Amherst Street and Lenin Sarani to reach Moulali crossing. "We have drawn up an elaborate plan and officers posted on duty might add more diversions in case traffic volume shoots up at any one point of time," said Santosh Pandey, deputy commissioner, traffic, Calcutta Police.
One-way
During the period, traffic movement along Amherst Street, BB Ganguly Street, College Street, NC Street, SN Banerjee Road, Creek Row and Rafi Ahmed Kidwai Road will be one-way round-the-clock.
Bus routes
Buses, too, will follow the same routes except those that originate and terminate in and around Sealdah station.
Buses from a few routes that ply along AJC Bose Road and usually terminate at Rajabazar will be stopped in and around NRS Medical College and Hospital. Buses that terminate at Sealdah will be diverted to APC Road and the route will be terminated near Rajabazar.
No-parking zones
Parking restrictions will be imposed on both sides of Amherst Street, BB Ganguly Street, College Street, NC Street, SN Banerjee Road, Creek Row and Rafi Ahmed Kidwai Road during this period. No vehicles will be allowed on the main roads and the feeder roads as well.