Schoolgirl pedals 12km a day for water in North 24-Parganas village
Task hampers studies, Class X student writes on PM portal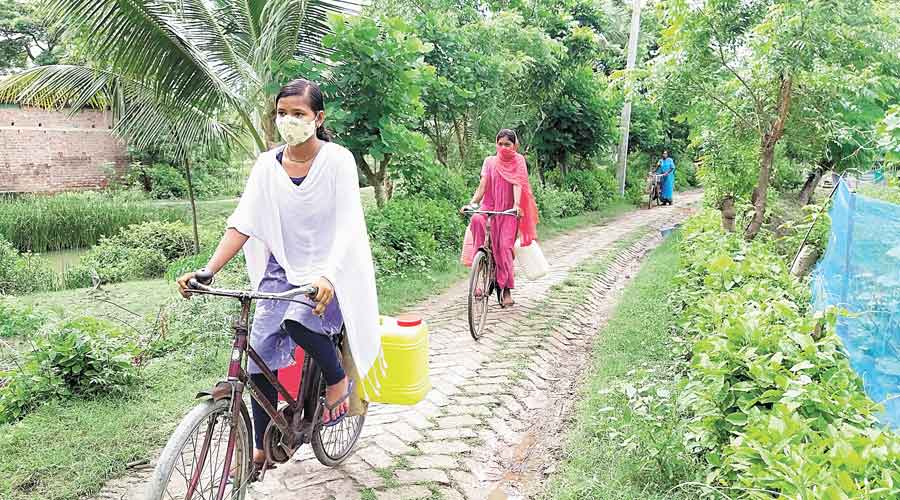 Toma Das (in white dupatta) with other girls of Hulorchar village of Hansnabad block of North 24-Parganas bring drinking water on cycles.
Picture by Pashupati Das
---
Basirhat
|
Published 23.09.21, 03:16 AM
|
---
Schoolgirl Toma Das, 15, cycles 12km every day to bring drinking water home in her North 24-Parganas village from a roadside PHE reservoir.
In the last week of July, Toma, who studies in Class X Hulorchar village of Hansnabad block, submitted an appeal through the Prime Minister's public grievance portal, saying that fetching water hampered her studies.
"Every day, I bring 30 litres of water, which is not sufficient for a family of five persons. Sometimes, we blatantly avoid offering a glass of water to guests since it will only reduce our stock," the student stated in the portal.
"The regular journey for water costs me valuable study time in the morning as I spent two hours to bring water. Sometimes, it becomes tough to attend school," the girl added.
The Class X student had willingly taken the burden of bringing 30 litres of drinking water home in two plastic containers after finding out the hard way that the groundwater her family used to drink from the tube well was excessively saline-rich and therefore not healthy.
Till two years ago, her father Subol Das, a mason, used to bring home water from the local tube well. Then, he fell ill.
Secretary of Maa Saroda Women & Rural Welfare Society, Subhasis Mondal, an organisation that is working for the socio-economic development of the Sunderbans, said: "It (excessive salinity in water) is a tremendous problem with which children are growing up. But unlike their parents and grandparents, they are not ready to accept it lying down anymore. Constant saline exposure leads to several skin problems."
According to sources, areas like Amlani, Bhawanipur-I, Hansnabad, Patlikhanpur, Barunhat, Rameswarpur, Bhawanipur-II gram panchayat under Hansnabad block Bispur, Dulduli, Gobindakati, Jogeshganj, Kalitala, Rupmari, and Sandelerbil under Hingalganj block are suffering from exposure to salinity.
Toma is among a few thousand persons living in 14 gram panchayats of Hingalganj and Hansnabad blocks, in Basirhat subdivision, who either walk or pedal a few kilometres every day to fetch drinking water, having no other recourse.
Enveloped with several rivers connected to the Bay of Bengal, most blocks of the Sunderbans spanning North and South 24-Parganas suffer from high groundwater salinity. No block has recently reported salinity below 300mg per litre, which is unsafe for drinking.
Hence, people do not drink the water they draw through deep tube wells. The latter is an unchanged arrangement dating to the pre-Independence era.
For instance, Toma collects water from a roadside PHE reservoir near Bailani market in Hingalganj block.
In 2009, the Centre had launched the National Rural Drinking Water Programme aiming to provide safe and adequate water for drinking, cooking and other domestic needs to every rural household on a sustainable basis.
The state government had planned to provide piped water to 70 per cent rural households by 2020.
However, only 25 per cent of households received the facility so far.
The Bengal government last year announced a Rs 58,000-crore Jal Swapno project to provide piped water supply to two crore rural households over the next five years with support of central funds.