East Burdwan: School teachers try to woo lockdown-hit dropouts
The initiative began after only 30 of 109 students in Classes IX and X turned up at Akalpoush APG High School in Kalna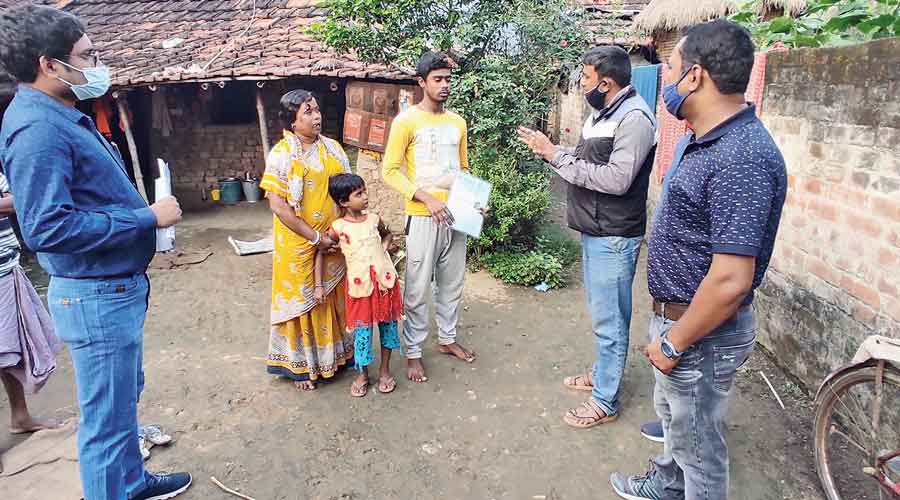 Teachers of Akalpoush APG High School in East Burdwan's Kalna at the house of a student who did not turn up as classes resumed on Tuesday.
Dip Das
---
Bolpur(Birbhum)
|
Published 17.11.21, 02:38 AM
|
---
Teachers of an East Burdwan school on Tuesday started reaching out to parents of dropouts to convince them to send the youngsters back to class as schools opened after a 20-month gap induced by the Covid-19 pandemic .
The initiative began after only 30 of 109 students in Classes IX and X turned up at Akalpoush APG High School in Kalna.
Out of 37 registered students in Class IX, only 11 turned up. In the case of Class X, attendance was more dismal, 19 out of 72.
"Most students here are from very poor families and we had heard many of them dropped out and started working during the lockdown to augment the family income... A student even went to work in Rajasthan," said Sudipta Ghosh, the teacher-in-charge.
"We thought that we must try to bring at least some of these boys back to school... On the first day, we went to four homes," Ghosh added.
Among these were the families of Ajay Garai and Loknath Malik, both of Class IX. Ajay went to Rajasthan for six months to work in the jewellery industry. Loknath has been working as a farm labourer for months now.
"The main reason behind their dropping out is poverty. We convinced the parents that we would waive school fees," said Ghosh, adding they would carry on with this initiative of going to homes of dropouts to persuade their return.
A social researcher assessing the impact of lockdown on rural schools welcomed this initiative. "Teachers and people from all strata of society should come forward to bring dropouts back to class," said Kumar Rana, a social researcher in Calcutta who was part of a study that revealed around 28 per cent primary school students got disconnected from education during the pandemic.
In Birbhum district, Manisha Banerjee, the headmistress of Labhpur Satyanarayan Girls' High School said she also saw a very poor attendance among the students of Class XI on Tuesday.
"I asked the girls about the rest of their classmates. After observing the situation for a week, we would find the girls who dropped out of our school," said Banerjee.
Vaccine trouble
Around a dozen college students of Arambagh Netaji Mahavidyalaya, who are yet to cross 18 years, wrote to the subdivisional officer of Arambagh Haseen Zahera Rizvi that they were not allowed to attend physical classes on Tuesday as they had not received Covid jabs.
After intervention of the subdivisional officer, the college authorities later said the students would be allowed in class. "Most of the students received jabs in the vaccination camp organised in the college and so many objected against those who had not received the jab. All the 12 are just one or two months away from turning 18. District officials said they would be vaccinated soon as the Covid vaccine can be provided to those who reached have turned 18. Till then, they would attend classes maintaining Covid protocol," said Asim Kumar De, the principal of the college.