School rejection woes - Experts urge parents to keep open mind
Read more below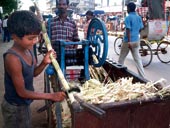 ---
---
WHAT LIES AHEAD? Rejection by schools can affect children. A Telegraph picture
Thousands of tiny tots in the city are suffering from psychological problems after not getting admission into schools of their parents' choice, according to psychologists.
"The children who don't get through to the sought-after schools feel distressed. This has long-term repercussions on their behavioural pattern. The parents need to be counselled so that they can keep an open mind about their wards," says child psychiatrist Rima Mukherjee.
"Children can lose interest in studies after not getting admission in the top schools. They show a withdrawal tendency, which for young people is equivalent to a suicidal bent. The children often become aggressive, use abusive language and have nervous breakdowns over minor reasons," she explains.
Those aged between three and six are the most susceptible to psychological problems because of rejection at school. "Pressure to prepare for admission, followed by rejection, affects children. The effects of rejection are not always apparent," says another child psychiatrist.
The role of parents is particularly important. "They often cannot accept rejection and take their frustration out on the child. The parents refuse to acknowledge that the child might not have the aptitude to be admitted in a top school," says psychiatrist Mohua Ghosh.
With the admission season round the corner, the authorities of the sought-after schools are in a dilemma about how to tackle the problem. They plead helplessness, since all the children who apply cannot be accommodated.
"We have 150 seats and receive about 800 applications," says Beula Raju of Calcutta Girls' School.
Terence Ireland, the principal of St James School, says: "We have 135 seats, for which we receive 6,000-7,000 applications. We ask the parents and children to not focus on one school. They must keep options open."
Other steps are being taken as well. "We have done away with admission tests and now meet parents for the sake of observation," says Mukta Nain, principal of Birla High School. Whether the child has a sibling studying in the school, the attitude of the parents and their background are some of the factors considered by the school authorities.