Sandip's Jatayu dead after last Feluda dub
Read more below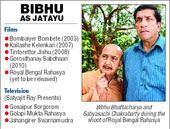 ---
Published 23.09.11, 12:00 AM
|
---
Bibhu Bhattacharya, whose portrayal of the bumbling Jatayu drew the most laughs in the recent Feluda films, died early on Thursday at his home in Howrah after suffering a massive heart attack.
The actor had completed dubbing for his last Feluda film, Royal Bengal Rahasya, on Wednesday evening.
Family sources said Bhattacharya, 67, suddenly felt unwell at his Kedar Bhattacharjee Road home. "He was watching television around 12.30am when he felt nauseous. He rushed to the balcony to get some relief when he collapsed," said Jayanta Bhattacharya, his elder brother.
The actor has starred in five Feluda films directed by Sandip Ray, including the yet-to-be-released Royal Bengal Rahasya. He had also portrayed the character on television.
Bhattacharya's co-stars Sabyasachi Chakrabarty (Feluda) and Shaheb Bhattacherjee (Topshe) expressed shock when they heard of Bhattacharya's death.
"Shaheb used to pull his leg in the jungles of north Bengal during the shooting of Royal Bengal Rahasya. Bibhuda would often say that he would get killed by Topshe, someday," said Chakrabarty. "When I declared that Royal Bengal Rahasya would be my last Feluda film, he told me: 'If you don't do Feluda, then I, too, don't want to play Jatayu. Let's retire together'. How would I have known he would retire from the world altogether?"
"Bibhujethu would share his experiences with us," said Shaheb. "His death is a great loss for the industry. I don't know what will happen to the Feluda films now. Who will play Jatayu is the biggest question."
Feluda director Sandip Ray said: "He was gradually building himself up as Jatayu. His demise has created a great void. He had become a part of our family. I don't know who will play Jatayu in the future."
Bhattacharya had started his film career as a child artiste in the Uttam Kumar-starrer Maryada. He went on to do numerous films as a child actor with the likes of Chhabi Biswas and Jahar Ganguly. His first Feluda film was Bombaiyer Bombete.
Bhattacharya is survived by his wife, a son and a daughter.