Salt Lake's ward 32 witness clash of Left Front partners
In Karunamoyee, EE and DL blocks, both the parties have fielded their candidates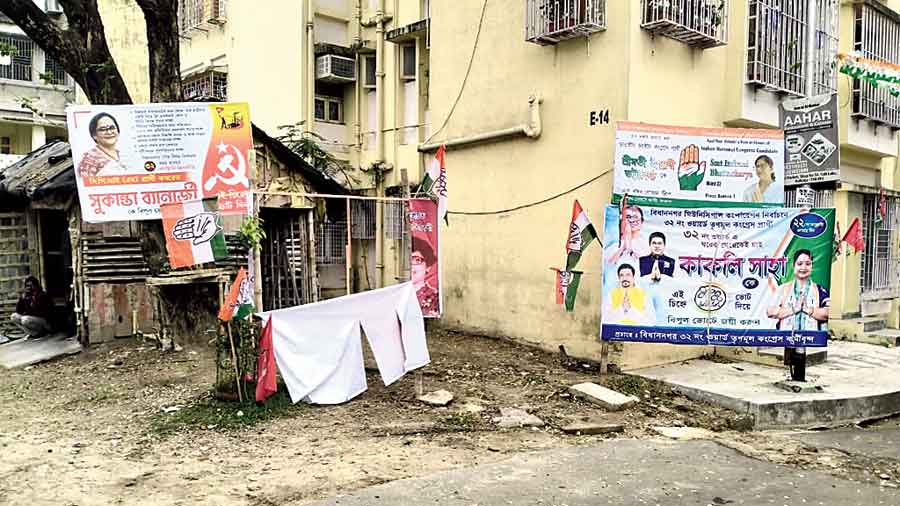 Suhita Basumallik's ripped banners hang next to publicity material of candidates of other parties in Ward 32.
Pictures by Debasmita Bhattacharjee
---
Salt Lake
|
Published 21.01.22, 01:43 PM
|
---
In a crack in Left Front unity, partners CPM and CPI are facing off in Ward 32, comprising Karunamoyee, EE and DL blocks, where both have fielded candidates. And what has given things a more serious turn is the CPI filing a complaint with the municipal returning officer about their publicity material being vandalised.
"We put up posters and flags all over the ward on January 13 but the next morning we found them all ripped. Out of the 30 posters we had hung up, only six remained. The flags had been removed and we found many of them bundled together and burnt outside EE Park. If this was done before our eyes we would have known who our enemy was but since it was done behind our backs, we can't point fingers at anyone," said Ritesh Basak, a CPI worker. "I find it difficult to believe that an established political party like CPM would do such a thing. This is giving me the kind of publicity that would have been beyond our means to generate. Surely they are smart enough to have anticipated that. But it is also surprising how in EE Block and Karunamoyee posters of candidates of all the other parties are still untouched and only our ones were ripped off," said Suhita Basumallik, the CPI candidate.
The CPM candidate Sukanta Banerjee was dismissive of the allegation. "Eta amader sanskriti noy. Er pechhone ki golpo achhe amar jana nei. Ora issue toiri korchhe ki na bolte parbo na," she said. 
Neither is she worried about a division in Left votes. "This ward is a CPM bastion over the years. I will get what I deserve irrespective of whoever else is contesting. If there is no terror on election day, I am hopeful of victory," said the EE Block resident who is locally known as a singer. "I have sung in venues like Salt Lake stadium and Brigade Parade Grounds at big party programmes." Point counterpoint
Both candidates admit that a clash between Front partners was not desirable but have different points of view. "CPI used to contest in Ward 16 in Rajarhat. This time possibly they did not have a suitable candidate and asked for a second seat in Salt Lake. Though it was tough for us we offered them Ward 41, other than Ward 40. At the last moment, they refused," said Banerjee, the CPM candidate.
Basumallik, the wife of Bidhannagar CPI local committee secretary Sibatosh Majumdar, explains why they were keen on Ward 32 rather than Ward 41. "We do not have people in Ward 41 whereas in Ward 32 we have been able to make connections with voters through a couple of our initiatives over the last two years. This included running a Janata Canteen at gate 2 of Karunamoyee Housing Estate over four and a half months, serving free lunch to people rendered jobless by the lockdown. "People who saw us serve them offered us funds and appreciated us. We want to capitalise on this goodwill. Even if not Ward 32, we would have been content with the adjoining Ward 29 or Ward 33. But they would not budge from their stand," said Basumallik.
CPM state secretariat member Palash Das pointed out why the party could not satisfy their partner's demand. "Our mayoral candidates Dilip Gupta and Biswajiban Majumdar got elected from Ward 32. Former finance minister Asim Dasgupta contested from there last time. Ward 29 is fielding a two-time CPM councillor Saswati Mondal. She is very popular in the area. Ward 33 was our seat till Gita Biswas passed away. The party had fielded a heavyweight like Ramola Chakraborty (deceased minister Subhas Chakraborty's wife) in 2015. The results of the last civic polls do not count as polling was not allowed to happen. It was unreasonable of them to ask for such prime seats."
Meanwhile, CPI has put up some banners again and is in no mood to relent. "We can't assign security guards under the banners but are telling voters about the incident. Residents are calling it shameful. They are also worried whether this could lead to trouble on D-Day," said Basak.
Additional reporting by Brinda Sarkar saltlake@abp.in