Salt Lake gets new mayor
Tackling hawkers and illegal construction key challenges for Krishna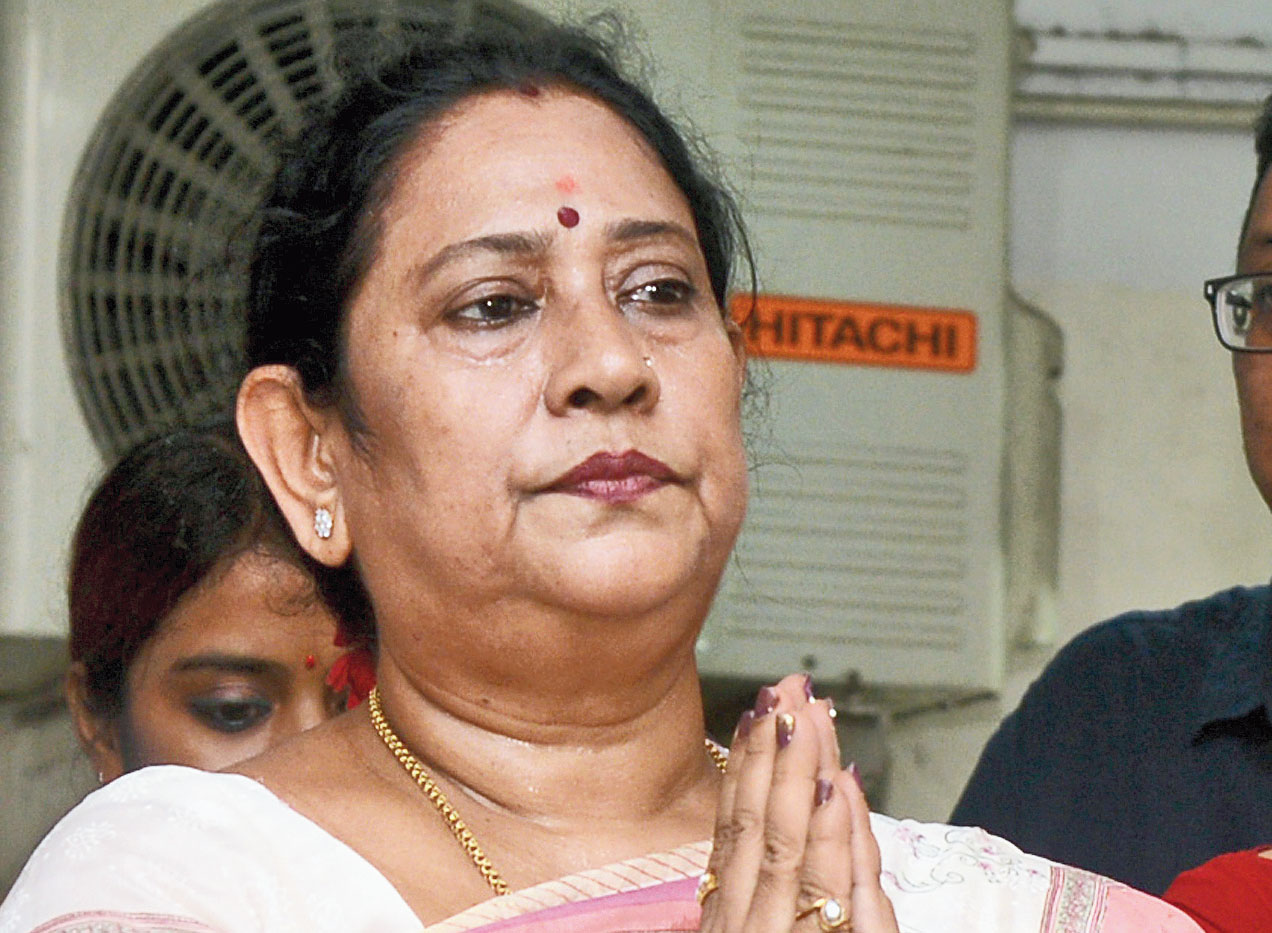 Krishna Chakraborty after being sworn in as the new mayor of Salt Lake on Saturday.
Picture by Bishwarup Dutta
---
Salt Lake
|
Published 10.08.19, 09:49 PM
|
---
Former Bidhannagar Municipal Corporation chairperson Krishna Chakraborty was sworn in as the new mayor of the civic body on Saturday.
Chakraborty, a resident of CJ Block, said her primary focus would be the development of the entire area under the jurisdiction of the corporation. "I have administered Salt Lake before when I was the chairperson of the municipality. The corporation became a much bigger area after parts of Rajarhat, Lake Town, Baguiati were added to it and my primary focus would be development in all these areas," she said after the swearing-in.
A board meeting of councillors was held at Poura Bhavan before the swearing-in. Chakraborty's predecessor, Sabyasachi Dutta, who had resigned on July 18, and two other councillors stayed away from the board meeting as well as from the swearing-in ceremony.
The civic body has been in turmoil for over a month now. Dutta was forced to quit after he had rubbed his party the wrong way.
Reigning in hawkers and tackling illegal construction would be the top challenges Chakraborty would face. Hawkers have reclaimed several walkways along major roads in Salt Lake as evictions have been put on hold, apparently over stalemate in the civic body. "The pavements adjacent to the GSI building have been overrun by hawkers who have set up a mini market — selling everything from vegetables, and chicken to groceries," said Soham Chakraborty, 39, a resident of ED block.
The pavements were clean until a couple of months ago until stalls sprung up on the walkways, he added.
Illegal construction in places such as Lake Town, Baguiati and Rajarhat has boomed in the recent years. Dutta had alleged that he was being removed for trying to stop illegal construction, especially in Rajarhat and Gopalpur.
Chakraborty evaded questions on hawkers and illegal construction on Saturday. "Today is not the occasion to discuss these things," she said after the swearing-in.
Apart from Chakraborty, Tapas Chatterjee, deputy mayor of the corporation, and Bidhannagar MLA Sujit Bose, the junior minister for fire and emergency services, were among the aspirants for the mayor's chair.
Chakraborty had submitted her nomination on Friday. Her name was announced as the mayor designate by municipal affairs minister Firhad Hakim who met the councillors at Unnayan Bhavan a couple of days ago. On Saturday, municipal commissioner Pritha Sarkar administered oath to Chakraborty as the mayor.
"I wish her all the best, she is an able administrator and all of us stand with her. We all want to focus on development," said deputy mayor Chatterjee.