Safety message from Calcutta students to parents
Students stood outside school to urge parents to wear helmets and also give one to their children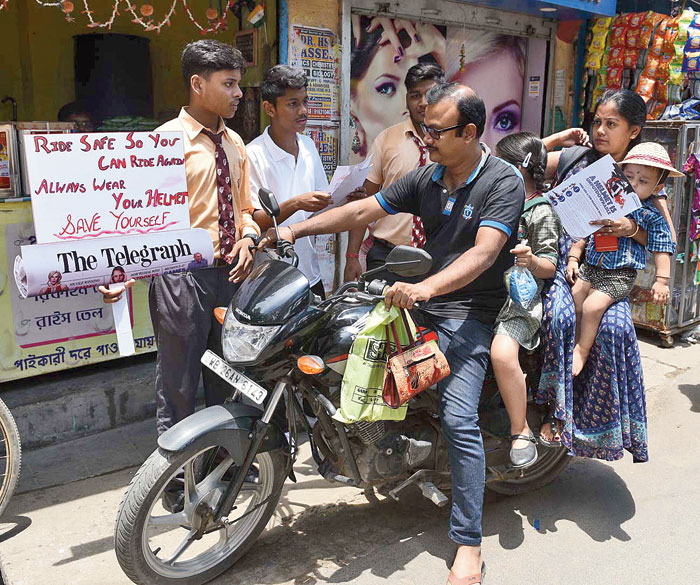 Students of North Point Senior Secondary School off VIP Road impart safety lessons to a family of helmetless riders.
Pictures by Gautam Bose
---
Calcutta
|
Published 01.08.19, 08:45 PM
|
---
Students stood outside the school gate to urge parents to wear helmets and also give one to their children, most of who ride without one.
Boys from classes XI and XII of North Point Senior Secondary School off VIP Road were taking part in raising awareness among parents and students to wear helmets — an initiative of The Telegraph, in association with schools, that started this week and will continue over the next few weeks. The campaign will cover 30 schools in the city.
Parents, most of who were not carrying a helmet for the child, were taken by surprise when the students approached them on Thursday. Most were left fumbling for an answer when asked why they or their children wear not wearing helmets.
One parent said he had forgotten the helmet at home, another blamed the son who does not like wearing one and a third said he did not have the money to buy a helmet for his son.
The school is located in a bylane off VIP Road, an important link road with Dum Dum. Teachers of the school alleged there were no traffic policemen in the bylanes and so parents often flouted rules at will.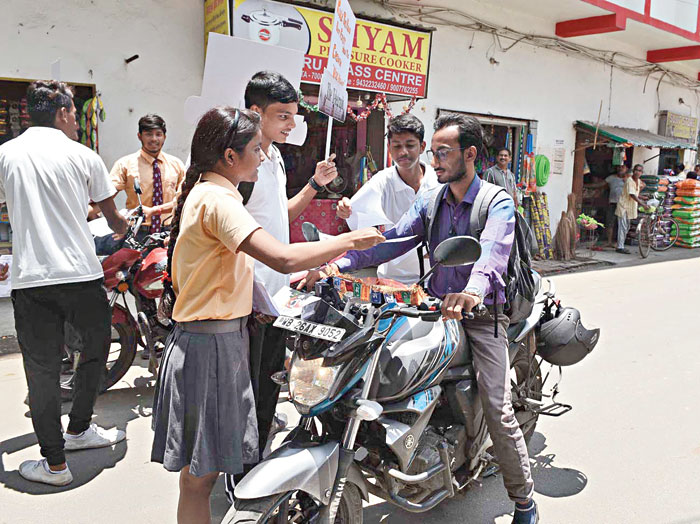 "Many of our students live close by and their parents are not in the habit of wearing helmets. In the past, we have addressed our students but it is the first time that students are telling parents to wear helmets. Hope this will bring some change," said Subrata Acharya, biology teacher of the school who stood at the gate with the students.
Parents are often reluctant to buy their children helmets as they tend to outgrow them quickly. "The children need it the most because they are our future but parents seem not to care. So we asked our students to sensitise parents," said Manish Chattopadhyay, the principal of North Point school.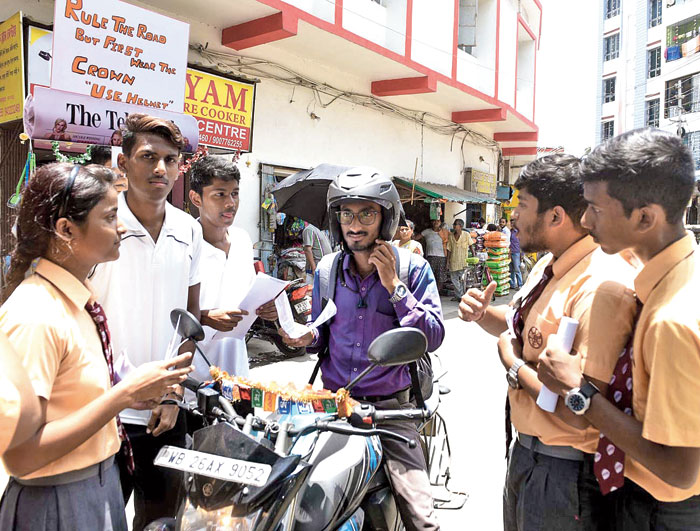 The campaign has already been to about 10 schools, including Pratt Memorial School, Union Chapel School, Loyola High School and Baghbazar Multipurpose Girls' Higher Secondary School.
Students of some schools also stopped other helmetless riders and explained to them why wearing one was important. They stood in front of their school with placards and distributed leaflets about the dangers of helmetless riding.
"The drive was an eye- opener for our students," said Carolyn Lionel, the principal of Pratt Memorial School where the drive was conducted on Wednesday.