Sacrifices have to be made if one chooses to be in BJP: Dilip Ghosh
His sermon amid whispers of mass defections to the Trinamul Congress drew derision from sections within the saffron camp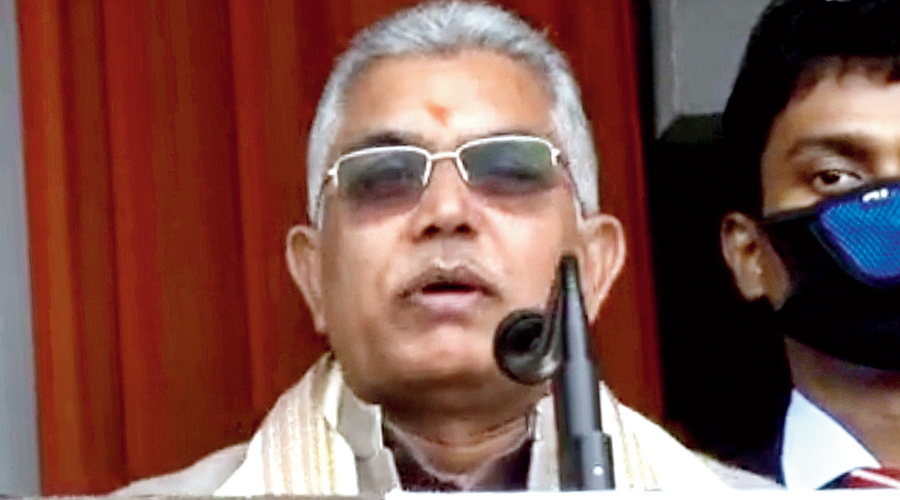 ---
|
Calcutta
|
Published 14.06.21, 01:22 AM
---
Beleaguered Bengal BJP president Dilip Ghosh on Sunday stressed the need for "sacrifice and austerity" for one to stay in the party, but his sermon amid whispers of mass defections to the Trinamul Congress drew derision from sections within the saffron camp.
Floodgates of defections — many in the saffron camp now fear — may have been opened by the return to Trinamul of the BJP's national vice president Mukul Roy on Friday.
"Defection has become a habit for many now. The BJP relies on those who have shed blood and sweat to establish the party," read a social media post by Ghosh in Bengali. Ghosh and others in the BJP have been resorting to philosophy and lofty ideals — while frantically insisting that defections to Trinamul won't damage the party, and, instead, would strengthen it — since the saffron camp was left blindsided by the body blow of the Krishnagar North MLA's departure.
There are apprehensions of at least a dozen MLAs — from the BJP's meagre total of 77 — following Roy, besides several MPs and countless leaders, office bearers and workers.
"In order to stay in BJP one will have to practice sacrifice and austerity. Those who only wish to enjoy power, will not be able to stay in the BJP, we are not going to let them stay," added Ghosh's post.
The post prompted sarcastic criticism not only from Trinamul but also the BJP.
Many within the BJP saw the statement as a continuation of Ghosh's desperate attempts to display bravado in the face of the imminent crisis, which according to them turns out to be counterproductive more often than not.
Another section of BJP leaders said it was Ghosh's attempt to stay relevant amid rumours that he would be removed from the post. Several state and national leaders of the BJP that this newspaper spoke to were of the opinion that Ghosh had to shoulder a bulk of responsibility for the electoral "decimation" in Bengal and the crisis within the party that inevitably followed.
"Dilip da would've undoubtedly claimed the credit — like after the 2019 Lok Sabha polls — if the party had been able to wrest power here. Since, the party was, instead, trounced in the election, he should gracefully claim responsibility and resign," said a state BJP office bearer. "His didactic, patronising and laughable post wouldn't do the party any good"
Trinamul vice president Saugata Roy had similar advice for Ghosh.
"We have seen everywhere that leaders take responsibility for such defeats and resign from their posts. Why isn't Dilip Ghosh doing so?" asked the Dum Dum MP.
Speaking on Ghosh's claim that the BJP would weed out opportunists, education minister Bratya Basu asked: "Why didn't he remember this when his party was celebrating the induction of turncoats from other parties?"
Several key sections in the BJP state leadership questioned the prepoll stress on inorganic growth through en masse defections.
They said the strategy — among several others such as the obsession with polarisation in a state such as Bengal, with which it continues to persist — monumentally backfired in the election and was now bleeding the BJP further.
"Ahead of the election, we welcomed countless defectors with open arms to promote the perception that a BJP victory was a foregone conclusion. Nearly half of our candidates were turncoats, most of whom were handed a drubbing," said another state BJP functionary, adding that numerous BJP old timers had raised objections, but the leadership turned a deaf ear to them.
One such leader who had played a major role in inducting and promoting Trinamul turncoats was the party's Bengal minder Kailash Vijayvargiya — omnipresent in Bengal till the results, conspicuous by his near complete absence since. Vijayvargiya was known for his proximity to Roy.
On Sunday, former Bengal BJP chief Tathagata Roy ridiculed Vijayvargiya on social media.
Roy — one of several BJP leaders bitterly critical of the party's decisions in the wake of the results — took to Twitter and wrote: "A faithful English translation of a tweet from a devout BJP supporter. I have added or subtracted nothing. "Auntie (Buaji) Mamata, please take this stupid cat (Vijayvargiya) into Trinamool. He may be heartbroken missing his friend! They used to remain closeted together for the whole day."
Also on Sunday, Dulal Bar, a former MLA and the chief of the Scheduled Caste wing of the Bengal BJP, said Mukul Roy was unhappy in the BJP since he didn't get the respect he deserved in the party. Bar added that although he had not decided about his own future, nothing was impossible in politics.
Amid such developments, Bengal BJP held a meeting to discuss the course of action on possible defectors. The meeting was attended by state general secretaries and general secretary (organisation) Amitava Chakraborty.