Sacrifices at home to join protest
'We share our food and water.... But why is this government trying to divide us?'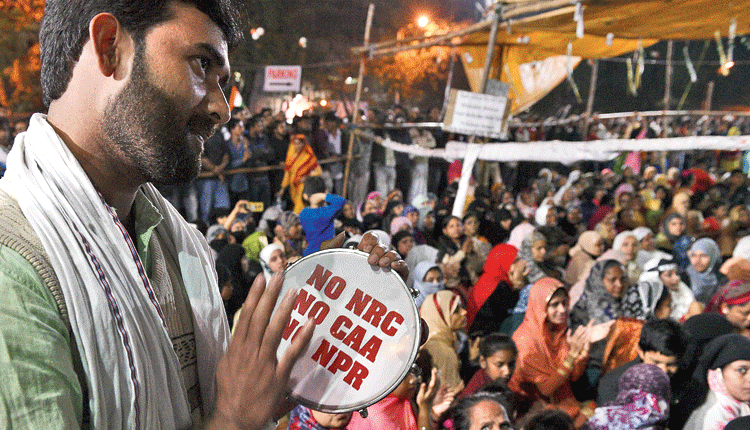 Protesters at Park Circus Maidan on Wednesday evening.
Pictures by Gautam Bose
---
Calcutta
|
Published 29.01.20, 08:10 PM
|
---
Park Circus Maidan was teeming with people on Saraswati Puja evening in what seemed to be a celebration of protest.
The Telegraph spoke to a few of them.
A young mother
A 27-year-old mother from Topsia drops her children to school at 7.30am every day, comes to Park Circus and works as a volunteer for the next 10 hours or so.
Amreen Hussain was among those who started the sit-in on January 7 and now with more and more people joining the protest, they have volunteers to manage the crowd. She goes home at 10pm when her mother-in-law takes her place on the protest ground.
"Initially, there were fewer women but now there are many many more. I help the women find a place to sit, hand them water if they need and see that there is order. The work that I do at home as a homemaker, to keep the home in order and see that everyone gets what they want, is what I am doing here now," Hussain said. Hussain's children are four and eight and staying away from home for more than 10 hours is not easy for her. "It is difficult not only for me but the hundreds of women who come here everyday. But thanks to our government, the women have woken up and now no one will step back," she said.
The confidence was unmistakable in the pair of eyes visible from behind the hijab. "The people sitting in Delhi won't decide what will happen here. It's the women on the streets who will decide," she said.
Mother and daughter
A homemaker from Thakurpukur could have stitched two more suits every evening and added Rs 300 to her family income. Instead, Shaista Nazini travels from the southern fringes of the city to Kidderpore almost every evening, picks up her mother Johra Zabi Khatoon, 70, and heads for Park Circus.
"My husband is an auto driver but he has had a bypass surgery in June and is at home now. The family is running on some rent we get and what I earn from tailoring work. If I were at home, I would do some stitching and earned a little more," said Nazini, 42.
But circumstances have forced Nazini to make a sacrifice at home. "This is not the time to stay at home. My husband has also told me to go out and lend voice to this movement. Else, if CAA and NRC are implemented, we will be marginalised," she said.
Mother Johra Zabi cannot come everyday and gets tired easily, not just because of her age but because she suffered a cardiac arrest some time back. "It's important to join the protest. So on days that I cannot come here I go to Nawab Ali Park (in Kidderpore)," she said after offering evening prayers. Friends
A tuition teacher from Dhakuria, Anumita Pani, offered prayers to goddess Saraswati before joining the protest. Sitting by her side was Shehnaz Begum of Topsia. The two have become friends during their visits to Park Circus.
"We share our food and water. We don't think twice before doing that. But why is this government trying to divide us… the more it tries to divide us, the more it will unite us," Pani said.
Shehnaz Begum makes it a point to come to Park Circus at least once every day, on some days for a couple of hours and on some days for longer. "It's the first time that I am sitting outside in a protest… but what option do I have? We cannot go back now, our back is pressed against the wall. I am born here and I will die here. It's my country," she said.