Runaway zoo leopard back: it was hungry
Male leopard returns 3 days after it had escaped from the Bengal Safari Park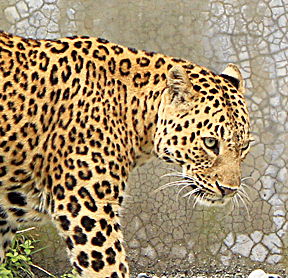 ---
Siliguri
|
Published 04.01.19, 08:04 PM
|
---
Sachin, the male leopard that had escaped from its enclosure at the Bengal Safari Park on New Year's Day and triggered its closure, returned on Friday.
Forest officials said the leopard was hungry and came back to its enclosure for food. There are some "minor" cuts and bruises on its body, the foresters said.
The animal's return has paved the way for the park, which had been shut since the animal escaped, to reopen in a full-fledged manner from Saturday.
"We had an apprehension the leopard was hungry as three days had passed and it is unlikely it could find food in the jungle. That is why we had kept the gate of the enclosure open. Our staff had kept some food there. The plan worked as the leopard arrived on Friday evening and had its food," said Rajendra Jakhar, the park director.
Forest sources said park employees called animals by their names in the evening after putting food in their enclosures.
These included "Sheetal" and "Kajol", the two female leopards. Sachin came just after his name was mentioned.
"We have seen some bruises on its head and below one of the eyes. These might have been caused when he jumped over the fence. Apparently, the injuries are not serious but we will have vets examine them and provide proper medication to the leopard," said a forester.
The return of Sachin in its enclosure has brought relief to the forest officials, who had launched an extensive search operation since Tuesday.
They had marshalled over 100 employees, vehicles, pet elephants and even drones, trap cameras and cages to trace the animal.
"We have resumed all safaris at the park from Friday. From Saturday, visitors will also be allowed to walk in from the entrance and spent their time near the aviary, the gharial enclosure and at the restaurant, before they go for the safaris," said an official.