Rule relief for cyclone victims
The state had fixed a compensation amount of Rs 13,500 for each hectare in the Bulbul affected areas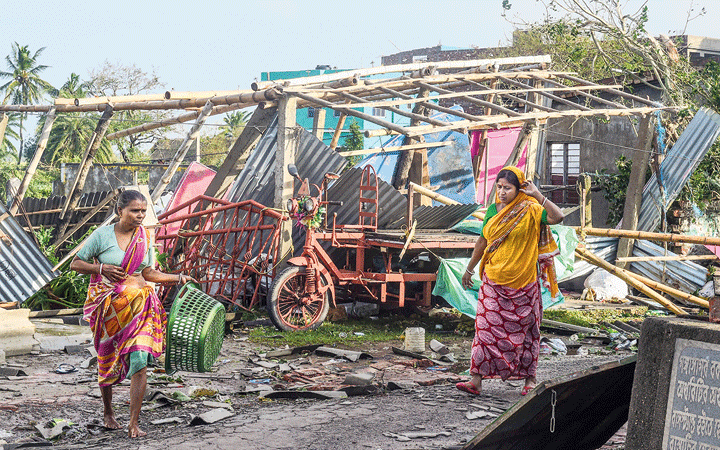 ---
|
Calcutta
|
Published 14.02.20, 09:10 PM
---
The Bengal government has decided to ease norms to ensure that nearly 5 lakh farmers — hit by cyclone Bulbul in November last year — get compensation from the agriculture department even though they failed to produce papers to claim that they own farmland in the affected areas.
"The problem a large number of farmers in the affected areas of North 24-Parganas, South 24-Parganas and East Midnapore were facing that they did not have farmland in their names as they did not go for mutation of land after they inherited land.
The state government has decided to release compensation to the farmers if they produce succession certificates issued by the local gram panchayat pradhan," said a senior state government official.
Sources in the state administration have said usually a farmer has to produce documents to establish that he owns a plot in a certain area to claim compensation or grant from the government.
"Grant or compensation is not given based only a succession certificate as this could lead to a legal complicacy… But in this case the government decided release compensation based on succession certificates as it involves a large number of farmers and all the farmers were facing a crisis in the post Bulbul period," said an official.
The official explained that succession certificate is not considered as a document to give compensation as such certificates don't make it clear what quantum of land the succession certificate holder possesses.
"For example, there are three bothers in a family and they inherited an acre of land… Only a mutation certificate can make it clear what quantum of each of the bothers possesses," said the official.
The state had fixed a compensation amount of Rs 13,500 for each hectare in the Bulbul affected areas. A total of about 12 lakh farmers were entitled to receive compensation and total of R 300 crore was supposed to be distributed among the farmers, sources said.
So far, nearly seven lakh farmers received compensation up to Rs 27,000 based on the size of their plots — but remaining 5 lakh farmers could not be given compensation as they failed to establish ownership of land in the affected areas.
Trinamul insiders said the state government had to find out a solution to bring the farmers under the compensation coverage as the ruling party would not like to take a chance to make such a huge number of farmers aggrieved ahead of the 2021 Assembly polls.
"If half of the farmers did not get compensation, it would have divided the farmers and the BJP could have capitalised on it," said another official.