RTI plea on Uttar Pradesh ad with Maa flyover visual
Trinamul Congress member Saket Gokhale seeks clarification on the origin of its advertisement on the front page of The Indian Express on Sunday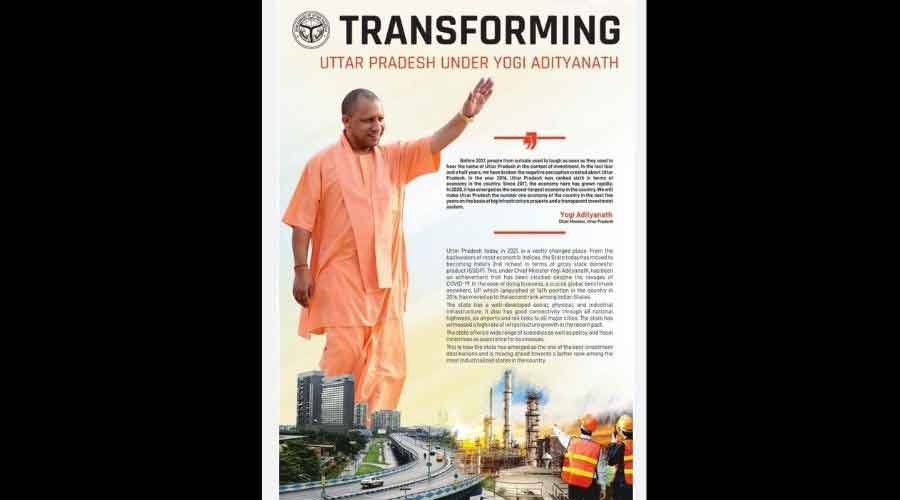 The advertisement titled 'Transforming Uttar Pradesh under Yogi Adityanath' showed an image of a flyover painted in blue-and-white colours synonymous with the TMC government.
Twitter handle of Firhad Hakim
---
Calcutta
|
Published 14.09.21, 02:33 AM
|
---
Trinamul Congress member and RTI activist Saket Gokhale on Monday filed an application under the Right to Information Act with the Uttar Pradesh government, seeking clarification on the origin of its advertisement on the front page of The Indian Express on Sunday.
The advertisement — with an image of the state's chief minister Yogi Adityanath — boasted how he had transformed Uttar Pradesh, but it included the visual of the Maa flyover of Calcutta.
"Filed an RTI with UP Govt asking: (a) if the fake ad y'day was made by UP govt or Indian Express (b) who approved the ad from Ajay Bisht's (Adityanath) team (c) copy of contract with Indian Express specifying who's in charge of what. We need to stand up if media is being bullied by Bisht," Gokhale tweeted along with an image of his RTI application.
The RTI, according to sources in Trinamul, was filed in a bid to corner the BJP and its Hindutva poster boy Adityanath.
"Adityanath had come to Bengal 11 times ahead of the Assembly polls and said Mamata Banerjee's government had done nothing. Now, an advertisement from his government depicts the image of a flyover inaugurated by Mamata Banerjee herself. What can be better than this for us to prove that the BJP is all about lies and misinformation," a Trinamul leader said.
This person added that Trinamul wished to keep the controversy alive.
Gokhale's RTI application demands the public information officer of the information and publicity department to share a copy of the contract signed between the UP government and the daily with all details. He has also asked if the content of the advertisement was decided by the government or "left to the discretion of marketing/other departments" of the newspaper.
Additionally, he has demanded to know if the ad had been approved by the government before it was published, and the details of the official or the committee which did the final check.
These questions come in regard to a clarification provided by the newspaper through a tweet in which it had apologised for the inadvertent inclusion of the image of the flyover in the "advertorial… produced by the marketing department of the newspaper".
Trinamul Congress spokesperson and Rajya Sabha member Derek O'Brien had on Sunday rejected the possibility that the mistake was on the newspaper's part. He had said a government ad, or any ad for that matter, wouldn't go to print without the final approval of the client.
Sukhendu Sekhar Roy, another Trinamul Rajya Sabha member, on Monday said: "We have documents to prove that it cannot be the newspaper's fault."