RSS wing joins coal strike
Three-day stir against Centre's decision to open up sector for private players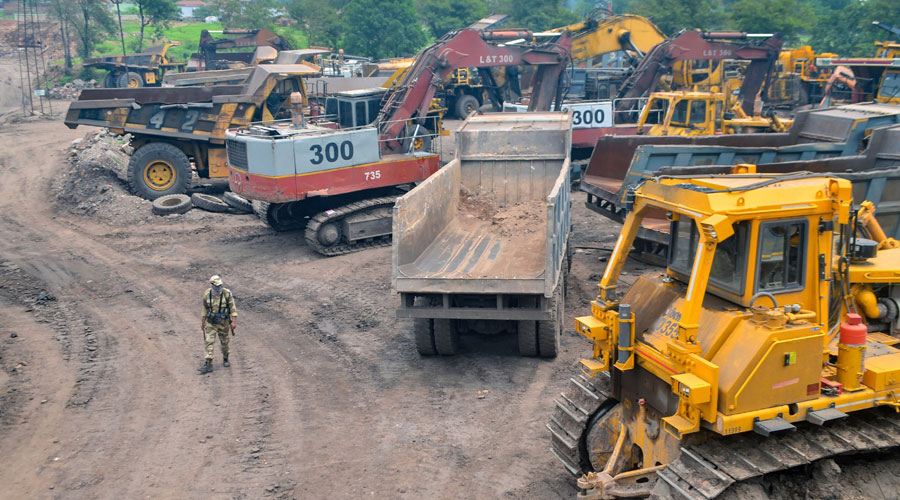 ---
|
Asansol
|
Published 03.07.20, 05:06 AM
---
The RSS-affiliated Bhartiya Mazdoor Sangh on Thursday joined trade unions of the CPM and the Congress to enforce a three-day strike against the Centre's decision to open up coal sector for private players.
But the Trinamul Congress's trade union INTTUC steered clear of the protests in several parts of West Burdwan. The three-day strike at the coal mines of the Eastern Coalfields Limited (ECL) began on Thursday.
Several BMS leaders said they were in a dilemma over whether to be part of the strike called by the Joint Action Committee that consisted of Left trade unions like the Citu of the CPM and the Congress's INTUC. The Narendra Modi government had announced its decision to privatise coal blocks in May.
"We are not a political party nor do we have any link with the BJP. We will oppose any decision taken by any government even if it is by the BJP that we think will hamper the interest of the nation and workers," said Dhananjay Pandey, organising secretary of the BMS at the ECL.
Trade unions said with the BMS's participation, the strike was complete in the country. Around 2.72 lakh ECL workers joined the strike in India.
INTTUC supporters hit the streets to oppose the strike and got involved in a scuffle with the strikers outside two coal mines in West Burdwan's Jhanjra and Kunastaria on Thursday.
The strikers said the workers had spontaneously joined the protest but Trinamul activists had tried to physically remove the picketers with the help of police.
CPM West Burdwan secretary and Citu leader Gauranga Chatterjee, who was leading a demonstration in front of Jhanjra Colliery in Durgapur's Laodoha police station area, alleged that Trinamul workers and the police had beaten up Citu supporters.
INTTUC leaders, however, denied the allegations and said they, too, were against the privatisation of coal mines but did not support the strike as a policy.
"Our chief minister has strongly opposed the Centre's decision to privatise coal blocks. But we do not support strikes or any kind of unrest in industries," said Hareram Singh, national INTTUC leader in the coal sector. He also denied beating up strike supporters.
Left trade union leaders said despite opposition from the INTTUC, the strike was successful at all ECL collieries.
ECL officials said the strike had badly hampered production at the coal mines. "We are yet to estimate the loss of production and attendance. We have urged the labourers to join work. We are also thinking of punitive measures against those who will not report for duty," said an ECL official.