Rs 25,000 for each Durga Puja
25% rebate on power bill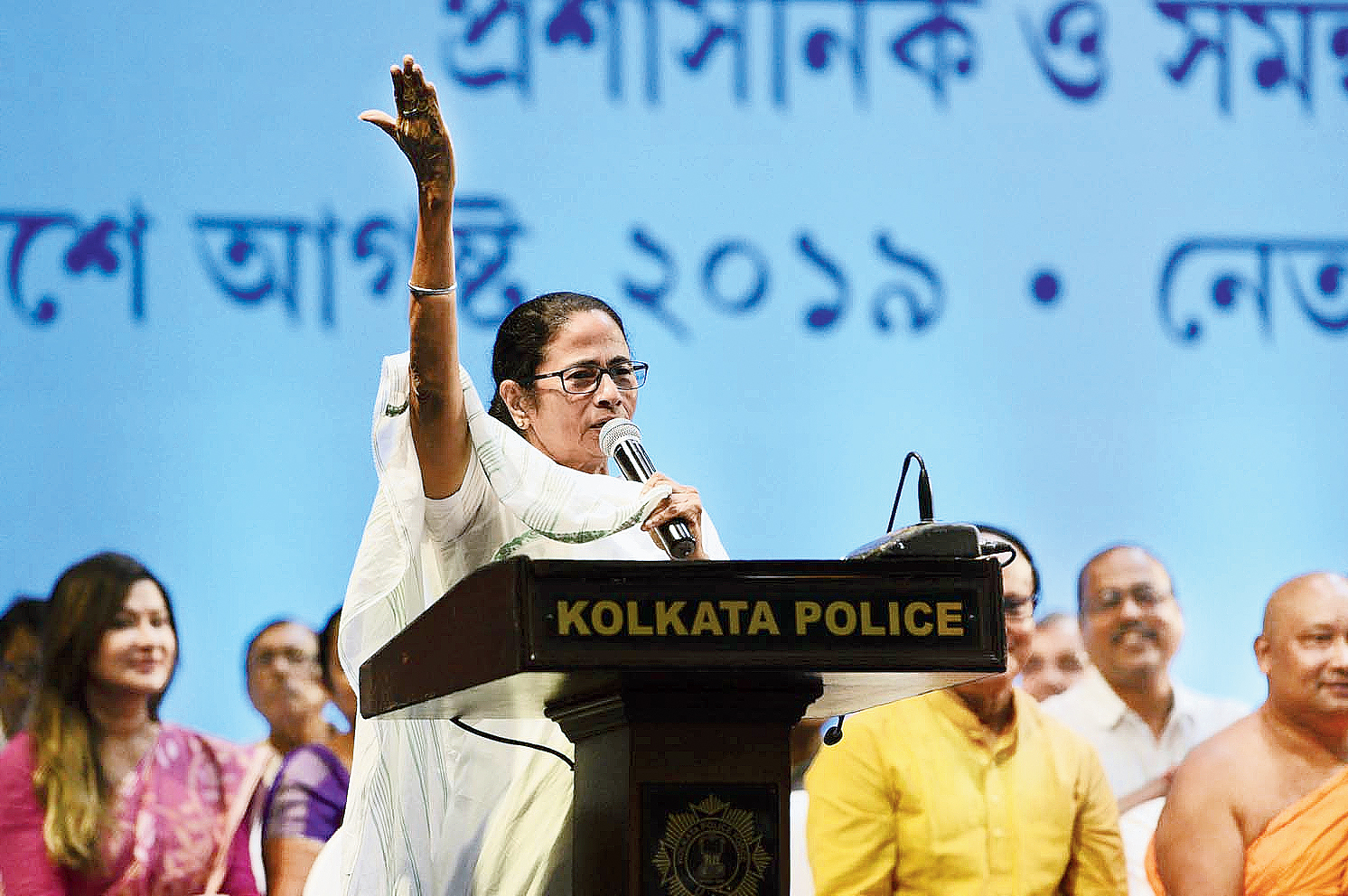 Chief minister Mamata Banerjee raises her hand to seek mandate from the audience on whether VIP passes and gates would be done away with during this year's Durga Puja.
Pictures by Gautam Bose
---
Calcutta
|
Published 30.08.19, 09:49 PM
|
--- The chief minister on Friday announced a grant of Rs 25,000 for each Durga puja committee in Bengal, scaling up the amount from Rs 10,000 announced last year, and offered a 25 per cent discount on the electricity bill to the organisers.

Additionally, pujas organised by women will get Rs 5,000 each from police.
"Aarthik monda cholchhey (an economic slump is prevailing). But we still have to perform puja. We don't want to beg from anyone. We don't seek mercy," Mamata Banerjee said while addressing puja organisers at Netaji Indoor Stadium on Friday.
"I am increasing the grant from Rs 10,000 to Rs 25,000.
I have spoken to finance minister Amit Mitra, finance secretary and chief secretary Malay De."
On expenses on power, she said: "Power is costly and it pinches you. I have spoken to CESC and the state power utility here. It (the discount on the power bill) will be 25 per cent this year."
The discount was 20 per cent in 2017 and 23 per cent last year.
For the next few minutes Mamata struggled to speak as puja organisers kept clapping and cheering. Representatives of many puja committees raised their hands in joy and many others bent forward in deference to the chief minister.
The announcement came just about when the chief minister started her interaction with the organisers, many of whom complained they were struggling to raise funds because of steep rise in prices.
"Some of you didn't get the amount last year because your papers were not in order. Aapnara bank account aar documents thik rakhben (keep your bank accounts and documents in order). People have moved the high court and the Supreme Court on this," she said.
There are 28,000 big-ticket pujas in Bengal. Add to them thousands of smaller pujas
across the state. Going by the chief minister's announcement, each will get Rs 25,000 from the government.
"It (the hike in allocation and discount on power bill) is a fantastic move considering the state of affairs this year. There can be no better news than this for puja organisers," said Saswata Basu of Hatibagan Sarbojonin Durgostav Committee.
The chief minister had a plea: "Can we do away with VIP cards and gates for VIPs' entry? This is my personal opinion. There are a few who go around blowing sirens and flashing red beacons on their cars. They step out particularly in the evening. Why? If you have to go pandal-hopping, go in the morning or afternoon."
Turning her gaze on the ministers known for organising mega-budget pujas — such as Sujit Bose, Aroop Biswas and Firhad Hakim — Mamata asked for a mandate from the audience. "How many of you are with me, raise your hands," she said.
Most hands at the stadium went up. Mamata said every one in the audience was with her against the "VIP culture".
"If they (the VIPs) visit the pandals in the morning or afternoon, take special care (of them). Serve them tea, sweets and food. But let's do away with the VIP gates," she said.
Puja organisers said they had already printed VIP passes and it would be a challenge to implement the chief minister's wish this year.