Vemula mom sees 'similarity' in BJP & Trinamul Congress
She was speaking at an event organised by the SFI in Calcutta on Saturday to mark the death anniversary of SFI leader Sudipta Gupta, who died in police custody in 2013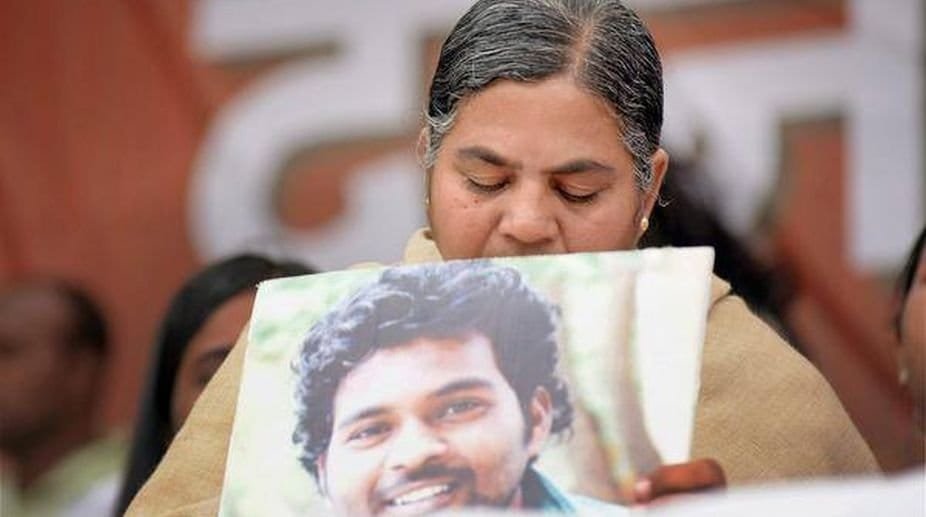 Radhika Vemula.
Twitter/@Nadeem_092
---
Calcutta
|
Published 03.04.22, 02:17 AM
|
---
Radhika Vemula, mother of Dalit scholar Rohith Vemula, has drawn parallels between the BJPled Centre and the Trinamul government in Bengal, accusing both of "murdering" marginalised student activists who dare to speak up against the administration.
Rohith had killed himself on January 17, 2016, at the University of Hyderabad following alleged castebased discrimination.
Radhika was speaking at an event organised by the SFI in Calcutta on Saturday to mark the death anniversary of SFI leader Sudipta Gupta, who died in police custody in 2013. Sabir Khan, the elder brother of deceased student leader Anis Khan, shared the dais with Radhika.
"One common thing that I see in all three of them — Rohith, Sudipta and Anis — is that they had raised their voice against the oppression they saw on campuses.… All these Statesponsored murders have a similarity," Radhika told The Telegraph.
"The main reason behind this — whether it be the gov¬ernment in Bengal or the BJP at the Centre — is that they are trying to kill and threaten people from the marginalised sections of society who are pursuing higher education and are trying to question the government at large," she added.
Radhika has been propagating the thoughts and beliefs of her late son, a member of the Ambedkar Students' Association, across the country and sensitising people about the oppression Rohith had to face at the University of Hyderabad. 
Sudipta, a state committee member of the SFI, died in police custody after being arrested during a demonstration.
Radhika appealed to the participants of the event to resist oppression.
SFI sources said the event was supposed to take place at the University Institute Hall, but the authorities of the property declined permission late on Friday. The event had to be shifted to the Citu office.
"Doesn't Mamata Banerjee proclaim herself to be the biggest antiBJP face in the nation? Radhika Amma is also antiNarendra Modi and antiBJP. Then why did the chief minister cancel Radhika Amma's programme?" Bengal SFI president PratikUrRehman said.
Sabir, whose brother Anis died after being allegedly thrown off the roof of his house by policemen, said the family's fight for justice would continue. "We're being threat¬ened as are you the people who are fighting for Anis," Sabir said, addressing the event.
"But please don't worry that Anis's brother or father will sell themselves out. Please continue your fight. I promise we will not let you down," he added.