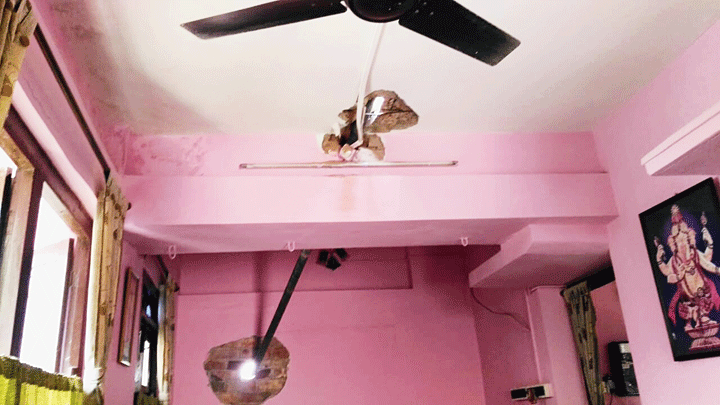 The hole the pipe created on the wall Telegraph picture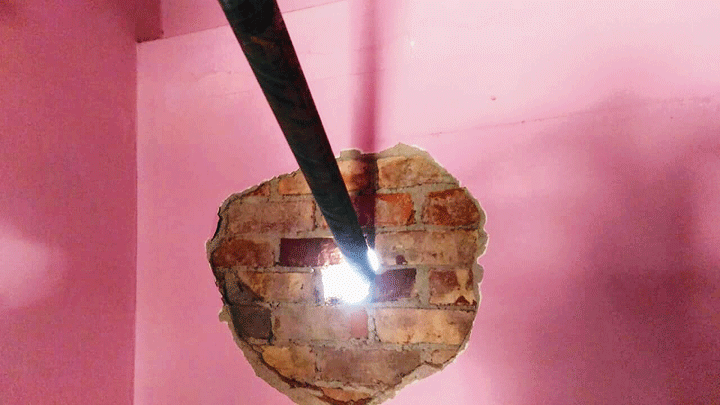 The hole the pipe created on the wall Telegraph picture
The rod — which was being driven by a 70-horse power engine — entered the first-floor drawing room by drilling a hole on a wall and exited through the roof.
Before spearing through Chakrabarty's house, the rod had hit a car and grazed another house, damaging its electric cables.
"A 70-horse power engine generates medium power for micro-tunnelling projects. But given its weight, the pipe struck the wall with the force of a car speeding at 120kmph," an electrical engineer said.
The tunnelling work had been undertaken as part of a project of the West Bengal State Electricity Distribution Company Limited (WBSEDCL) to shift 33-KVA cables underground.
A metal rod that was drilling an underground tunnel for power cables in Madhyamgram veered off its course, barrelled up and pierced through a first-floor room of a double-storey building around 2.30am on Wednesday.
A quake-like tremor jolted the residents of the house in the Rani Park area of Madhyamgram, on the northern fringes, out of their sleep when the rod perforated the walls. No one was injured.
Rahul Chakrabarty, the owner of the house, said the building was damaged beyond repair. "I am not sure whether it is safe to stay here any longer," he said.
The rod had at its front a plastic component fitted with a diamond-cutter.
"While burrowing through the soil, the rod moved across Jessore Road, instead of travelling along the thoroughfare, and went further east towards Rani Park. In the process, the rod deviated 400m off its course," said Rathin Ghosh, chairman of Madhyamgram Municipality.
Chakrabarty, the owner of the affected house, which was built in 1985, said: "After spotting the pipe, I did not understand what happened. I called up some of our neighbours. We walked to the intersection at Chowmatha. Then we realised that the mishap was the fallout of some tunnelling work."
Sources said WBSEDCL had agreed to provide compensation to the affected families. "We have started a probe to find out how this happened," said an engineer who is supervising the tunnelling work in Madhyamgram.
In January 2009, a steel strip jutting out of tram tracks near Wellington Square had pierced the belly of a taxi, punctured its rear seat and emerged in the boot, missing the driver and the lone passenger by a foot or so.