Robotic hernia surgery in city
The use of robotics is among the latest advancements in treating hernia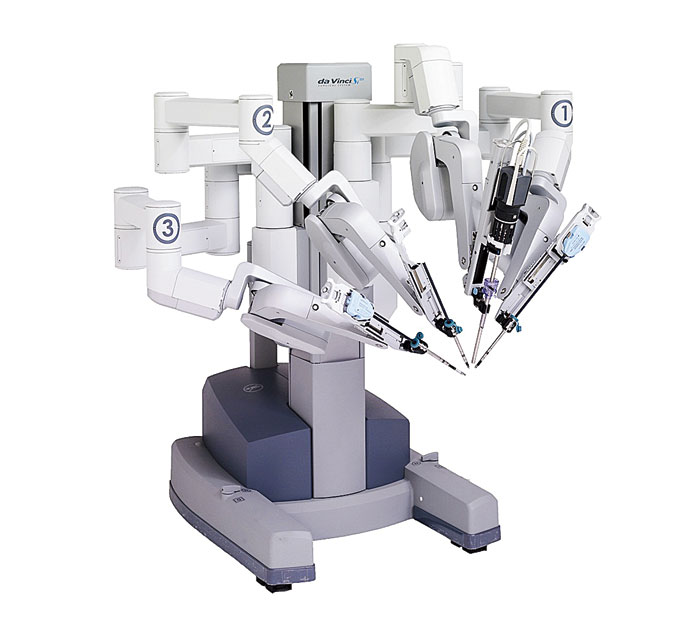 The robot used in the surgery
Telegraph picture
---
Calcutta
|
Published 29.08.19, 09:31 PM
|
---
A robot controlled by a surgeon operated on a patient with three hernias at a city hospital on Thursday.
A live feed from the operating theatre was shared with participants in a conference on the disease and innovations in its treatment.
The use of robotics is among the latest advancements in treating hernia, doctors at Apollo Gleneagles Hospitals where the surgery took place said.
"It is like doing an open surgery through a keyhole. A miniature version of the surgeon is inside the abdomen. Robotic surgery is more beneficial for patients with complicated hernias, those larger in size and especially incisional hernias," Filip Muysoms, the head of the department of abdominal surgery at AZ Maria Middelares in Gent, Belgium, said.
Muysoms, a pioneer in using robotics to treat hernia, is in town for the 13th annual conference of the Hernia Society of India.
"For long, open surgery was the only way to remove such hernias. But with the advent of robotics, even such complex surgeries can be done with minimal invasion," he said.
Arun Prasad, surgical gastroenterologist at Indraprastha Apollo Hospitals in Delhi, said the use of robots in removing hernia was an advanced version of laparoscopy. "It is a computer-assisted laparoscopic surgery."
Hernia is one of the most common ailments that need surgery in India. A hernia is a bulge caused by tissue pushing through the wall of the muscle holding it. Most hernias are abdominal — the bulge is in the belly and groin areas.
The most common types of hernia are inguinal (inner groin), incisional (resulting from an incision), and umbilical (navel). Incisional hernias and very large hernias are more complicated than the rest, doctors said.
"Incisional hernias are complicated because of the changes that have happened after the first surgery get added. The tissues are not normal and healthy anymore. There are scar tissues instead of virgin tissues," Debasish Roy, senior consultant surgeon at Apollo Gleneagles Hospitals, said.
"But in case of large hernias, multiple hernias and some complicated incisional hernias, it is difficult to go for laparoscopy because you cannot operate in an area you cannot even reach with the instruments of normal laparoscopy.... Robots allow... more manoeuvrability. Normal laparoscopy is like operating with two chopsticks. In comparison, a robot allows 360-degree flexibility, better movement, magnification and precision. It is much more dextrous."
Muysoms, who operated on the patient with three hernias through a robot on Thursday, said he had made multiple small incisions, ranging between 5-8mm. "If we went for an open surgery, the patient would have needed a 6-8 inches cut."
Smaller incisions would mean minimal blood loss and pain and lower chance of infection. The patient would be discharged sooner and he/she can resume work sooner, according to doctors.
Robotic surgery is new to Calcutta and expensive. An imported robot costs around Rs 12 crore, an official of Apollo Gleneagles Hospitals said. The price of a robotic surgery to remove a hernia at the hospital would cost upwards of Rs 2.5 lakh, he said.