Roadblock against NH 'health hazard'
The villagers accused the National Highways Authority of India (NHAI) and the railways of negligence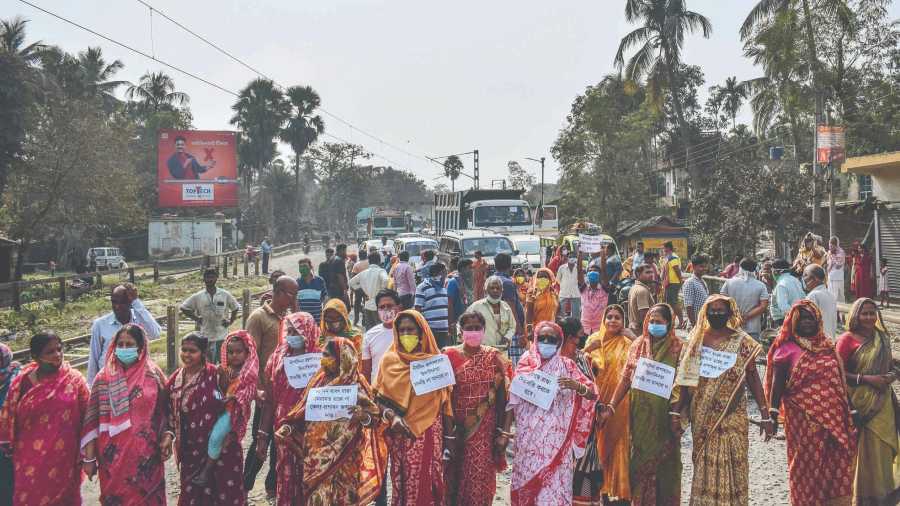 Women protest against the poor condition of NH12 in Govindapur of Santipur on Wednesday.
Abhi Ghosh
---
Santipur
|
Published 20.11.20, 03:17 AM
|
---
Irate villagers, mostly women, in Nadia's Santipur blocked NH12 at a railway crossing in Govindapur in the town for an hour on Wednesday to protest the damaged road adjacent to tracks that connects their town with Krishnagar.
Accusing the National Highways Authority of India (NHAI) and the railways of negligence, villagers said the road adjacent to the railway crossing had turned into a muddy stretch full of rubble.
They said apart from frequent accidents, the dust from the damaged stretch had become a public health hazard.
"We have breathing troubles because of the dust," said a villager who lives close to the road, and added that a few months ago an elderly woman living near the road allegedly died of respiratory distress.
Subhash Mudi, brother of the deceased woman, said: "My sister was suffering from breathlessness and doctors said it was because of the dust she was forced to inhale."
The blockade lifted after the police convinced people that they would take up the issue with authorities of the railways and NHAI.
For the past one year, the  100m stretch of NH12 from Barasat to Krishnanagar, which includes the railway crossing, is damaged. The NHAI recently started widening a 67km stretch of NH12 between Krishnagar and Jagulia. The damaged stretch at Govindapur remains unaddressed, with authorities of the NHAI and railways passing the buck.
NH12 project director in Krishnagar Soutam Pal said: "At least 50m of land adjacent to both sides of any railway tracks is the property of the railways. The onus of maintenance rests with them. We are not authorised to undertake work on such stretches even if they are part of the NH."
Anil Karwan, assistant engineer of the railways in Ranaghat, claimed ignorance. "I have joined recently and am not aware of the issue. I will look into the matter soon and try my best to solve the problem."